Roll over image to zoom in
---
Quad Core Cortex-A7 @1.5GHz
640x480p IPS Display
Android 6.0 OS
Micro-HDMI Output
Built-in Wi-FI/Bluetooth 4.0

NOTE: 8Bit colour is out of stock and available for backorder (Payment upfront)
The Retroid Pocket 2 is a retro gaming handheld that sets itself apart from the competition by being based on Android (upgradable to Android 8.1), granting it access to an already-existing huge library of emulators, games, and apps. Making this a truly comprehensive handheld gaming device perfect for an enthusiast.
Powered by a Quad Core Cortex-A7 1.5GHZ CPU, 1GB of RAM, and ARM Mali-4000 GFX – the Retroid Pocket 2 can handle a variety of games, from retro arcade titles, all the way up to more modern devices such as 5th Generation consoles.
Present on the Retroid Pocket 2 is a high-quality 640x480p IPS screen, providing crystal-clear, crisp visuals in all of your retro games. This is backed by a respectable 4000mAh battery, allowing you to game at high quality for longer periods of time.
The Retroid Pocket 2 also features responsive, "clicky" buttons, and an ergonomic design with an asymmetrical stick layout, enabling you to game for hours in comfort.
Connectivity is no issue with the Retroid Pocket 2 either. Featuring built-in Wi Fi and Bluetooth 4.0, as well as a Micro-HDMI port and USB-C port, seamlessly connect to a variety of devices with no difficulty.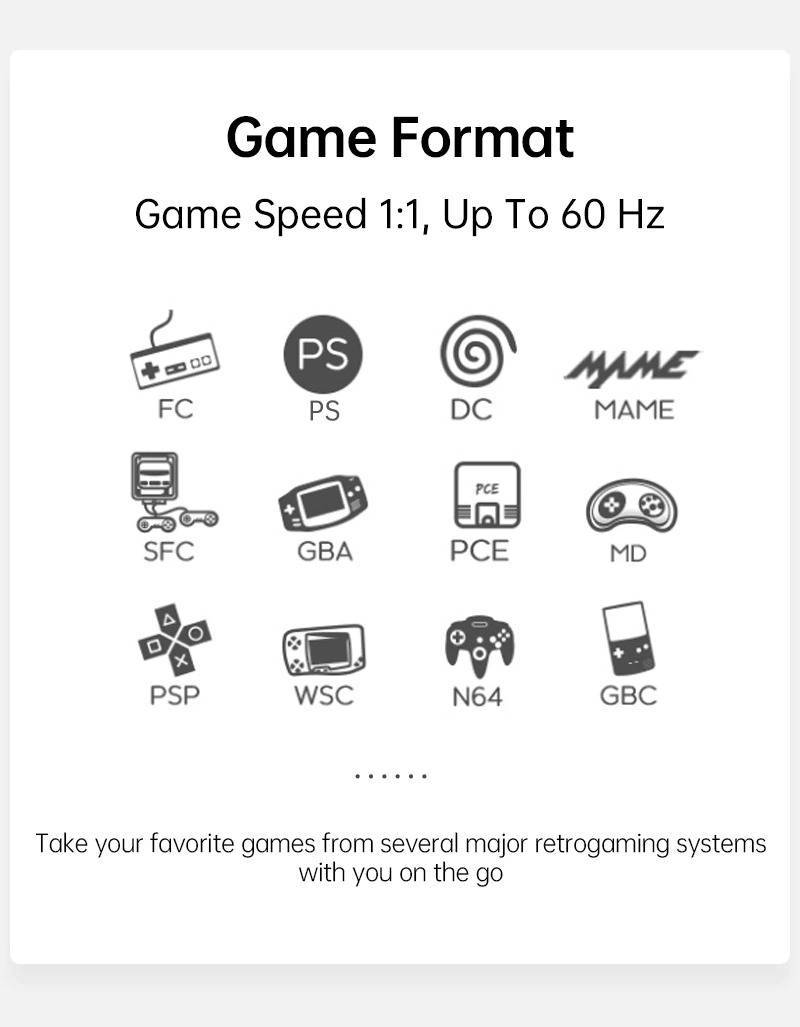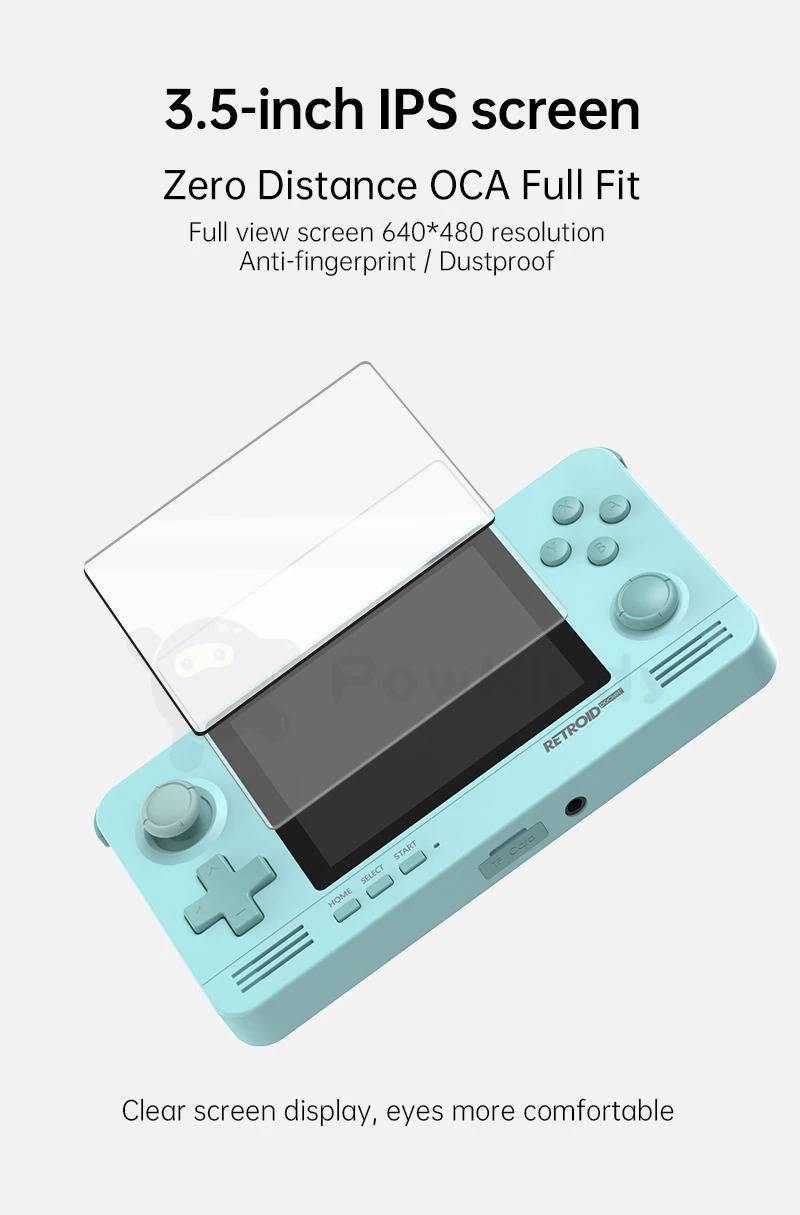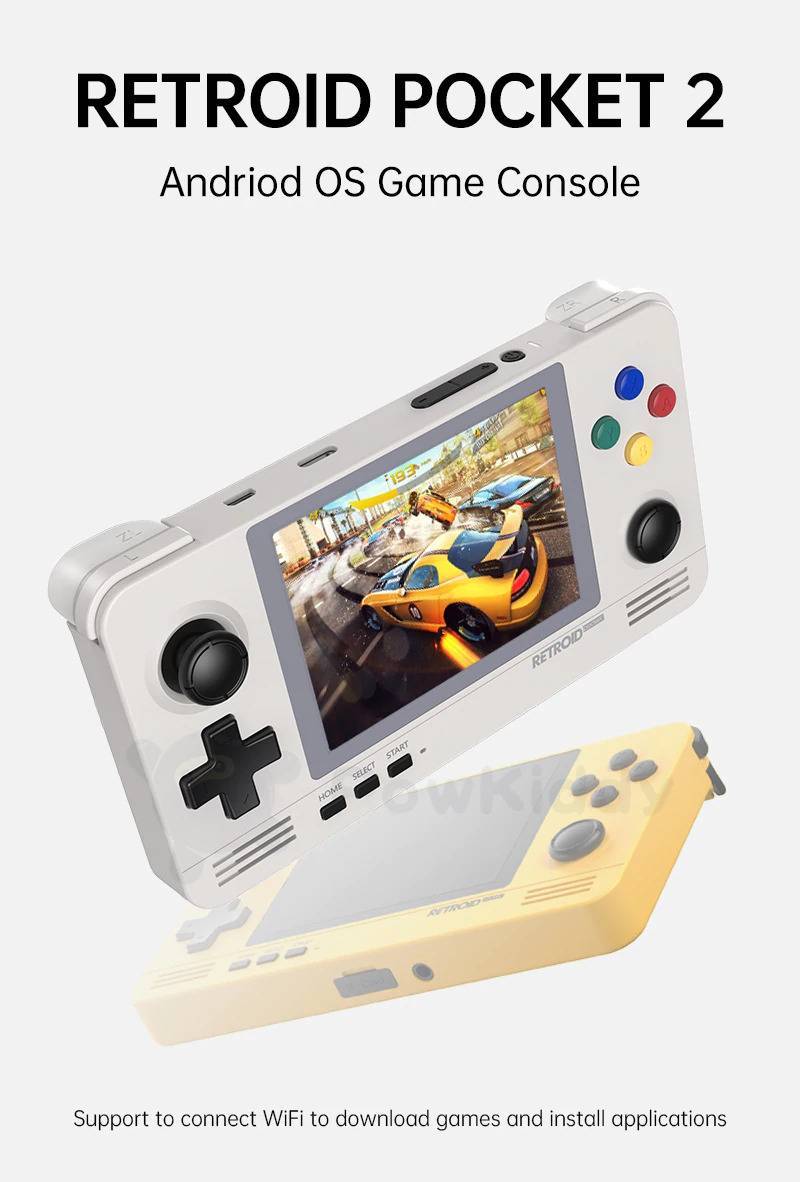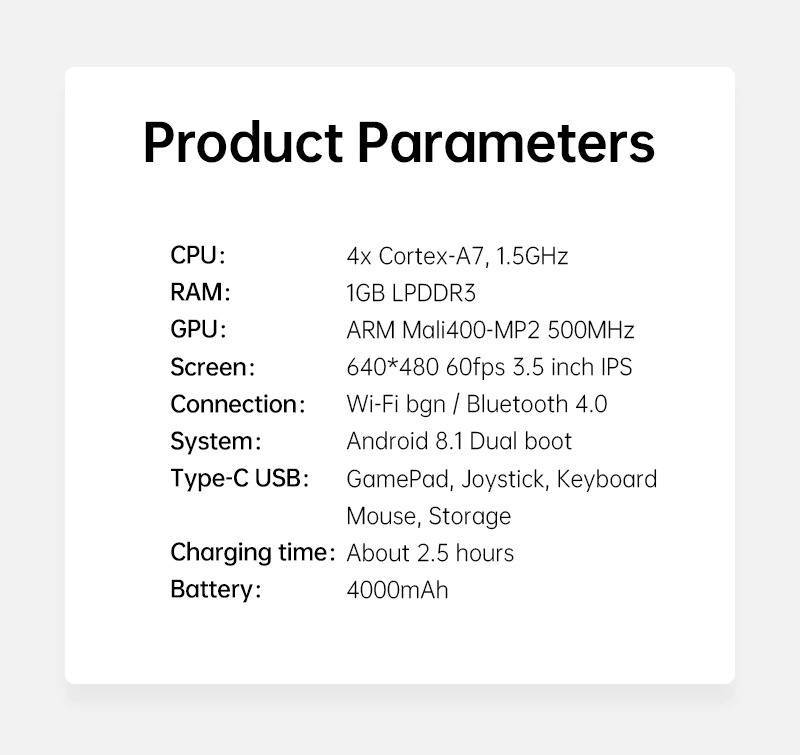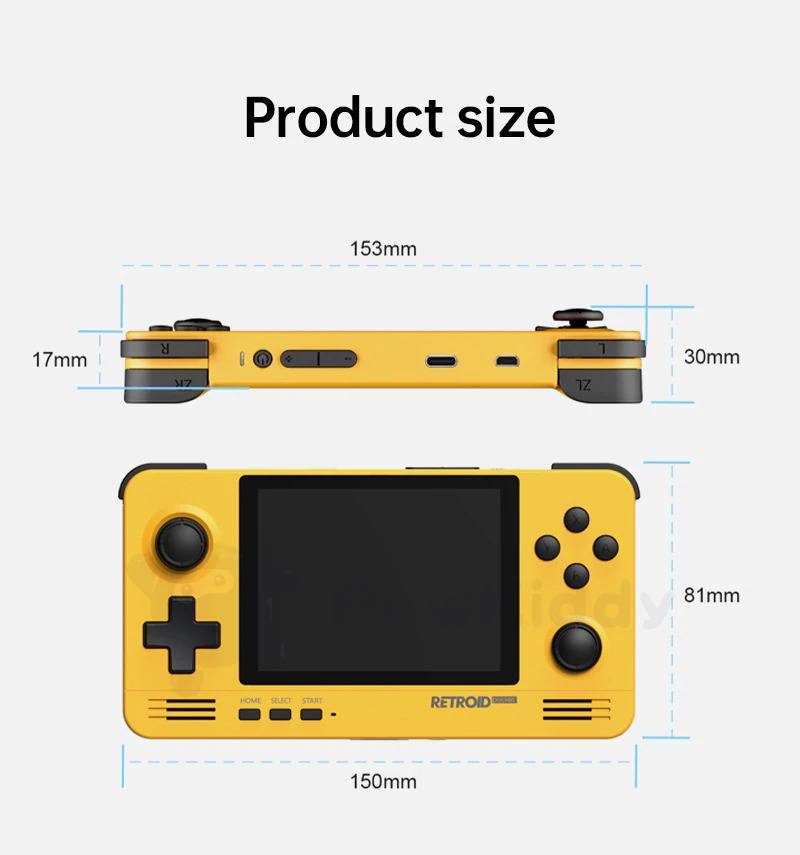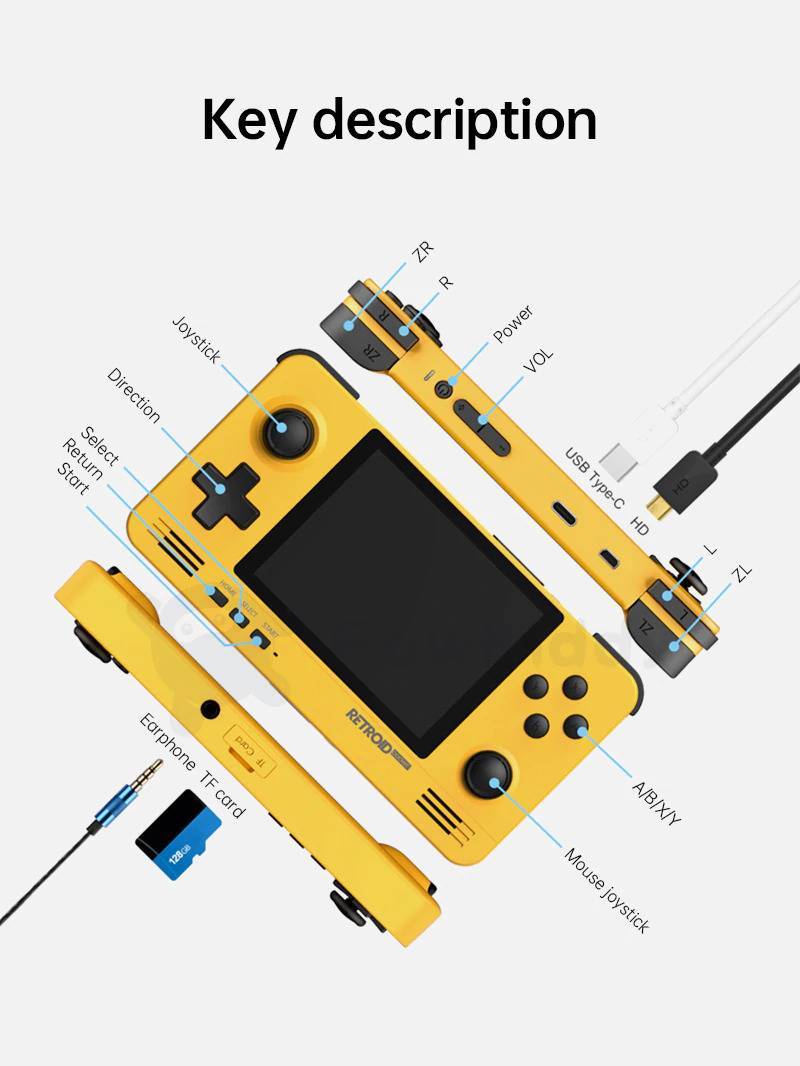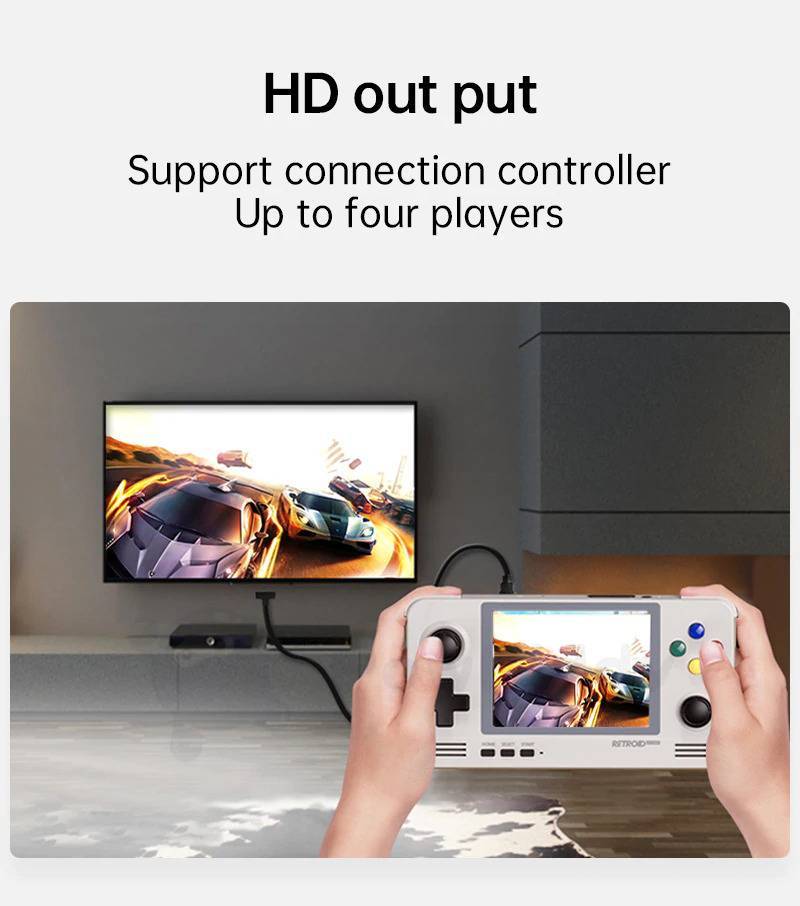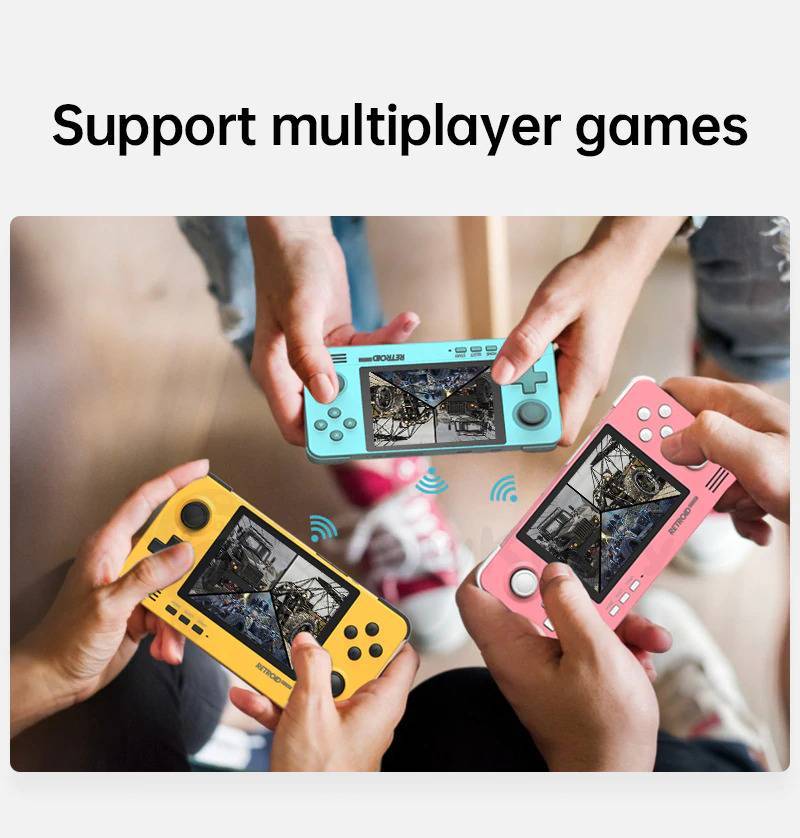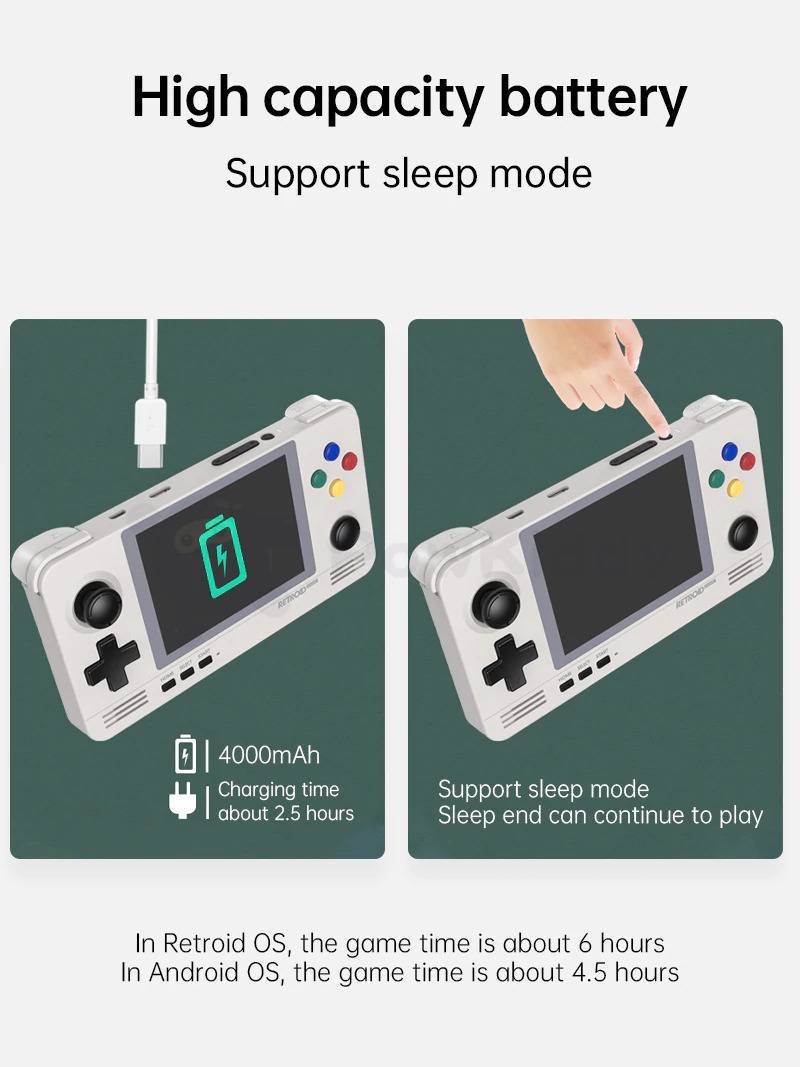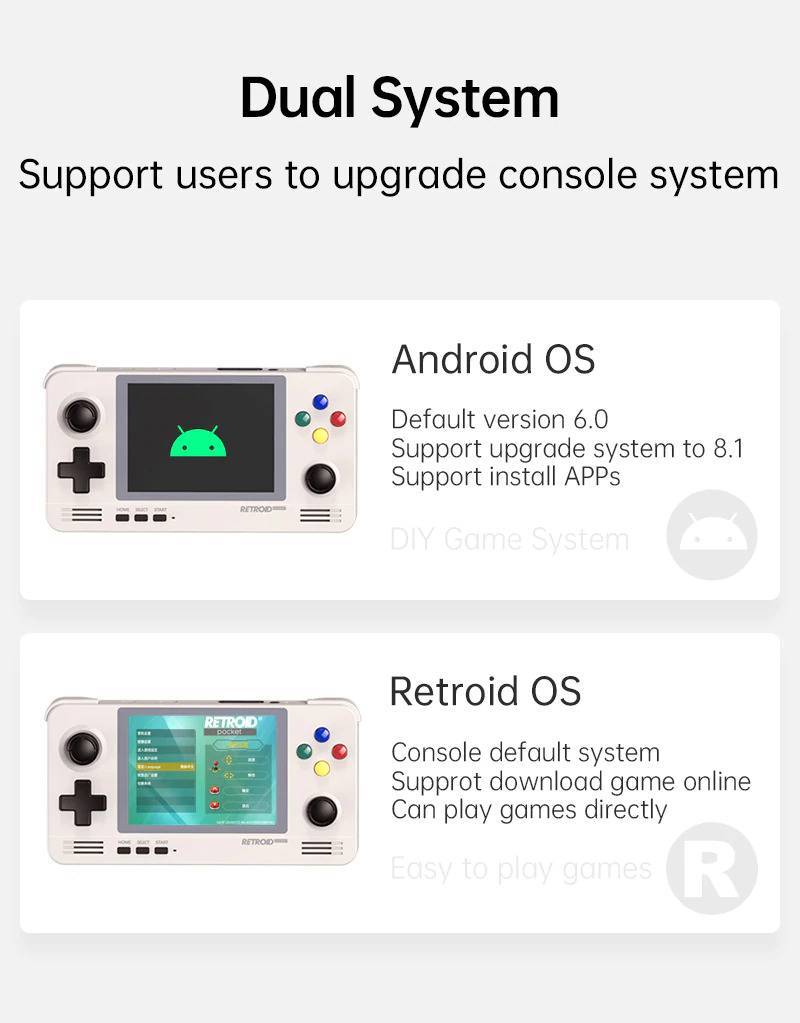 Processor
Brand
ARM
Model
Cortex A7
Cores
4
Frequency
1.50 Ghz
Graphics Processor
Interface
Integrated
Brand
ARM
Model
Mali 400-MP2
Frequency
500 Mhz
Display
Display Size
3.5"
Technology
IPS
Resolution
640x480
Battery
Technology
Lithium-Ion
Capacity
4000mAh
Life
Android OS: Aprox. 4.5hr ; RETROID OS: Aprox. 6hr (May depend on usage)
Charging Time
Aprox. 2.5hr
Memory/Storage
RAM (Memory)
1GB LPDDR3
ROM (Storage)
8GB eMMC (5GB Available)
Expandable
Via Micro SD/TF Card Slot (Max 128GB) ; USB Type-C Port
I/O Interface
USB
USB Type-C
Video
Micro-HDMI
Audio
3.5mm Headphone Jack
1 * USB Type-C Cable
1 * Power Adapter
1 * User manual
Note: Product's appearance and accessories may vary from our sold item. We always make sure that the item we sell matches our Product Description and Technical Specifications
This product comes with a 1 Year Warranty covered by DroiX
Even the best of us can get stuck.
But that's ok. We have loads of options to get Support for your device
Knowledge Base
Find an answer to all of your questions Resolution Estimate Time: 5 min - 1 hour
Contact Us
When you're stuck, or just can't find what you want - We are here!
UK: 02037406830 Resolution Estimate Time: 2 hours - 5 hours
support@droix.co.uk Resolution Estimate Time: 24 hours - 3 days
Customer Reviews
Advanced Retro Mechanics
A really solid system with a learning curve. Not as simple to set up as the Anbernic retro devices. But once you set it up and learn how to use it, the Retroid Pocket 2 is a great retro device with a ton of uses.
Awesome little device!
Amazing device! Emulates some systems that my pi based arcade! Takes a little but of setting up but once its done you don't have to do it again. Amazing service from droiX too super fast shipping and cheapest I could find in the UK! Will definitely be coming back
A tinkerer's dream!
If you want an inexpensive device to play the classic 16bit era stuff flawlessly, playable but glitchy N64/PS1 and choppy/sluggish DC/PSP with an option for HDMI out and WiFi for Retro Achievements then this is highly recommended. However it won't do this out of the box, you'll need to invest some serious time into setting things up and tinkering. DIG plus Retroarch works great for me. Now I'm past the tinkering stage and getting my portable Retro fix.
Retro Gaming At It's Finest!
With the release of the Steam Deck everyone began talking about Emulation, I already have a Nintendo Switch however I really wanted to play some GBA games, this little device is a great add on to any EDC!
Love it!
Loving this handheld, recommend if you want to play retro games, love the colour options too!
We have everything covered
Payment methods
Your payment information is processed securely. We do not store credit card details nor have access to your credit card information.
---
Security
You might want to have a look at