12.01.2022 | 09:23 o'clock
There is quite a bit of information about AMD's first LGA socket for Ryzen 7000 CPUs. Some of the first data was revealed through leaks more than half a year ago. Last week AMD officially announced the new socket and confirmed the rumors about Ryzen's switch from PGA to LGA socket.

Meanwhile, there are new drawings of the AM5's mounting mechanism. Igor Wallossek doesn't reveal the origin of this leak, but these drawings look very similar to the SP5 socket for the EPYC Zen4 "Genoa" that was revealed last year by the Gigabyte hack.
Socket AM5 structure
According to the renderings, the locking mechanism will be similar to Intel's in many ways. It relies on a large lever that presses a frame onto the socket. This ensures that the pressure is evenly distributed and requires little attention from the installer.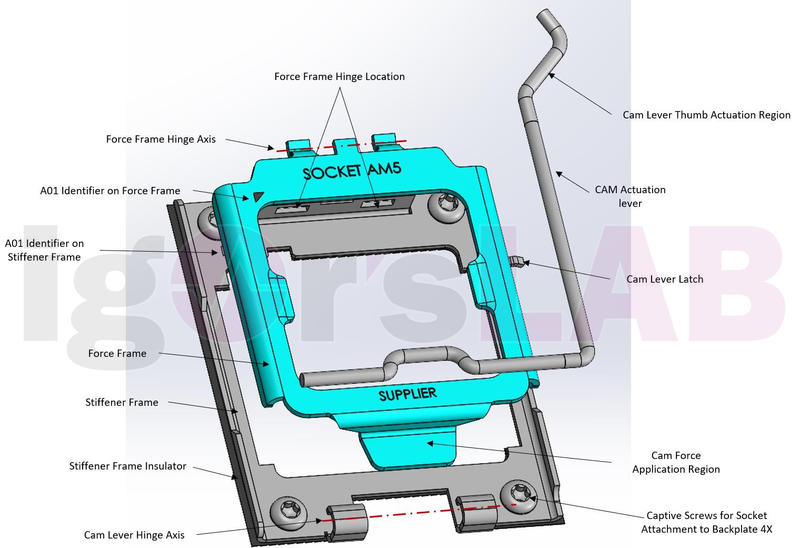 Igor notes a difference from the LGA1700 socket, which he said was problematic for cooling companies. It turns out that the backplate is now also attached to the Socket Actuation Mechanism (SAM) with four additional screws, ensuring that the cooler assembly is aligned with the socket and not just a backplate.
Socket AM5 Compatibility
AMD recently confirmed that the AM5 socket will be compatible with AM4 cooling solutions. This was achieved through a number of innovations, such as a uniquely shaped integrated heat spreader for Ryzen 7000 "Raphael" CPUs. The IHS allowed AMD to place capacitors on the front without sacrificing space on the back. In other words, this allowed AMD to maintain the same CPU package size as AM4 CPUs.
Socket AM5 CPUs
The AMD AM5 socket will now be introduced along with the Raphael CPUs in the second half of 2022, AMD has confirmed. The first motherboard with this socket is to be part of the AMD 600 series.