In our Minisforum B550 review we will be unboxing it, checking out its features and assembling the graphics card dock. We will then run some system and gaming benchmarks to see its performance. And to finish the review, check out some games with the budget Radeon RX 6400 and high-end GeForce 3070 TI external graphics cards.
Minisforum B550 Review video
Unboxing the Minisforum B550
We start the Minisforum B550 review with the unboxing. First we have a user guide which is in multiple languages including English, German and Italian. It gets you up and running and how to assemble the docking base unit. Next we have a bright orange hard case, inside is the Minisforum B550 mini PC. We will be taking a closer look at it shortly.
Also inside the hard case is the power brick and power cable. We will include the correct adaptor for your country. Underneath the packaging is a VESA mount for attaching the B550 to the back of your display. There is a HDMI cable for connecting the B550 mini computer to your monitor or TV.
And last but not least, there are a few parts which make up the dock unit. We will cover this in more detail shortly.
Minisforum B550 Overview
The B550 measures 7.4 x 6.5 x 2.6 inches (15.8 x 16.65 x 6.7 cm) and weighs 1129 grams. Unlike most other mini PC's the B550 design is very clean, with none of the usual ports on the front and side.
The back of the mini PC is where everything is located. Starting from the left we have the Power button and power input. There are two HDMI and one DisplayPort, supporting up to triple monitor display. There are a total of four USB 3.2 Gen 2 ports, along with a USB Type-C Gen 2. We have 3.5mm headphone and microphone jacks. And there is a 2.5 Gigabit ethernet port for fast wired data transfer.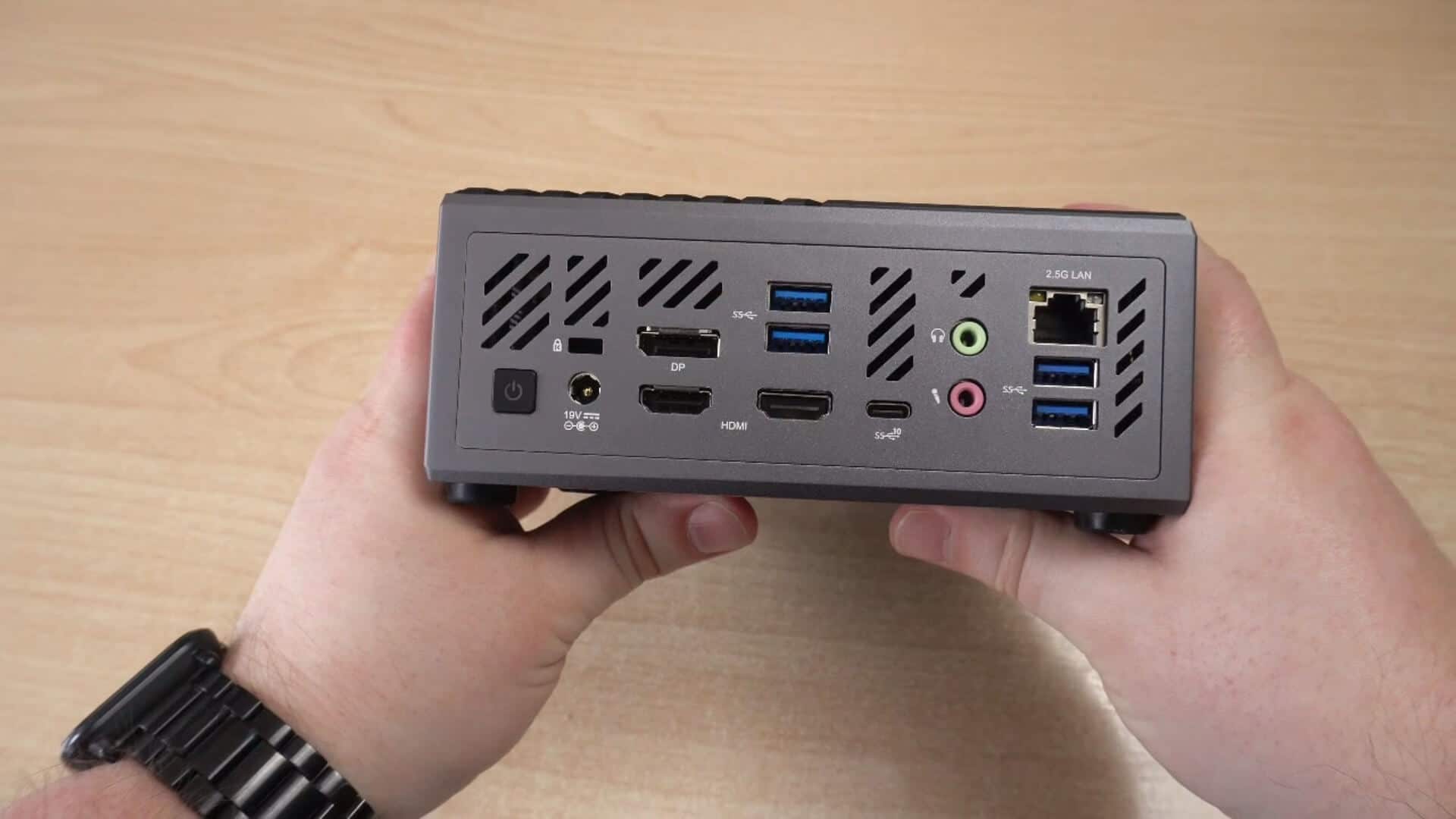 On the right side you will notice a slot covering the Graphics card interface to the dock unit. This can be removed with two screws and reattached to the bottom of the case for safe keeping.
On the bottom of the device are two ports connecting to an external PSU and the dock. We will show how these work in the next section covering the dock.
Minisforum B550 Dock Overview
The dock allows you to connect a compatible external graphics card to the Minisforum B550 and turn it into a gaming mini PC. But first, it requires some assembly. You will also need a separate PC power supply which will power the mini PC, the dock and if required the graphics card.
It is worth noting that the model we are reviewing will be updated for the final version based on reviewers feedback. The final model will have an additional part for the power supply so that its neatly kept together with the dock.
When assembled, the dock measures around 6.5 x 6.9 x 5.2 inches (16.5 x 17.7 x 13.3 cm). This will change in the final model as a part for the power supply will be included.
We did have an issue with the supplied 4-pin power cable not working correctly when attempting to switch on. We have informed Minisforum about this and they are looking into it for the final version.
Lets get it powered on and take a look at the technical specifications.
Minisforum B550 Technical Specifications
Tested in average office noise conditions and temperature
System Benchmarks
PassMark
We start the system benchmarks in our Minisforum B550 review with PassMark,. It runs a series of tests on the CPU, GPU, RAM and storage. It pushes them to their maximum for peak performance.
We got a score of 5,992. We are just starting testing all of our higher end mini PC's with these conditions, but in comparison the Proteus 11S got just under four thousand in score.
PCMark
Next in our benchmarks is PCMark, it benchmarks your more day to day real life tasks. These include web browsing, working with office documents, image processing and rendering.
The Minisforum B550 office mini PC scores 6,468. Compared to the Proteus 11S which scored 1,300 less, it's a very good score.
3DMark
3DMark tests the CPU and GPU to see how well they work together for video rendering. This is not only useful for gaming, but also for tasks such as image and video editing and encoding.
The MinisForum B550 mini PC for gaming scores 1,502. It's not a bad score but the Proteus 11S processor scores higher at 1,627.
Cinebench
Cinebench tests only the CPU in either single or multi core processing. In this test we are running the multi-core benchmark for 10 minutes.
The Minisforum B550 scores a massive 12,015. In comparison the Proteus 11S scored 4,846 which is a massive difference.
WiFi Speedtest
In our WiFi speedtest, we are connecting to a WiFi 6 access point around 5 metres away. It's on a 500Mb connection and we should be able to see the speed and reliability of the B550's wifi.
We get download speeds of 433 Mbps and upload speeds of 478 Mbps which is great! It is around the speed we have got with other devices.
CrystalDiskMark
CrystalDiskMark runs some tests on the storage to see the highest read and write speeds with different test sequences.
We get a maximum read speed of 3,257 MB/s and a write speed of 2,876 MB/s. It is a little lower than we usually see with this SSD which is generally in the 3,500 read / 3000 write area.
System Benchmark Summary
Let's take a brief look at the benchmark results.
Overall the scores are very good, with high scores in the PassMark and PCMark benchmarks where AMD processors generally do well. The 3DMark score, while very good, is lower than an Intel 1165G7 processor in comparison.
The Cinebench score is high, compared to the Proteus 11S, it's over double that score. The SSD drive speed is a little lower than what we expected, losing around 200 MB/sec compared to other devices.
Game Benchmarks
We continue the Minisforum B550 review with some gameplay benchmarks. We will be testing with the B550's internal Radeon graphics, the Radeon RX 6400 and the Geforce 3070 TI external graphics cards.
Forza Horizon 5
We are running Forza Horizon 5 at 1280×720 on the default lowest graphic settings. At the end of the benchmark, we get a very impressive frame rate of 92 for the iGPU. The Radeon RX 64000 scores 134 FPS, and the Geforce 3070 Ti scored 209 FPS.
Even with the integrated graphics on the B550 gaming mini PC we are getting great scores! You can increase the graphics quality to higher levels and keep within the 60 frames per second target.
Cyberpunk 2077
We are running Cyberpunk 2077 on the iGPU at 1280×720 on the lowest default graphics. This is quite a demanding game, so it will be interesting to see the results.
With the iGPU we get an average FPS of 41 which is not too bad, you can lock it to 30FPS for smoother gameplay. On the RX 64000 we get an average of 65 frames per second. And on the Geforce we score a massive 150 frames per second.
Final Fantasy XIV
For the Final Fantasy XIV benchmark we are running at 1280×720 on the maximum graphics settings.
We got a score of 6,561 on the Minisforum B550 integrated GPU. It is a very reasonable score and you will have no issues running the game. On the RX6400 we get a score of 15,884 which is a jump of over double the iGPU. And for the 3070 Ti we get a score of 23,963 which while not a massive jump, it is still big enough to see the difference.
Shadow of the Tomb Raider
Our final benchmark test is for Shadow of the Tomb Raider. We are running at 1280×720 resolution on the very low graphics settings.
On the iGPU we get an average score of 69 frames per second. On the RX 6400 we get a score of 161 frames per second. And on the 3070 Ti we get a small increase for some reason at just 169 frames per second.
Game Benchmark Summary
A brief summary of the game's benchmark results.
Overall the internal graphics does very well. On Forza it is just above the AYA NEO NEXT Pro in comparison with 92 FPS. On Cyberpunk we get OK frame rates, it's a demanding game so that's to be expected. For Final Fantasy and Shadow of the Tomb Raider we get very playable frame rates.
The Radeon RX 6400 improves the results by a decent amount. Forza sees a 37% increase in frame rate, a 46% increase on Cyberpunk, a massive 83% increase on Final Fantasy and another big increase of 80% on Tomb Raider. For a £200 pound graphics card, that's some excellent increases!
The Geforce 3070 Ti will of course have the best results seeing as it's a £850 graphics card. For Forza we see a 77% increase, Cyberpunk and Final Fantasy both have a 114% increase, and just a 86% increase on Tomb Raider. The increases are enough to run games at 1080p with highest settings, or 4K with graphics settings depending on the games demand..
Gameplay Footage
As part of our Minisforum B550 review we will show the difference between graphics cards performance on the gaming mini PC. We have captured some gameplay footage from them each. We are using suitable graphics settings for around 60 frames per second when possible.
Cyberpunk
We are starting with Cyberpunk on the Minisforum B550 iGPU 720P with the lowest graphics. We are getting in the area of low to high 30 frames per second. Locking it to 30 FPS would make it more stable, but still expect drops below 30.
On the RX 6400 we are also running at 720P with the lowest graphics. We are getting in the areas of low 40's to low 50's. Again locking it to 30 FPS will make it stable, you may see occasional dips below 30.
And on the Geforce 3070 Ti we are running at 4K with Medium graphics. We are getting in the area of low to high 50's frames per second. If we were to drop to 1080P we could get the graphics far higher and get a stable 60..
Doom Eternal
Doom Eternal is running at 720P on the default Medium graphics settings which look fine in my opinion. We are getting a solid 60FPS which is great, you could increase some graphics setting to squeeze a little more out of the iGPU.

On the RX 6400 we are running at 720P on the default High graphics settings. We are getting a solid 60 frames per second, and like on the integrated graphics you could increase one or two graphics settings to your preference.
And on the Geforce 3070 Ti we are running at 4K resolution on the Ultra Nightmare graphics settings.It's barely breaking a sweat with a rock solid 60 frames per second.
Halo Infinite
We are running Halo Infinite at 720P resolution on the lowest graphics settings. We are getting around the mid to high 50's frames per second. You can lock the frame rate to 30 FPS in the graphics settings for a stable frame rate, and maybe increase one or two graphics a level up.
On the RX 6400 we are running 720P on the High graphics settings. We are getting in the range of mid 60's to low 70's which is great. You can lock it to 60 FPS and you should have a very playable frame rate.
On the 3070 Ti we are running at 4K resolution on Ultra graphics settings. We get in the range of mid 60's to late 70's which is excellent. Again you can lock it to 60FPS and you will not have any issues at all.
Summary
The Minisforum B550 is an interesting mini PC. Having the dock is a nice idea, but it's not something where you can simply pull out the mini PC and use elsewhere. It requires some disassembly in order to do that. Would it not have been simpler to build this into a proper dock where it makes all the necessary connections, say on the eGPU connector side, simply by inserting the mini PC. Maybe we will see that in the future?
Is the Minisforum B550 worth buying?
As a standalone home or office mini PC, the Minisforum B550 is great! It scores very high in our system benchmarks. For your everyday tasks whether in the home for work or gaming, or the office for work, it will handle them with no issues.
For gaming with the integrated GPU, the B550 is impressive! In comparison, we are looking at slightly higher performance than the AYA NEO NEXT PRO gaming handheld. You can enjoy AAA games at playable frame rates.
With an external graphics card, we will of course see a big jump in gaming performance. We chose a good budget range and higher end graphics cards to see the differences in performance. If your aim is gaming, then spend as much as you can on a card! The B550 processor is more than capable for gaming and you will in most cases still find yourself limited by the graphics card as to how high the graphics will go.
Where to buy the Minisforum B550?
We hope you have found our Minisforum B550 review useful. You can learn more and buy your Minisforum B550 here. Or browse our range of mini PC's here,