Design

Build Quality

Display

Performance

Features

Software
Summary
A very good budget retro gaming handheld alternative to the impossible to buy Miyoo Mini.
Pros
Can emulate PS1 out of the box
More comfortable to hold than the Miyoo Mini
HDMI Output to TV or Monitor
Decent battery life up to 5 hours depending on usage
We have Anbernic's answer to the immensely popular but rare as hens teeth Miyoo Mini released earlier this year. In our RG35XX review we find out how this budget retro handheld stands up against the Miyoo Mini, there's only one way to find out… figh…. I'll start with the unboxing….
RG35XX Review Video
RG35XX Unboxing
First we have the RG35XX retro handheld, we will check it out in more detail in a moment.
There's a screen protector and wipes for when applying it. Next is a brief user guide which gets you up and running. And last but not least is a USB Type-C charge cable.
RG35XX Overview
Continuing our RG35XX review with an overview of the retro gaming handheld. The RG35XX measures 3.18 x 4.6 x 0.7 inches and weighs just 165g. Compared to the Miyoo Mini, the RG35XX is not quite as small, but in my opinion it does feel a bit more comfortable to hold over longer gaming sessions as your hands are more free.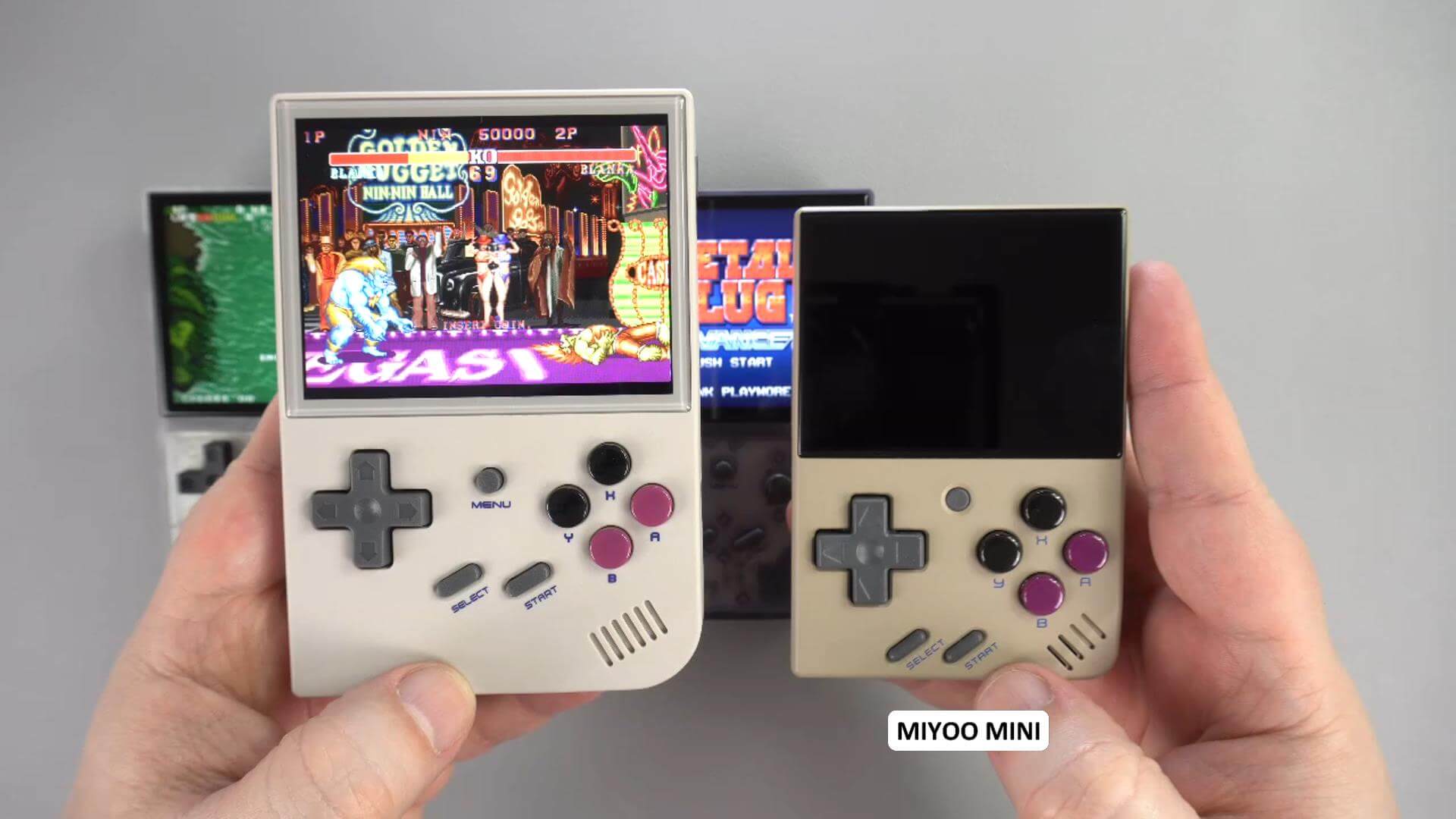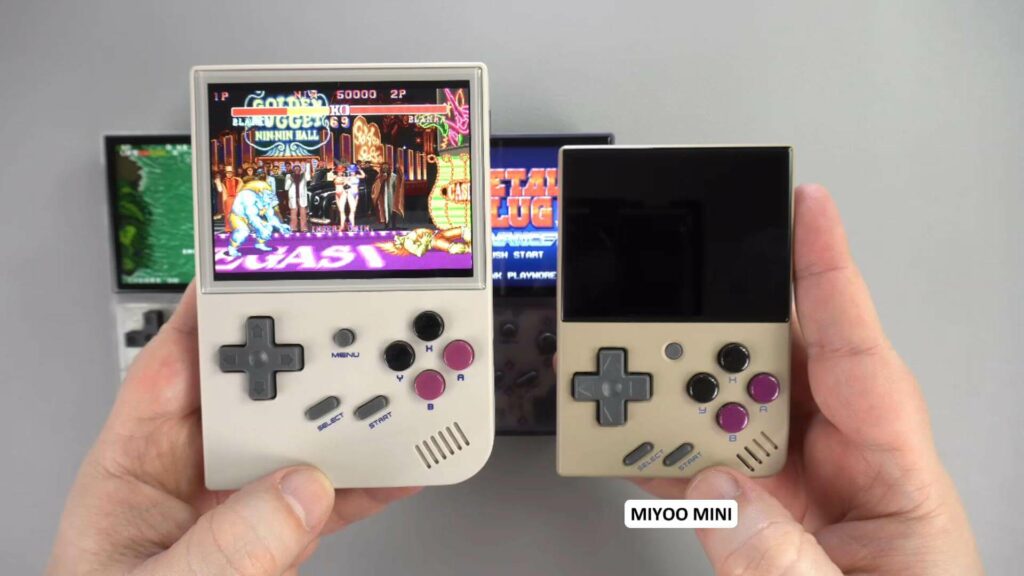 Compared to the legendary OG Gameboy, it is a bit smaller and more pocketable.
It's around the size of a Gameboy Pocket, or Gameboy Colour if you have one of those. Overall I think it is a decent size, not as pocketable as a Miyoo Mini but not far off.
On the front you have the usual gaming buttons. There's no analogue sticks as you don't really need it for the vast majority of games it supports.
On the left side is the volume rocker, and on the right we have the power and reset buttons. Followed by two Micro SD Card slots, the first is for the Operating System, and the second for storage.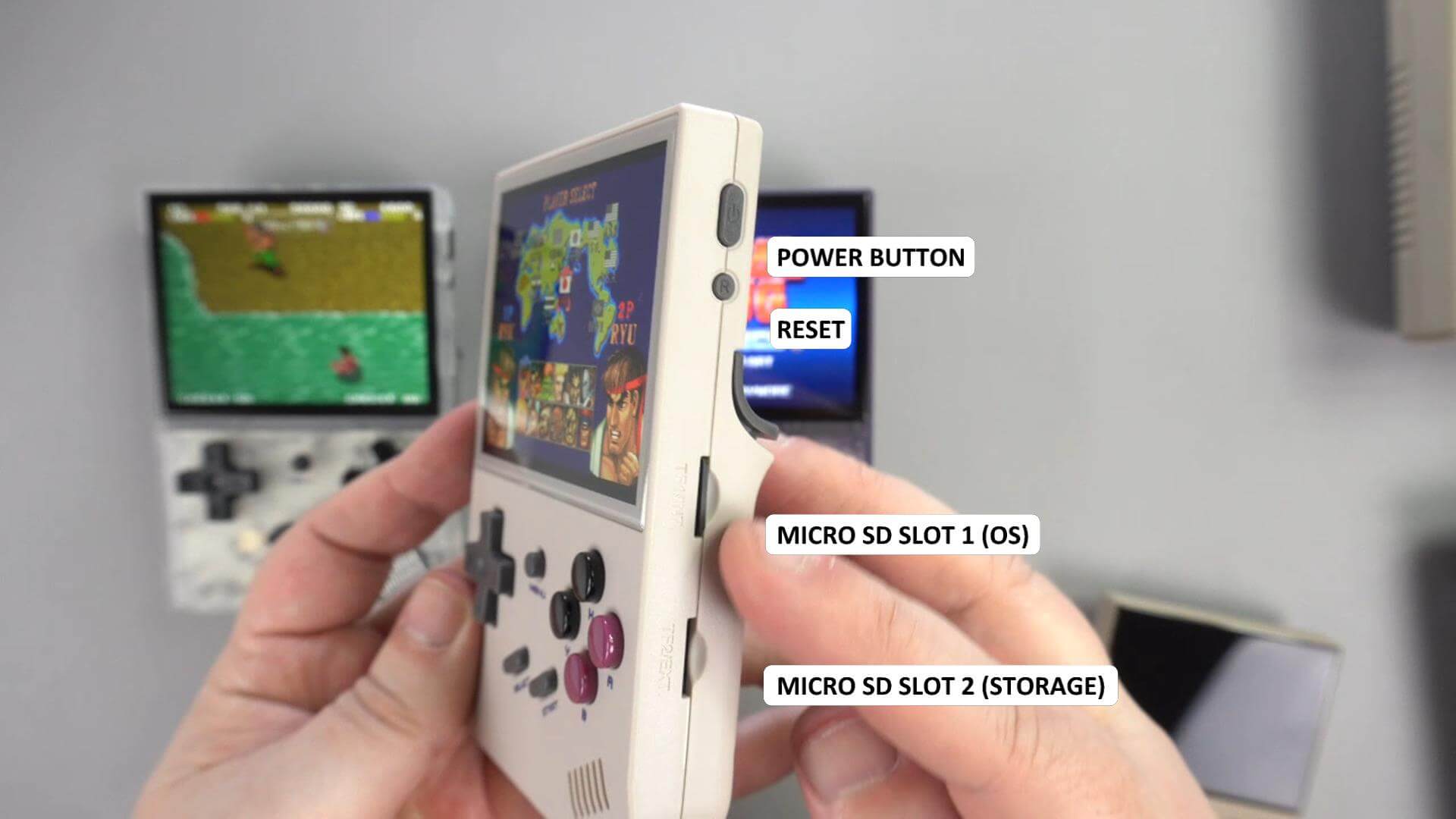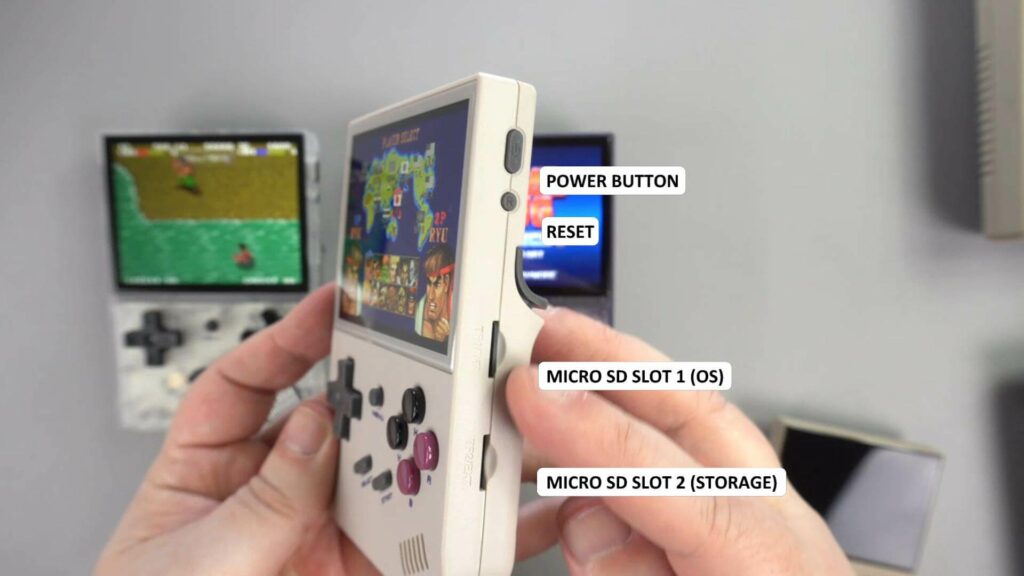 On the top is a Mini HDMI port for connecting it to your TV or monitor. And on the bottom is the USB Type-C charge port and 3.5mm headphone port.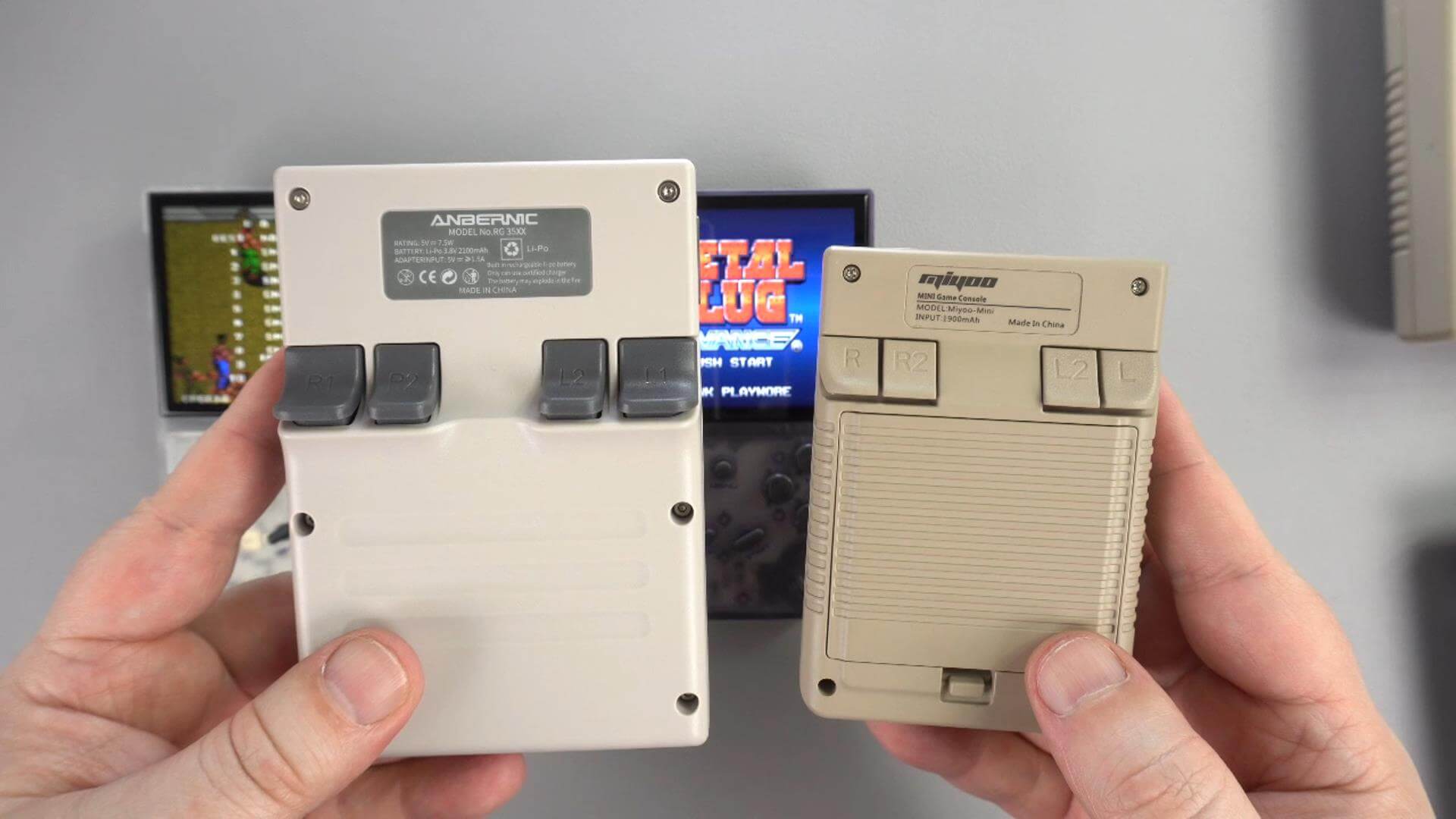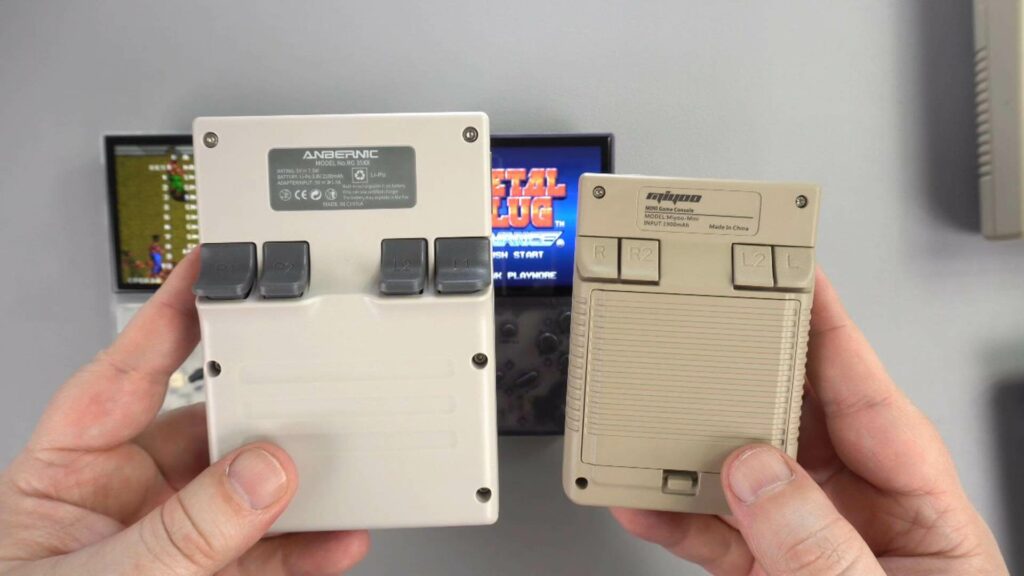 On the back are what are essentially left and right trigger and shoulder buttons. They are nice to rest your fingers on, and the outer buttons are easy to press, but I found the inner buttons tricky to press without pressing the outer ones. The Miyoo Mini design was a bit better, you can read more about it in our full Miyoo Mini review here, but generally you only need to use the outer buttons for some systems and games.
RG35XX Technical Specifications
| | |
| --- | --- |
| CPU | Quad-core ARM Cortex-A9 |
| GPU | Quad-core PowerVR SGX544MP GPU |
| RAM | 256MB DDR3 |
| STORAGE | 64GB Micro SD Card |
| BATTERY* | 2100mAh Li-polymer rechargeable |
RG35XX Technical Specifications
*The 2100 mAh battery which Anbernic claims lasts up to 5 hours. In our tests with Tekken 3 on the PS1 we got 3 hours 3 minutes which is very good. Less demanding systems should be closer to the 5 hour mark.
RG35XX OS & UI Overview
As part of our RG35XX review we will go over the Operating System and the User Interface. The RG35XX retro handheld emulator uses a closed source chipset and operating system so we may not see any custom firmware for it at all.
But just as I was about to record this video I saw that Black Seraph has released a build of RetroArch which includes more emulator cores and a user interface with the name GarlicOS. We will cover this in a separate article or knowledge base post. But back to the existing firmware, the UI is fairly basic with a list of the gaming systems to scroll, along with the available games displaying once you choose a system.
The UI is fairly basic with a list of the gaming systems to scroll, along with the available games displaying once you choose a system.
There's shortcuts to your favourite games and game history which is handy. And a bunch of settings in the menu where you can change Themes, Language, screen brightness and more.
The firmware is basic but functional, this is a budget handheld after all.
HDMI Output
We saw the Mini HDMI port earlier and here is a capture of it. It is outputting to 720P with some filtering to smooth out the upscaling. It does stretch to widescreen but other than that it works just fine. The Miyoo Mini did not have HDMI so it's a nice feature to have.
Emulator Performance
Arcade
Now on to some emulator tests in no particular order. We start off with Arcade and Double Dragon. I did notice some speed up and slow downs on this game, I'm not sure if it is the emulator frameskipping or the hardware causing the issue as there is no FPS display or frameskipping settings available on any of the emulators.
GBA
GBA emulation works great and also looks great on the screen. We did not spot any issues with games slowing down where they should not be. Top marks here!
Vertical Arcade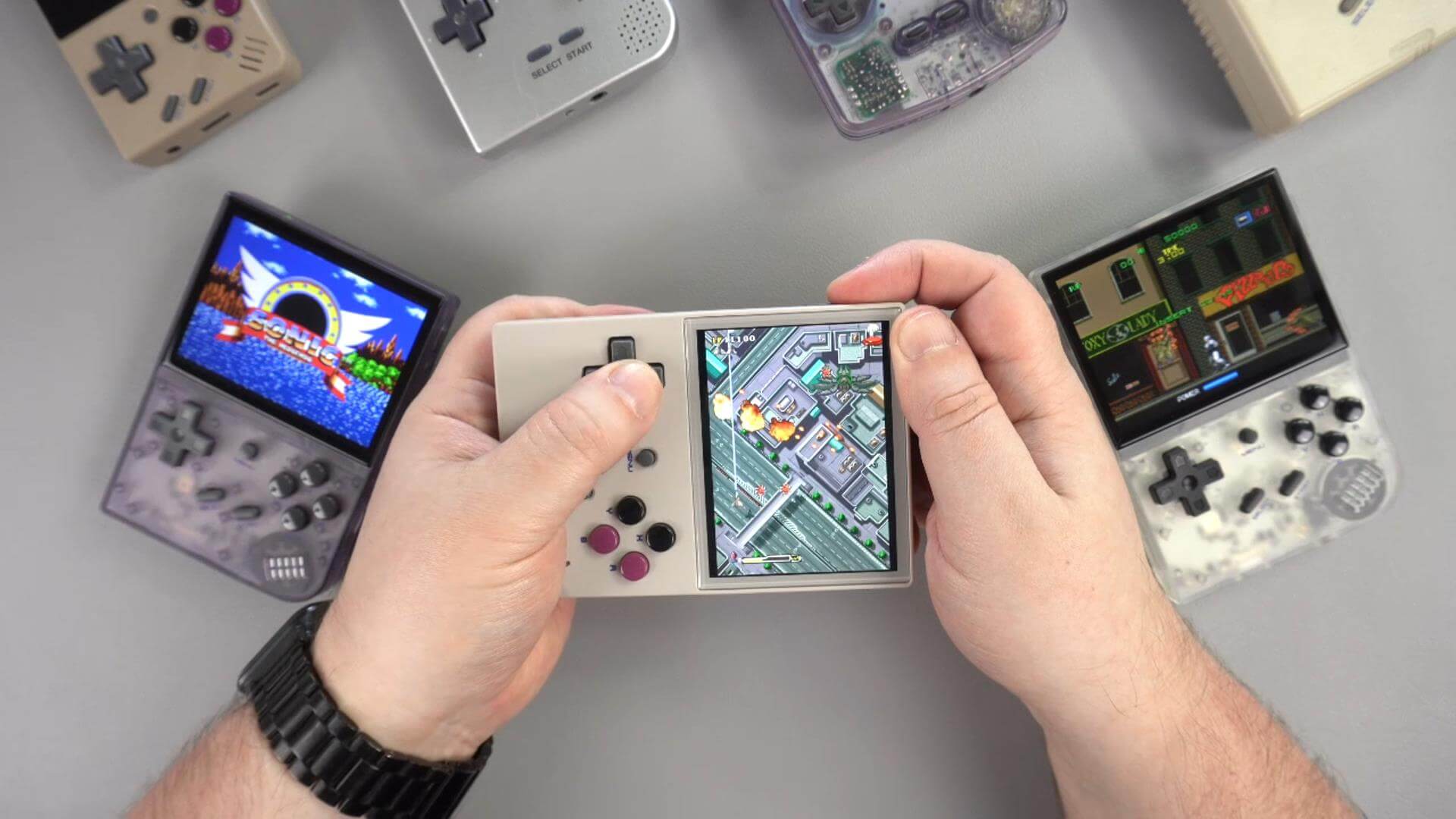 You may have noticed the Vertical Arcade menu of the systems list. You can play your emulator handheld screen rotated games using the volume keys as the gaming buttons. Overall it works fine and it's not that uncomfortable to play.
SNES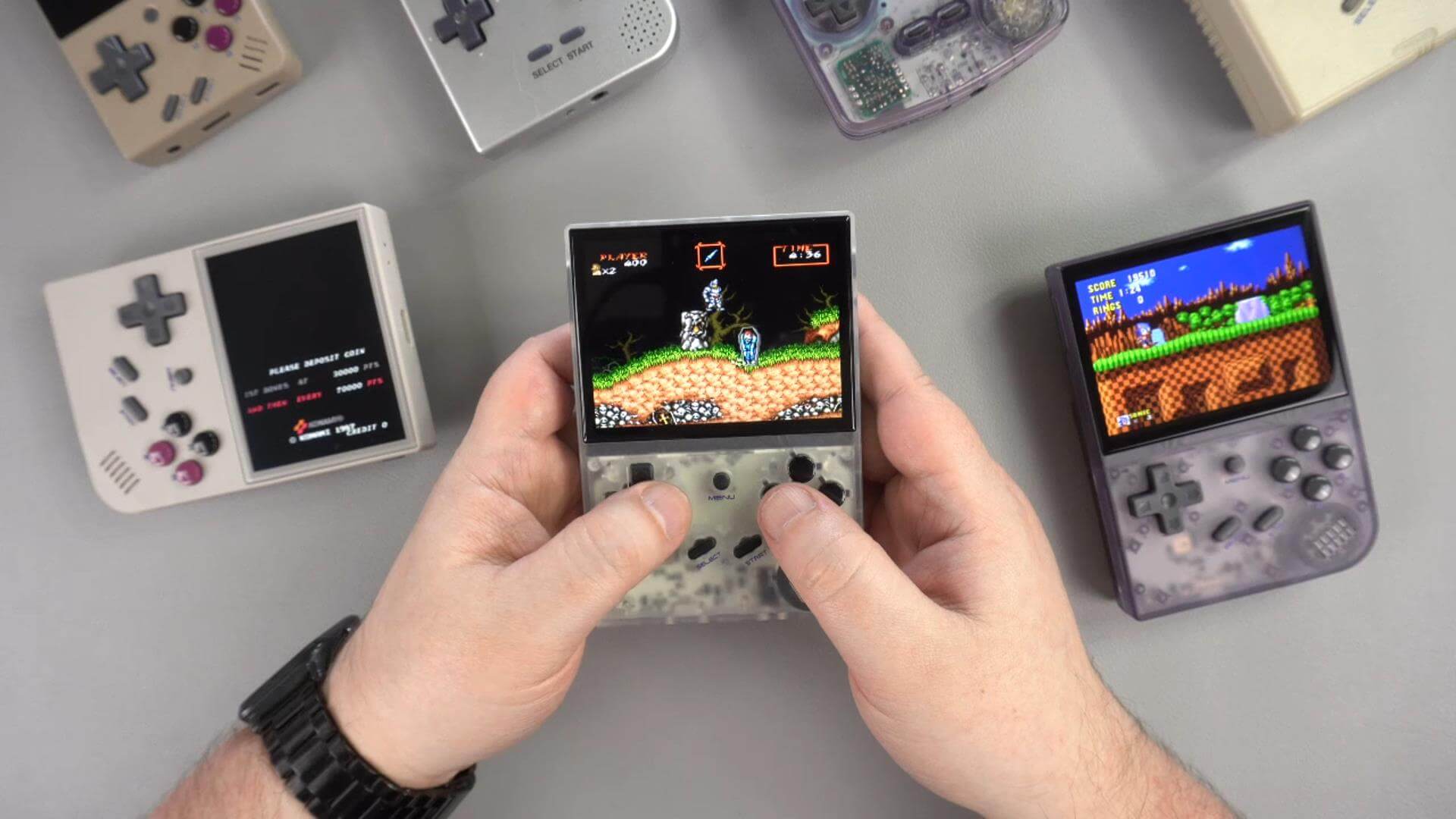 I tried a bunch of games and did not see any slowdowns. But I did see a few times that some games speed up which again makes me think there might be some frame skipping being used.
Gameboy
Gameboy games will work just fine but annoyingly there is no option to change the colours to the original green theme so you will have to make do with the grey and white theme instead.
PC Engine
I was not expecting to have any issues with PC Engine emulation and I did not have any. All the games I tried on the RG35XX worked fine.
Master System
And it is much the same for the Master System, all the games I tried worked fine with no issues at all.
PlayStation 1
And on to PlayStation 1. Overall the performance is decent, I tried a bunch of different games including Tekken 3, Gran Turismo and Ridge Racer 4 and I did not spot any slowdown. I don't think there is frame skipping being used either. This is something the Miyoo Mini with stock firmware did not reach without custom firmware so top marks here for the RG35XX retro gaming handheld if no frame skipping is being used!
Final Thoughts
We finish our RG35XX review with our thoughts on the emulator handheld and is it worth buying compared to the Miyoo Mini. We need to keep in mind that the RG35XX is a budget retro handheld, with most other handhelds costing double the price of this one. So let's go over what we liked and didn't like.
The size is the main talking point. Everyone is comparing the size to the Miyoo Mini as it is the target budget retro handheld. Personally I do not mind the size, with it being larger it means my hands are not as cramped while holding it for long periods of time. But I do agree it is not as easily pocketable as the MIyoo Mini. The RG35XX does have HDMI output which is a nice extra, not always found in more expensive handhelds.
The OS and UI are very basic but it does the job just fine. It is quick to navigate the systems as well as the games. Sometimes simplicity is best and in this case I don't mind it all. But having a custom firmware did elevate the Miyoo Mini to an amazing budget handheld. With firmware such as Onion OS we saw improved UI, faster emulator performance and even more emulators to play with. Once GarlicOS is more established we should see very similar results to Onion OS
But emulation on the RG35XX retro gaming handheld is overall pretty good, it plays PlayStation 1 with no apparent issues. However, I would have liked to have seen if frame skipping is definitely used on some of the emulators, and the option to disable it. It can be annoying seeing normal and sped up character movements in games.
RG35XX or Miyoo Mini?
Is the RG35XX worth buying over the Miyoo Mini? If you can find a Miyoo Mini then buy one, it's my favourite retro handheld this year and that's not going to change. But getting hold of one is very near impossible, we have over 1000 people signed up for in stock notifications on our store to put it in perspective.
So yes, the RG35XX is worth buying if you want a budget retro handheld right now, it's not a Miyoo Mini but it's the next best thing!
Where to buy the RG35XX?
You can learn more and buy your RG35XX here. Use the discount code RG35XX5OFF on the checkout for an even better price! You can browse our range of retro gaming handhelds here.
That wraps up our RG35XX review, we hope you have found it useful. Which retro gaming handheld is better? The RG35XX or the Miyoo Mini? Let us know in the comments!