Design

Build Quality

Display

Performance

Features

Software
Summary
The RG353M is perhaps the best in the '353' series with the premium feeling aluminium alloy case.
Pros
Premium feeling  aluminium alloy case
Choice of Android or Linux OS
Can install custom firmware for Linux
Cons
Still no official Google Play Store support
Android OS feels a bit unfinished
The long awaited metal model of the RG353 series is finally here! In our RG353M review, we see if Anbernic has bothered to address our complaints about the previous dual boot models and updated anything else. TL;DR They didn't, but oooh metallic case!
RG353M Review Video
Unboxing the RG353M
We have the RG353M retro gaming handheld itself which we will show in more detail shortly.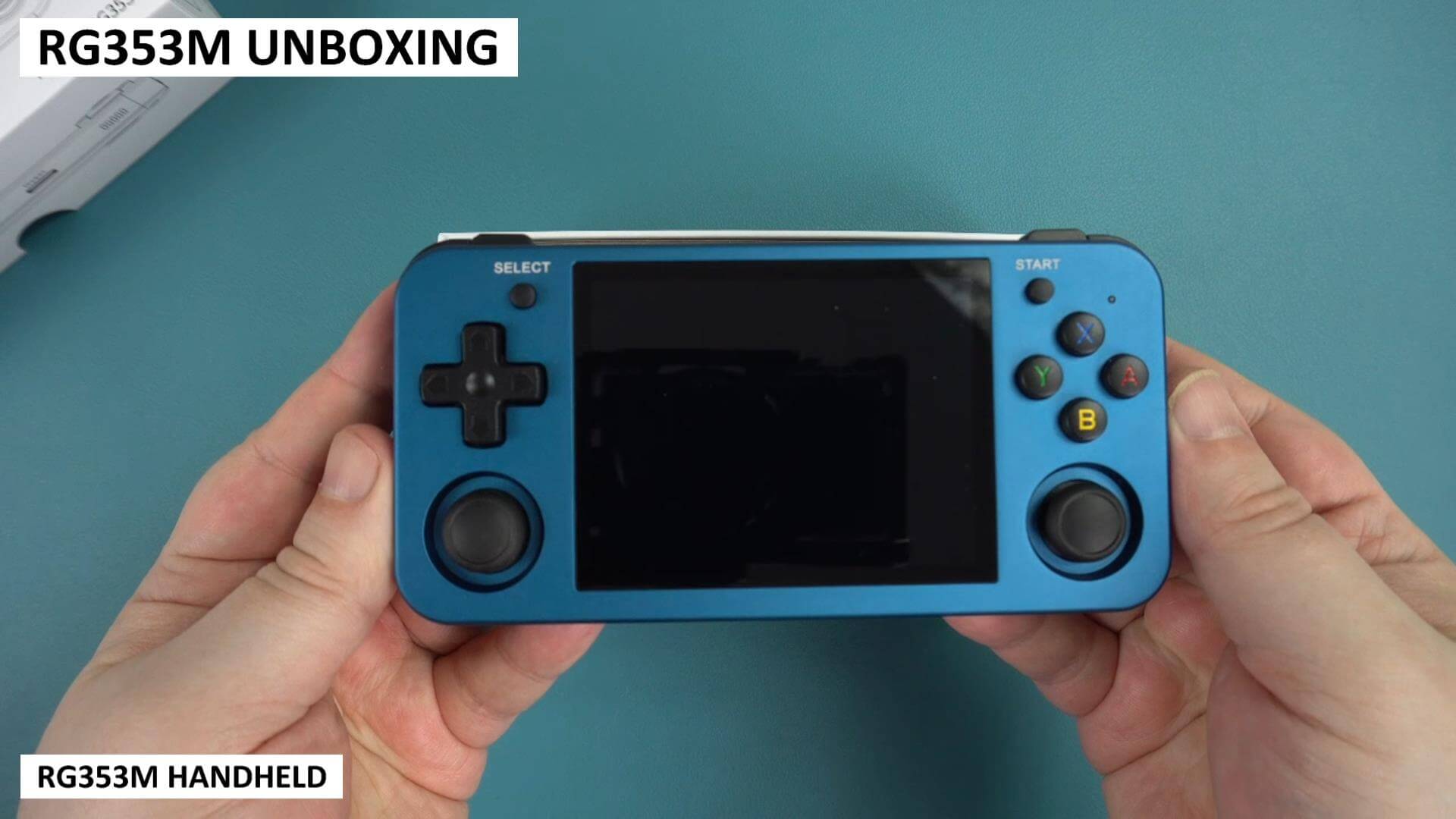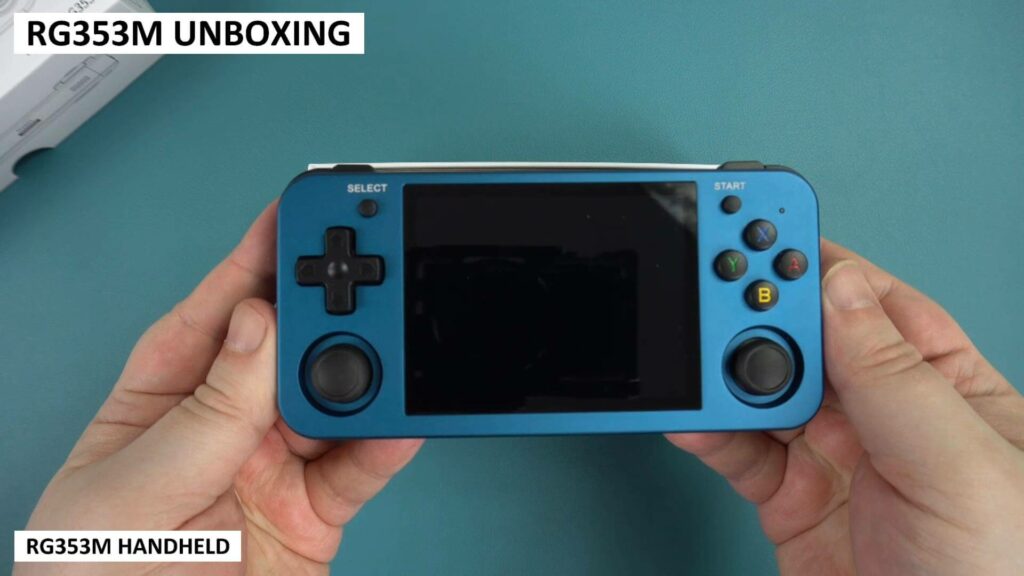 Underneath the packaging we have a 64GB Micro SD card which is used for the game storage. There is a user manual sheet, one side is in Chinese and the other in English. We have a USB Type-C charge cable which plugs into the right side port on the handheld.
And last but not least we have a screen protector and some wipes for when applying it to your handheld.
Overview of the RG353M
The RG353M is available in two colours, Blue and Deep Purple. The Blue colour was a very popular colour on the past model. Which is your favourite? Let us know in the comments.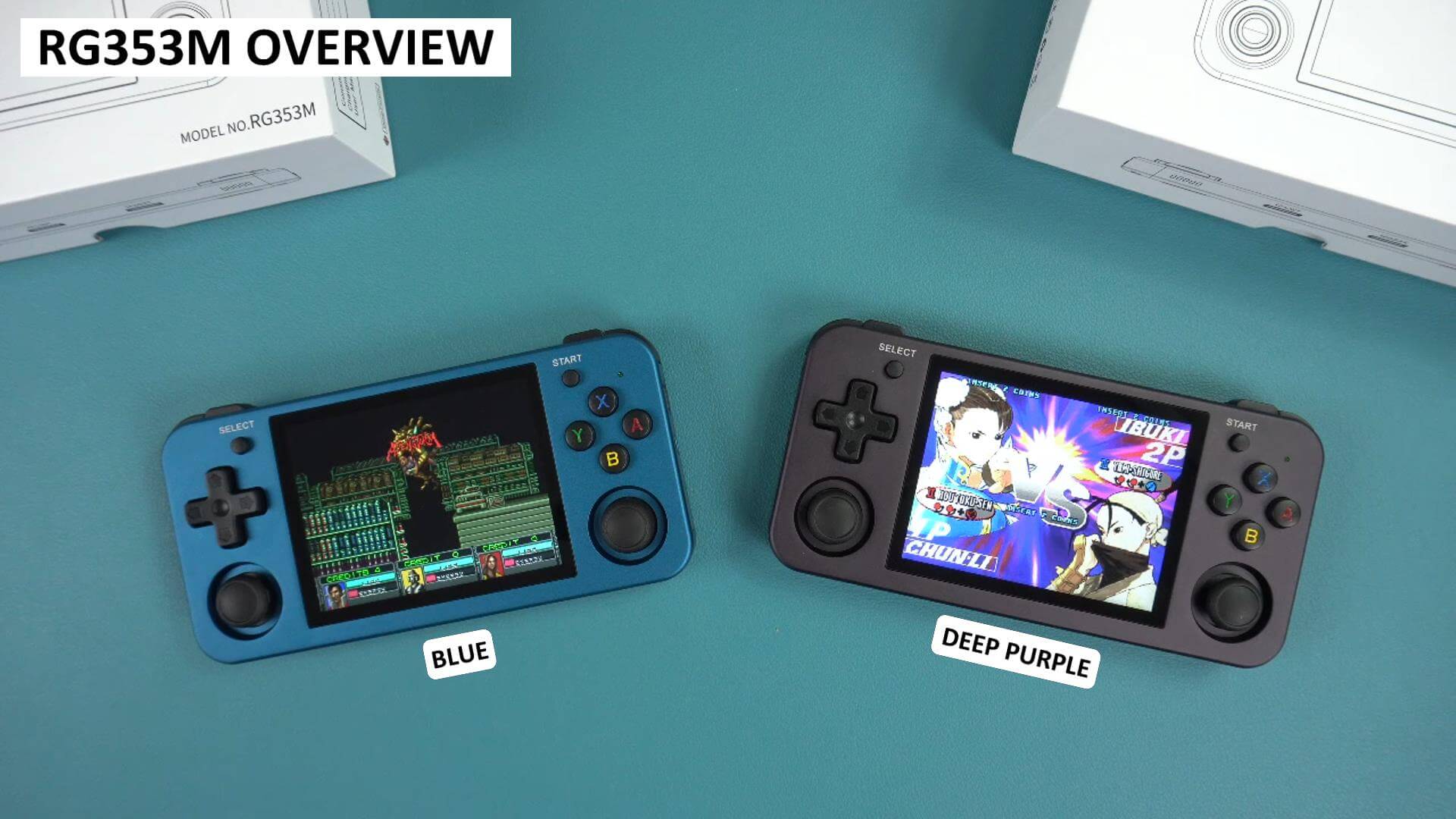 The RG353M measures around 5.07 x 2.7 x 0.62 inches (12.8 x 6.8 x 1.57) and weighs 232 grams. The display is a 3.5-inch IPS multi touch screen with a 640*480 screen resolution. On the front are your standard gaming controls with dual analog sticks, D-Pad and gaming buttons.
The left side of the retro gaming handheld contains the volume rocker, and the right side has the power and reset buttons.
On the top of the RG353M are shoulder and trigger buttons. There is a 3.5mm headphone port, USB Type-C port for connecting peripherals to, a Mini HDMI port for connecting to a TV or monitor, a second USB Type-C port which is used for charging and a Function button which is used to bring up the in-game menu.
On the bottom of the retro gaming console are two micro SD card slots. The first is used for the Linux operating system and the second is used for the storage card where your games are kept on.
RG353M Technical Specifications
CPU
RK3566 Quad-Core 64 bit Cortex-A55, Main frequency up to 1.8GHz
RAM
2GB LPDDR4
STORAGE
32GB eMMC 5.1 Internal (Android)
16GB Micro SD Card (Linux)
DISPLAY
3.5-inch IPS, 640×480 resolution, multi-touchscreen
COMMUNICATIONS
WiFi 5
Bluetooth 4.2
COLOURS
Blue & Deep Purple
BATTERY
3,500 Li-polymer
Just over 5 hours whilst running Antutu benchmark on a loop
RG353M Technical Specifications
System Benchmarks
We ran some system benchmarks so we can compare the performance to other Android based handhelds.
| | | | |
| --- | --- | --- | --- |
| | ANTUTU | 3DMARK | GEEKBENCH |
| RG353M | 96015 | 755 | 125 / 413 |
| RG353V | 93759 | 743 | 116 / 384 |
| RG353P | 95231 | 753 | 118 / 386 |
| RG552 | 171395 | 1062 | 307 / 708 |
| RETROID POCKET 3 | 163702 | 704 | 372 / 741 |
| GPD XP+ | 670576 | Score maxed! | 845 / 2869 |
RG353M compared with other Android handhelds
Comparing these results with the RG353P and RG353V models, we can see they are all performing roughly the same as each other. However the M model does have the overall highest scores out of the RG353 range.
Linux OS
We covered much of the RK3566 processor's performance in our recent RG353V review. Overall the Linux performance is pretty good for up to the Dreamcast era. It is there you will find that some games do not run at full speed but are still fairly playable. For PSP you will find that some games are playable, usually those running at 30 FPS by default such as Vice City, or games that are not highly demanding.
For the other older handheld systems such as GBA you should not have any major issues, we tried a few games and they all worked great. For its dual screen brother, the majority of games should run fine. We did not notice any unplayable frame rate issues but there are probably a couple.
And of course older 16-bit systems such as the Mega Drive and earlier 8-bit such as the PC Engine will have no issues at all. on this handheld game console
Overall the Linux side of the OS works just fine, everything is set up ready to be played. No major complaints here.
Android OS
Unsurprisingly nothing has changed since we last reviewed the RG353V Android OS. It still feels unfinished with some emulators installed but not set up. There is no Google Play Store pre-installed so you will have to resort to other methods to install that or use other apps. Luckily we have made a guide on how to install Google Play Store on the RG353M. We would really like to see this as standard in all Android OS models, but I think we have a better chance of winning the lottery than seeing this 🙂
Once again RetroArch is the saving grace for the Android side. With it you can download a decent number of emulator cores for computers and consoles ranging from Amstrad CPC up to PlayStation Portable era. The majority of systems up to the PlayStation 1 era should work fine. Dreamcast does run smoother on the Android but you will need to install the Redream emulator yourself.
Performance will not be amazing on PSP, it will be a little faster than the Linux OS. You will not get 60 FPS on God Of War, more like the mid 30's with some tweaking. As for AetherSX2 and Dolphin emulators, it still remains a mystery why Anbernic installed them as you will not get much running on either emulator.
I am not a fan of the Android side of the OS, it takes a lot of setting up and I am still not quite sure why Anbernic left it half finished. With some time you can make it work well, but overall you are better off using the Linux OS.
ArkOS Custom Firmware
We usually find ourselves looking to custom firmware to get the best out of these handhelds. ArkOS was recently updated to add support for the RG353M retro gaming handheld and it works great!
With ArkOS you get an overall smoother experience with over 90 classic gaming systems. Regular software updates which can be done over WiFi and much more. We highly recommend installing ArkOS on just about any handheld it supports!
You can find an easy to follow step by step guide on how to install ArkOS here.
Final Thoughts
If you have any of the previous RG353 based systems then there is not really any reason to upgrade apart from that is it in a metal case. The performance is nearly identical across all models as is the Linux and Android OS software. Going back to the metal case, it does give the handheld a premium feel and a nice weight to it. The Deep Purple colour is OK, the Blue colour is spot on in my opinion. I can't lie, the metal case does make the handheld look great!
If you have one of the older RG series or are buying a retro handheld for the first time then the RG353M retro gaming handheld is the best out of the series. The metal case is our deciding factor here, and we do also recommend installing ArkOS to get the very best out of the handheld!
Where to buy the RG353M?
You can learn more about and buy the RG353M here. Use the discount code RG353M5OFF on the checkout! Or check out our range of retro gaming handhelds here.
That wraps up our Anbernic RG353M review, we hope you have found it useful? Let us know what you think of the handheld in the comments below!