We are looking at Anbernic's latest retro handheld emulators which come in two models, the RG353V and slightly cheaper RG353VS. In our RG353V and RG353VS review we will go over the hardware and software differences in the Android and Linux handhelds, and then test some emulators on both to find out which is the best value for money.  
RG353V and RG353VS Review Video
Unboxing the RG353V and RG353VS
We start the RG353V and RG353VS review with the unboxing. Apart from the box design, the contents are essentially the same for the V and VS models.
To start we have the retro gaming handheld itself; we will show them and the different case colours in more detail shortly.
There is a 64GB micro SD card. There is already a 16GB card in the device which has the Linux operating system, this card is used for your game storage. Next is the user manual, on one side is in English language and the other in Chinese. It has got everything you need to get up and running. There is a USB type-C charge cable, this plugs into the port on the bottom of the retro handheld to charge.
And last but not least there is a screen protector and wipes for when applying it to the screen.
RG353V and RG353VS Overview
The RG353V handheld gaming console is available in four models White, Black Transparent, Grey and Purple Transparent. The RG353VS is available in Black Transparent and Grey only.
The RG353V and RG353VS are visually the same, measuring around 4.9 x 3.2 x 0.8 inches (12.6cm x 8.3cm x 2.1cm) and weighing 193g. The build quality feels good and not too heavy for extending gaming sessions.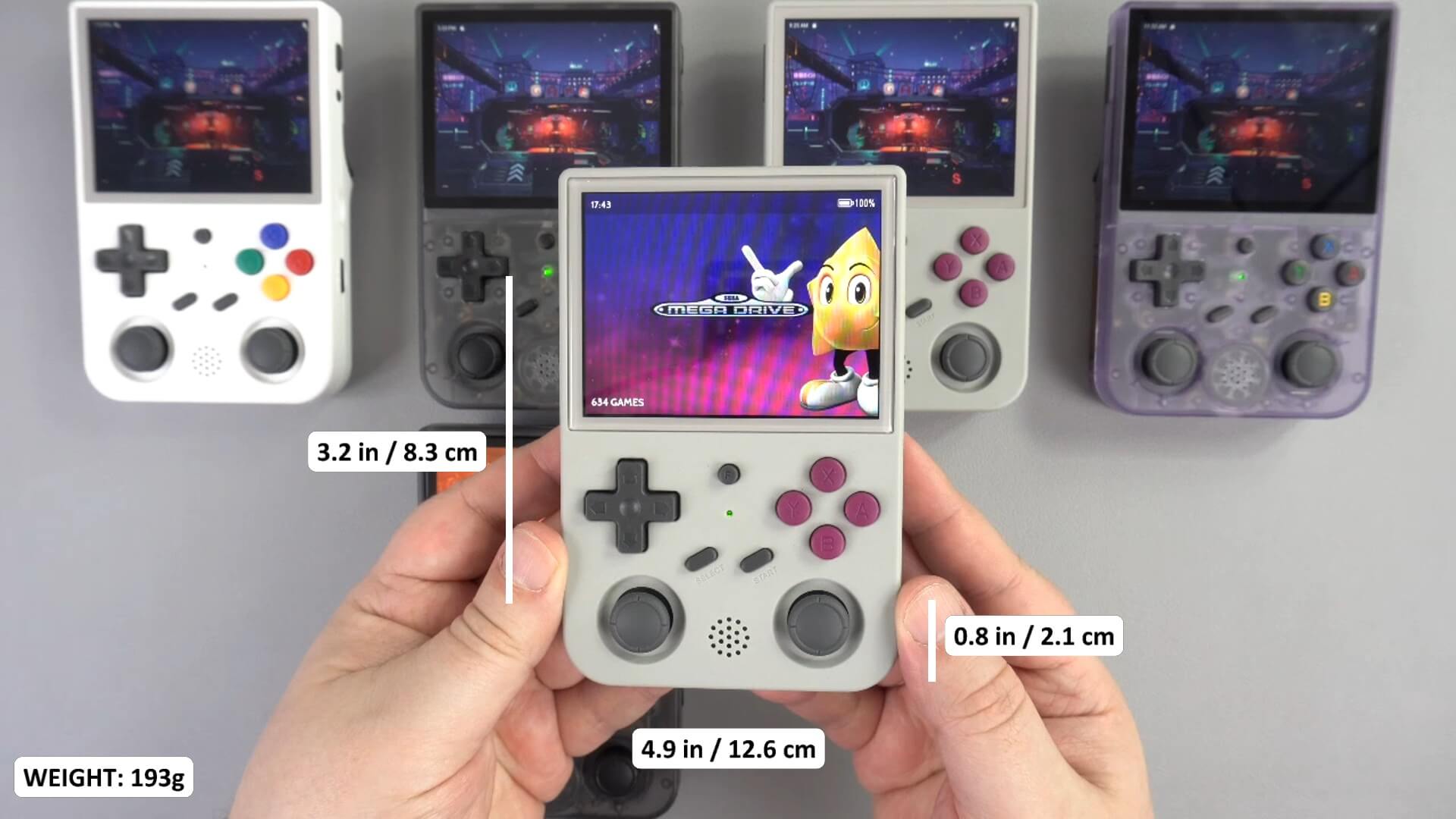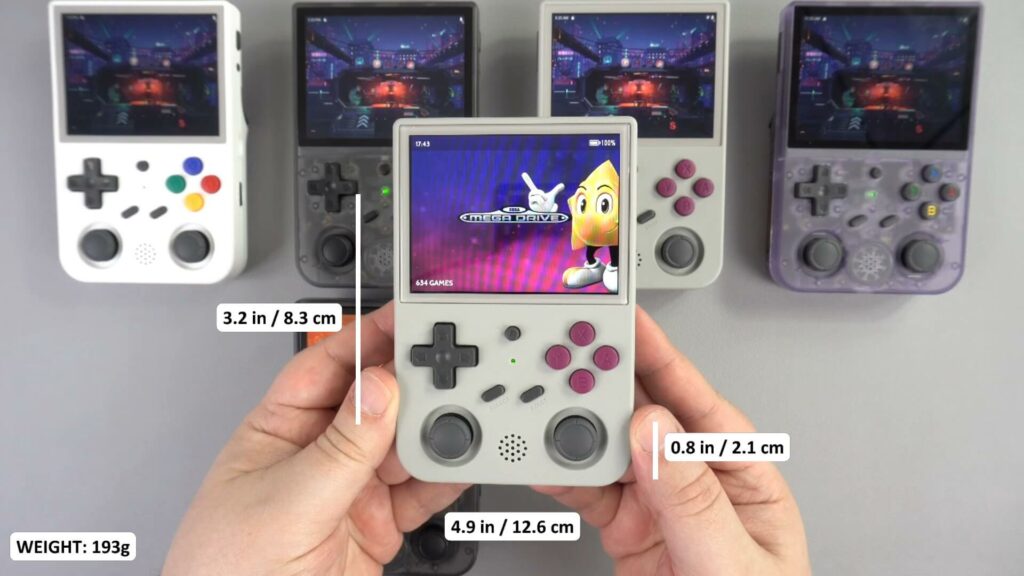 The display is a 3.5 inch IPS screen with a retro gaming friendly 640×480 resolution. The V model is touchscreen, and the VS is not. Below are your standard gaming controls with classic D-Pad, dual clickable low profile analogue sticks and buttons. In the middle is a Function button which will bring up the menu or return to home depending on which OS you are using.
The top of the retro gaming handheld has a USB Type-C port, a mini HDMI port for output to TV or monitor, and a 3.5mm headphone jack. On the left is the volume rocker, and on the right are two micro SD card slots, one used for storage and the other for Linux OS. There is a reset button and a power button.
The bottom of the handheld console has a USB Type-C port which is used for charging the handheld.
And on the back are your two sets of left and right shoulder buttons. The outermost two are easy to press while playing, but I had to adjust my hands a little and hook my finger to reach the inner button without pressing the outer one as well.
RG353V & RG353VS Technical Specifications
* Higher demanding systems like Dreamcast and PlayStation will of course be less.
Operating Systems Overview
As part of our RG353V and RG353VS review we will take a look at the operating systems. The RG353V has both Android and Linux, while the VS has only Linux. After some testing, the performance is the same for both devices on Linux.
Linux Operating System
The Linux OS comes with an emulation station style frontend and Retroarch for the emulation side of things. Everything is set up and ready to play pretty much straight away. With this ease of use comes some things to note such as choice of emulators and systems are restricted. The performance may also not be as high as on Android which has the faster Vulkan rendering support.
All the 8 and 16-bit emulators will run fine with no issues at all. We tried Master System, Mega Drive, PC Engine, SNES etc and they all ran great.
MAME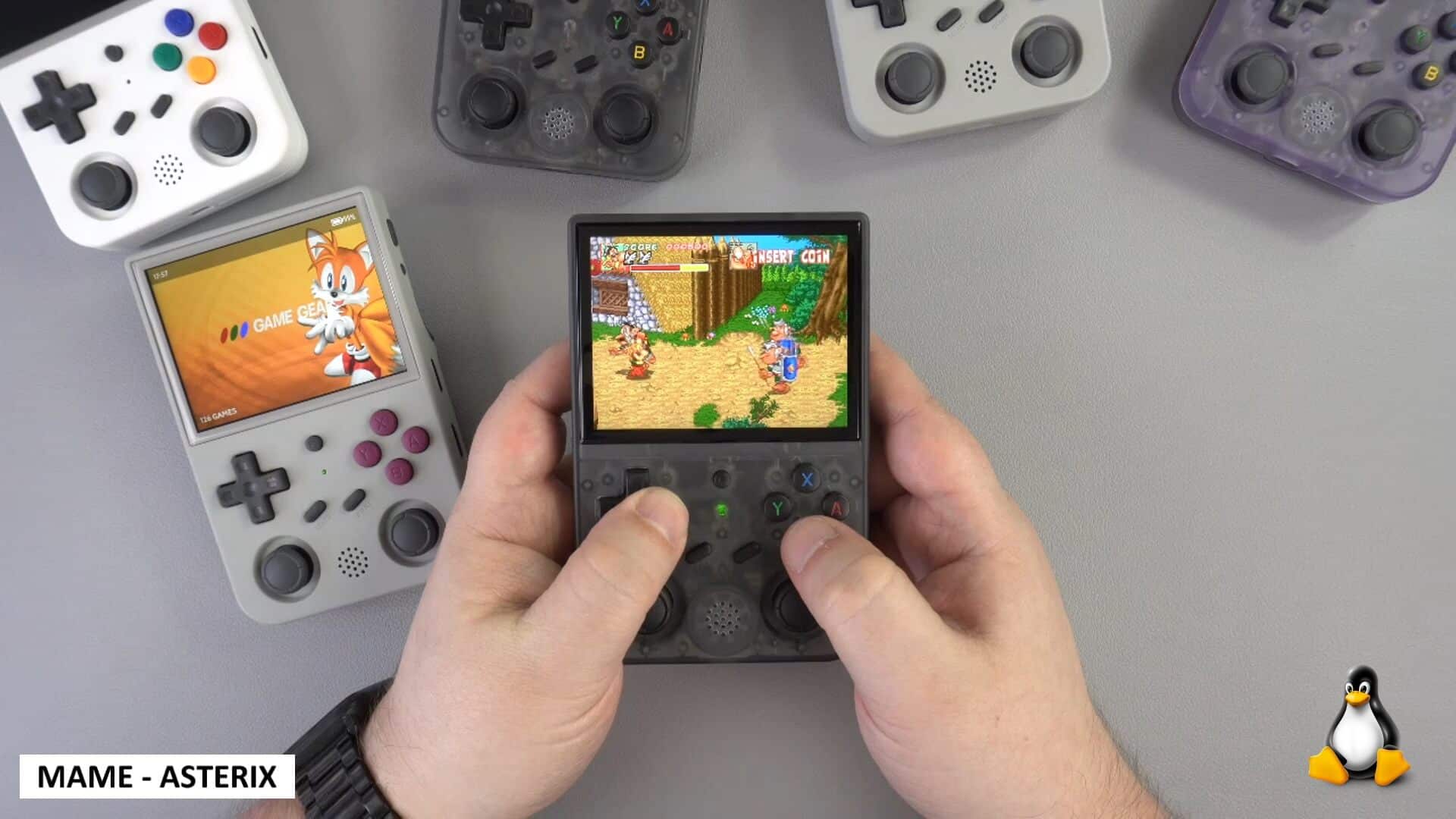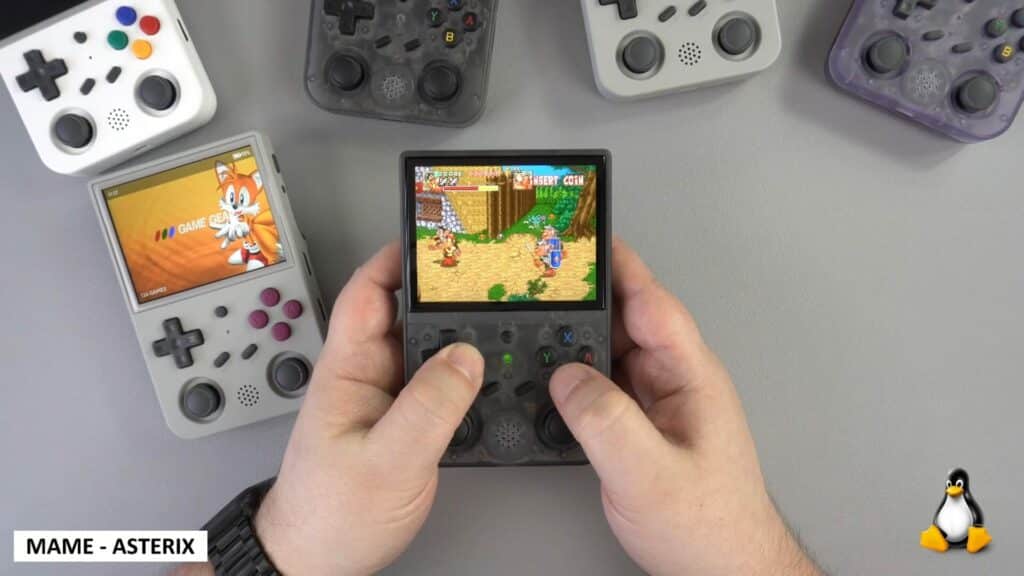 Likewise with the Arcade emulator MAME, we tried a variety of games and they all run with no slowdown or issues. We did not expect any issues as the emulator is well established and very compatible.
CPS-III
Into the higher end Arcade emulation and CPS-III. There are few games for this system, but we had no issues with Street Fighter 3. Everything runs great.
PlayStation 1
PlayStation 1 works just fine; we tried a few different games, and everything ran at full speed with no lags or frame skipping.
Dreamcast
We tried a few different games and got mixed results. A fair number of games ran OK with no issues, then games like Sonic Adventure 2 are running slow and others have sound lagging issues. Dreamcast is hit and miss with what works and does not. Performance is faster on Android.
GBA
On to some handhelds now, we start with the GBA and Sonic Advance 3. We tried a bunch of games and they all ran perfectly fine with no issues or frame drops. The games look great on this display as well.
NDS
Moving on to its dual screen brother and again the games are running fine. Due to the 4:3 aspect ratio the two screens are squeezed into a small area and it is hard to see anything. But you can switch to single full screen and the games are spot on.
PSP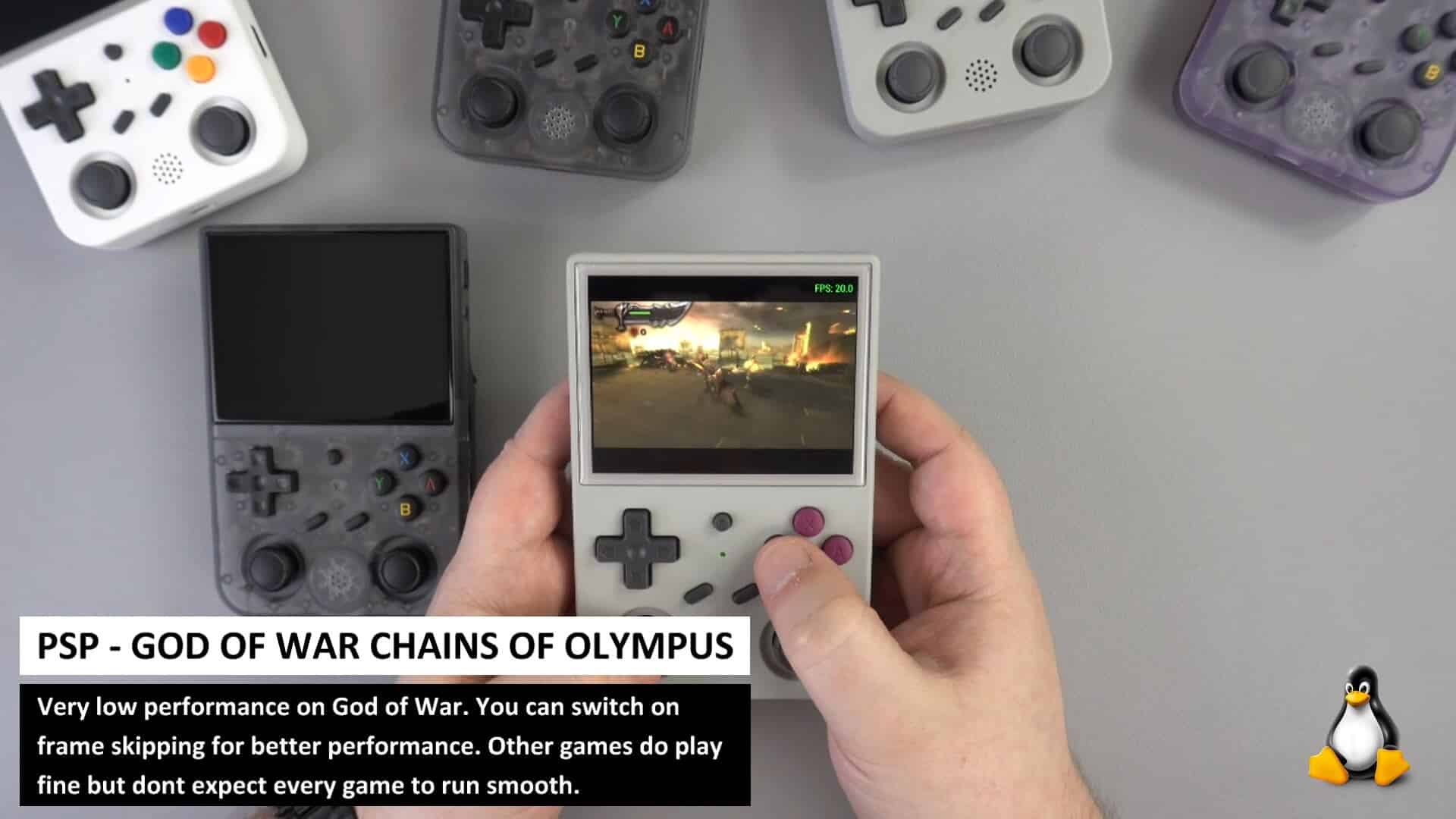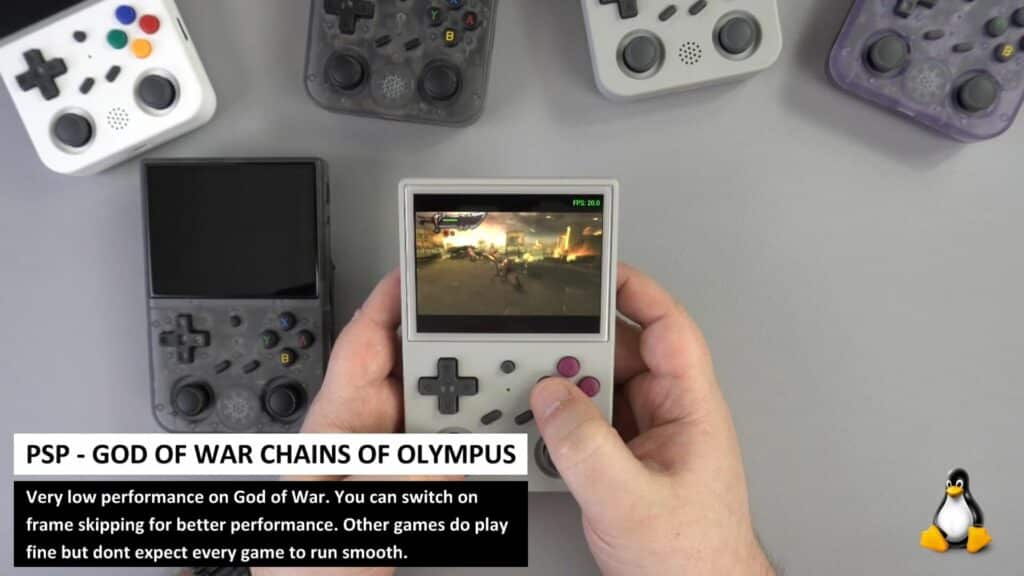 For the PSP we are not getting great performance on our go to game, God of War, for testing. Not having Vulkan rendering hurts the performance and we get unplayable frame rates for this game. Other games do however play better, but don't expect perfect compatibility. Performance is a bit faster on Android OS but not by a great deal
Android Operating System
We continue our RG353V and RG353VS review with a look at the Android OS. Exclusive to the RG353V handheld game console is the Android Operating system which uses the internal storage and has a touchscreen.
And it is with Android that my annoyances with the handheld start to arise. We have seen a few Android handhelds from Anbernic and I would have thought that by now that they would improve the Android side of things. The pre-installed emulators are just pre-installed. They are not set up to look in specific folders on your storage card for example. So, it means you must go through each emulator to set it up one by one.
There is an included frontend of sorts which you activate in the Android drop down menu. After your storage card is scanned, it will add any supported systems and games to their respective menu options. It is quite basic but functional for the systems it does support, which is not a large number. If you add your own games, you will need to also add your screenshots manually as it does not download them. Once your card is scanned, you can then choose a game and it will run it in RetroArch.
Emulators Performance
RetroArch is the only redeeming quality on Android OS. It supports more emulators than on Linux OS with a wide variety of cores which go far beyond your usual consoles. You can download and play games on computers such as the Commodore 64, Amstrad CPC and Speccy, through to newer consoles such as the PlayStation Portable.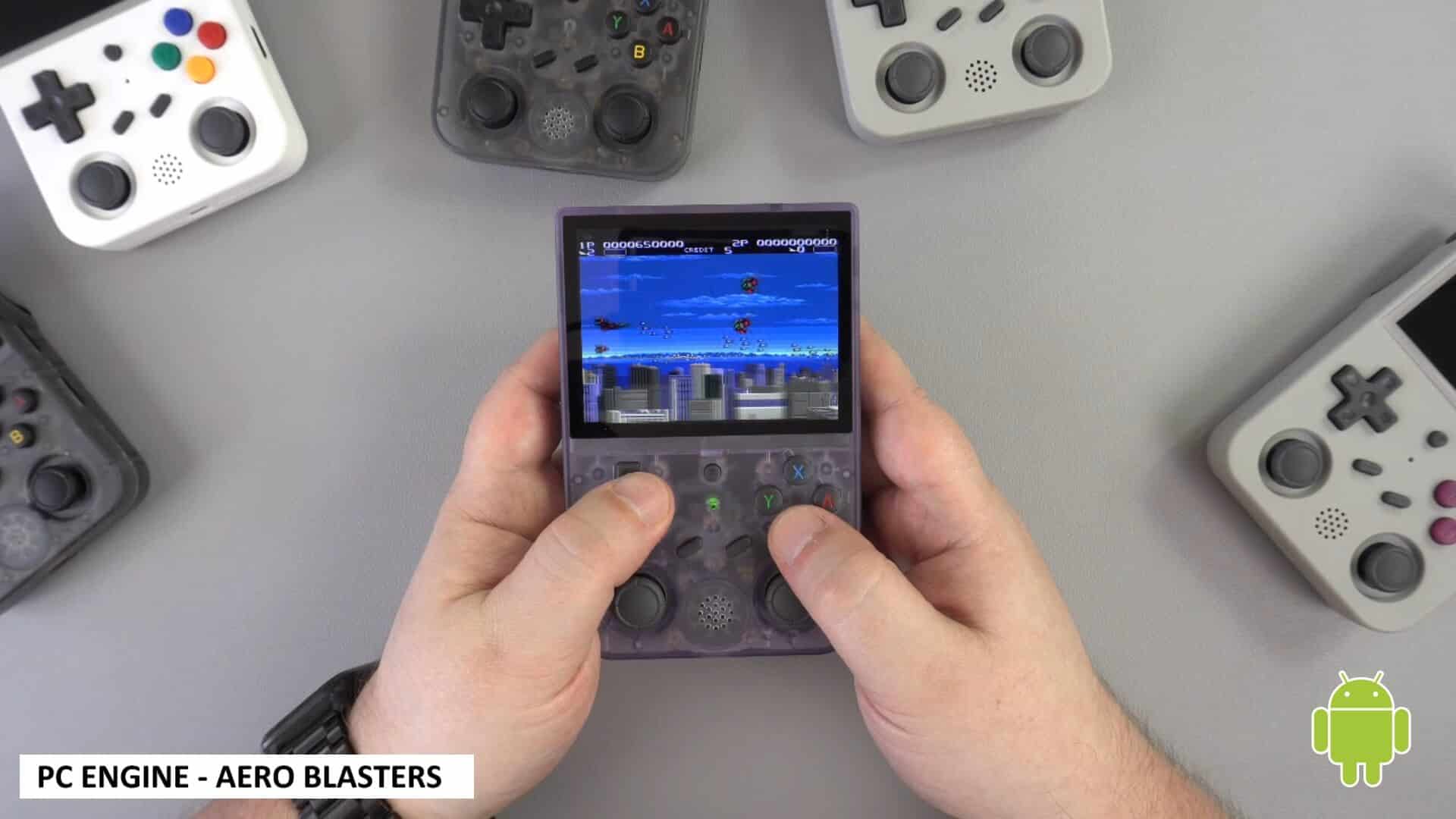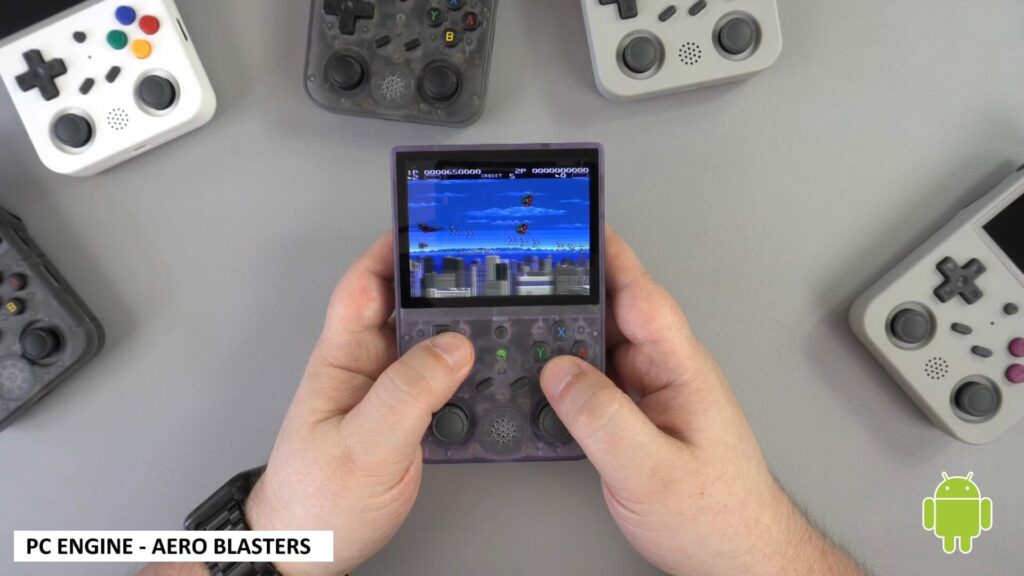 Not every emulator is optimised on RetroArch so you may run into some slowdowns on higher end consoles. In this case you can use the individual emulators such as PPSSPP for a bit of extra performance.
For all the classic consoles, the performance is on par or better than the Linux OS so we will not cover those systems again. I have avoided showing AetherSX2 and Dolphin emulators as quite honestly it is not worth spending time getting them to run. You will find some basic games will work but it is not worth the effort. I would recommend a more powerful handheld such as the GPD XP+ if this were what you want to play.
Missing Apps
Talking about individual emulators, there is also no Dreamcast emulator pre-installed. But we do get a totally unneeded AetherSX2 and Dolphin emulator that will run games at half the speed because the processor is not fast enough. Why include something if the games are not playable?
Also, to note, Google Play Store is not installed so you will either have to side-load apps, try the many ways to install GAPPS or use an alternative such as APKMirror or Amazon Appstore. We understand China has restrictions, but at least make available a firmware with Play Store that others outside can install and get full use of Android.
My thoughts on the Android OS
Overall, I am not overly impressed with the Android OS on the RG353V, it feels half-finished, like someone started installing some apps, got bored and gave up. If you have the time and patience, you can make it nice and functional, but I feel this should not be left to the customer and instead be done by the manufacturer. This is a pre-production review unit but generally little changes between Anbernic's releases and models.
ArkOS Custom Firmware
On to a lighter note and one thing you should consider if you have a spare Micro SD card is to install a custom firmware. ArkOS was recently updated for compatibility with the RG353V and RG353VS. It is quite easy to install and set up, we have an easy-to-follow installation guide here because we highly recommend trying it!
ArkOS supports over 90 gaming systems, as well as over 70 ports via PortMaster. Once installed it is updateable online so you should not have to mess around with setting up cards with each update.
After you have copied your games over to the Micro SD Card you are good to go. If you do not mind a bit of work, this is overall the best experience by far that you will have with this gaming handheld.
Should you buy the RG353V or RG353VS?
Which model is right for you? The RG353V retro handheld emulator does give you a bit more freedom of what you can use and install in terms of apps. And there is a slightly faster performance on some consoles. As for PS2 and to an extent Gamecube emulation, it is not worth having the apps pre-installed at all. And do not forget that Android does take a fair bit of setting up compared to Linux.  
The Linux OS is, on the other hand, plug and play. However, you do not have as much freedom in terms of adding new systems. But you can simply switch it on and within a few moments you are in a game. If time or patience is short, Linux is the obvious choice.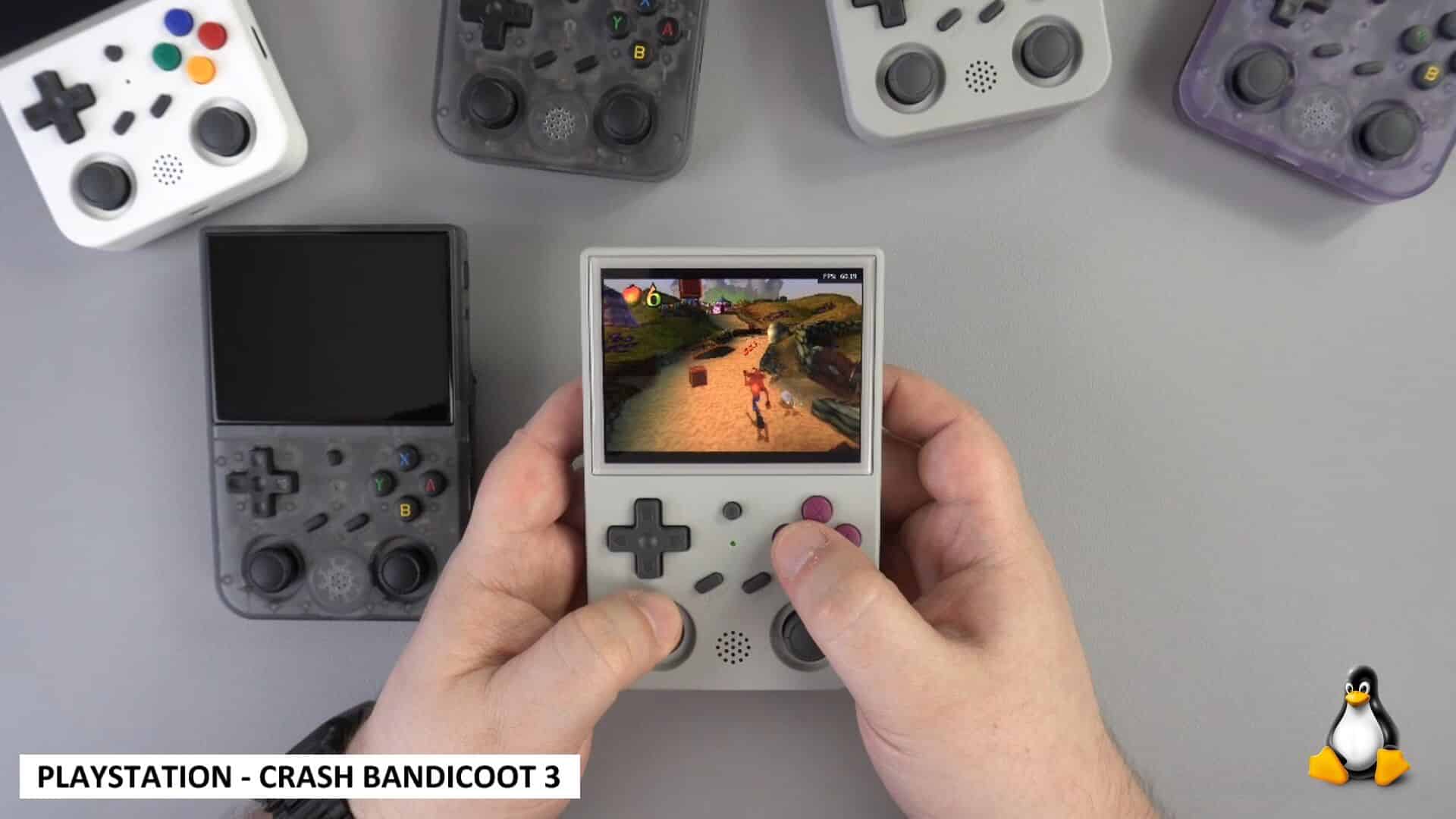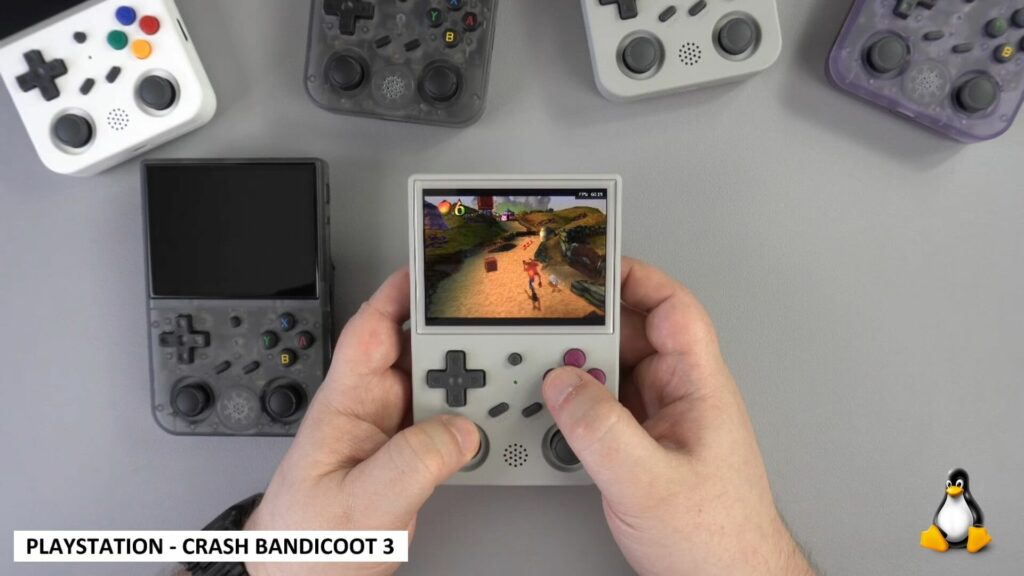 In terms of hardware, you have a few extras on the RG353V retro gaming console such as the internal storage which is only usable for Android. Having touchscreen support is nice but how often will you use it for gaming controls? 2GB instead of 1GB of RAM is useful, but does it make much of a difference when playing games that generally do not require massive amounts of RAM?
Final Thoughts
If you go by the pros and cons, it tells me to buy the RG353V as you can switch between Android and Linux for the best of both worlds. But then you have the excellent ArkOS which is what OS both models should have installed by default. With that you do not need all the extras that the V model brings.
If you do want to save a few dollars or pounds then the RG353VS retro gaming handheld makes absolute sense. You are not missing much, and you would be just as happy with this model running Anbernic's Linux OS or ArkOS. Or pay a little more and gain the extra features as well as having the choice of all three operating systems.
Personally, I would rather spend my time briefly setting up ArkOS and running that only on the RG353VS. They are both decent handhelds, but the RG353V model is let down by a half-baked Android OS. Let us know what you think and which OS you would use in the comments.
Where to buy the RG353V and RG353VS?
You can order your RG353V and RG353VS here. Don't forget to use the discount code RG3535OFF on the checkout! Or if this model did not interest you then check our range of handheld gaming consoles here.
That wraps up this RG353V and RG353VS review, we hope you have found it useful. Do let us know in the comments which model you would buy and would you use the ArkOS custom firmware?