In our ONEXPLAYER 2 review we learn how it stacks up with the other AMD 6800U based handheld gaming PC's. We will do all the usual unboxing and overview, followed by system and games benchmarks, then play some games and emulators at playable settings. And finish up with my thoughts on the ONEXPLAYER 2.
ONEXPLAYER 2 Review Video
Have you subscribed to the DroiX YouTube channel yet?
ONEXPLAYER 2 Unboxing
We start our ONEXPLAYER 2 review with the unboxing. ONEXPLAYER have changed from their usual shoebox style design to a square one. Lets see what is inside.
First we have the ONEXPLAYER 2 handheld gaming PC itself which we will take a closer look at shortly.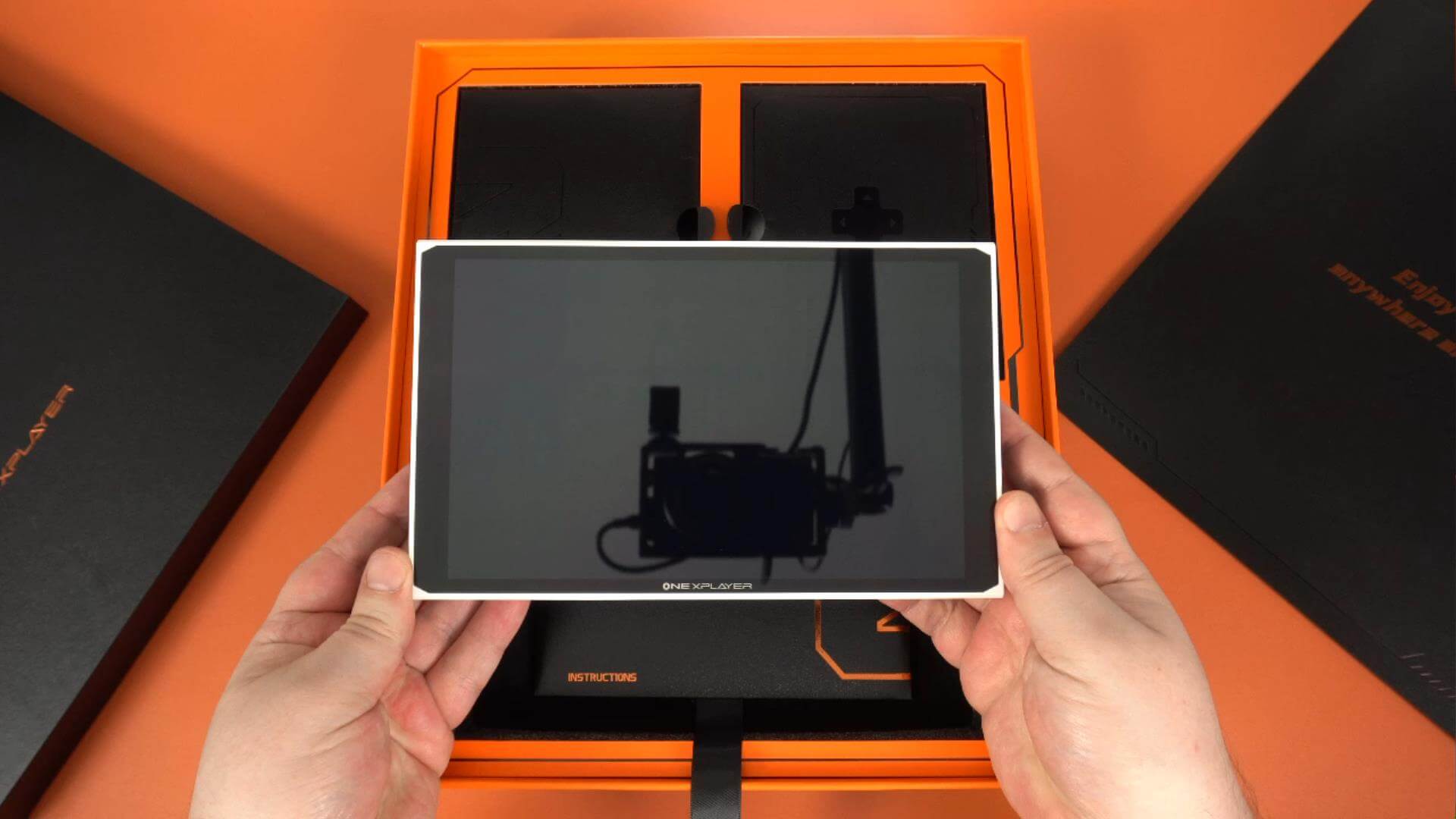 Inside the first box we have the two detachable controllers.
And inside the second box we have a power charger and USB Type-C cable. We will include the correct plug adaptor for your country.
ONEXPLAYER 2 Overview
The ONEXPLAYER 2 handheld gaming PC is available in two colours; Midnight Black and Snow White.
It measures around 12.2 x 5 x 0.9 inches (31 x 12.7 x 2.3 cm) with the controllers connected, and weighs around 848g.
The display is a 8.4" touchscreen with a native resolution of 2560×1600. Along with the AOKZOE A1 it is the largest display and resolution out of the 6800U based handhelds.
The two detachable controllers are fairly light as they are externally powered by either the main unit or the separately sold hand grip. The hand grip was not available at the time of making this review. On the side of the controllers are pogo pins which make the connection to the main unit, sliding into place on either side.
The connection is strong and there is nowhere enough wiggle room like on ONEXPLAYERS previous detachable controller handheld. We were afraid to pick that one up by the controls, but we can definitely say this feels far more sturdy. To remove them there is a small button on the back which needs to be pressed and they slide back off.
When both controllers are connected the LED lighting around the analogue sticks and bottom of the controls are lit up. Unlike the very colourful ONEXPLAYER Mini Pro, you can not customise the colours so it's just the orange lighting unfortunately.
Along the top we have the power button, volume buttons and turbo button which brings up the OXP software. This unit is a preview model so the software is not finalised and as a result some buttons do other tasks, this will be correct in the final model. There is a 3.5mm headphone port, USB Type-C and USB 3.0 Type-A ports. And finally there is a micro SD card for additional storage.
On the bottom there is a four pin connection for future accessories, maybe a keyboard for example. And there is a USB Type-C port.
On the back we have a useful kickstand to keep the ONEXPLAYER 2 upright on the desk.
ONEXPLAYER 2 Technical Specifications
We continue our ONEXPLAYER 2 review with a brief look at the handheld gaming PC's technical specifications and how long the battery lasts as well as its highest fan noise and highest temperature.
In our battery life tests while running Cinebench we got:
Also during the test under full load we got 68 dB highest fan noise and 38 °C temperature.
OXP Software
The OXP software overlay can be opened at any time. You can quickly and easily change commonly used settings such as the TDP, GPU frequency, fan speed, brightness and volume. You can also easily switch screen resolution, alter the brightness etc.
It's got everything you need in terms of quick access to functions. While it's not anywhere near its competitor, the AYA SPACE from AYANEO, it does the job fine. One thing to note is that with anti-cheating software such as that used on FIFA 23, you may need to close the OXP software before running the game as it will prevent you from running it.
System Benchmarks
As part of our ONEXPLAYER 2 review we perform a series of benchmarks for system followed by gaming. This provides information to be able to compare hardware with similar products.
PCMARK10
We start our system benchmarks with PCMark. It tests everything from day to day tasks up to more demanding work such as large office documents and image processing.
The ONEXPLAYER 2 gaming handheld scores 5,847. We can see that the score is a little lower than the average, but not the lowest which is the GPD WIN 4.
Cinebench
Cinebench tests the CPU performance, we are running the multi-core test. The ONEXPLAYER 2 scores 11,294.
The ONEXPLAYER 2 scores very well, with just its smaller brother the ONEXPLAYER Mini Pro beating it.
3DMARK
For 3DMARK we got a score of 2,815 for Time Spy, 25,447 on Night Raid and 6,739 on Fire Strike.
The ONEXPLAYER 2 does great on 3DMark with the highest scores across all three tests. So far so good!
Gaming Benchmarks
As always we also run some gaming benchmarks to push the handheld gaming PC to its limit. For these benchmarks we will be testing at the ONEXPLAYER 2's highest resolution of 2560×1600 at 11W, 20W and 28W TDP, as well as 1200P and 800P at 28W to get a range of performance differences for comparison.
Forza Horizon 5
We are running Forza Horizon 5 on the lowest graphics settings. First we have the benchmark results across all the tests we performed. This includes 1600P, 1200P and 800P at different TDP's.
And for our comparisons we are using 1200P and 800P at 28W TDP results. The results are fairly close to each other with around the early 90's FPS at 1200P and 110-120 area for 800P. The ONEXPLAYER 2 gaming handheld takes the highest position along with the GPD WIN MAX 2.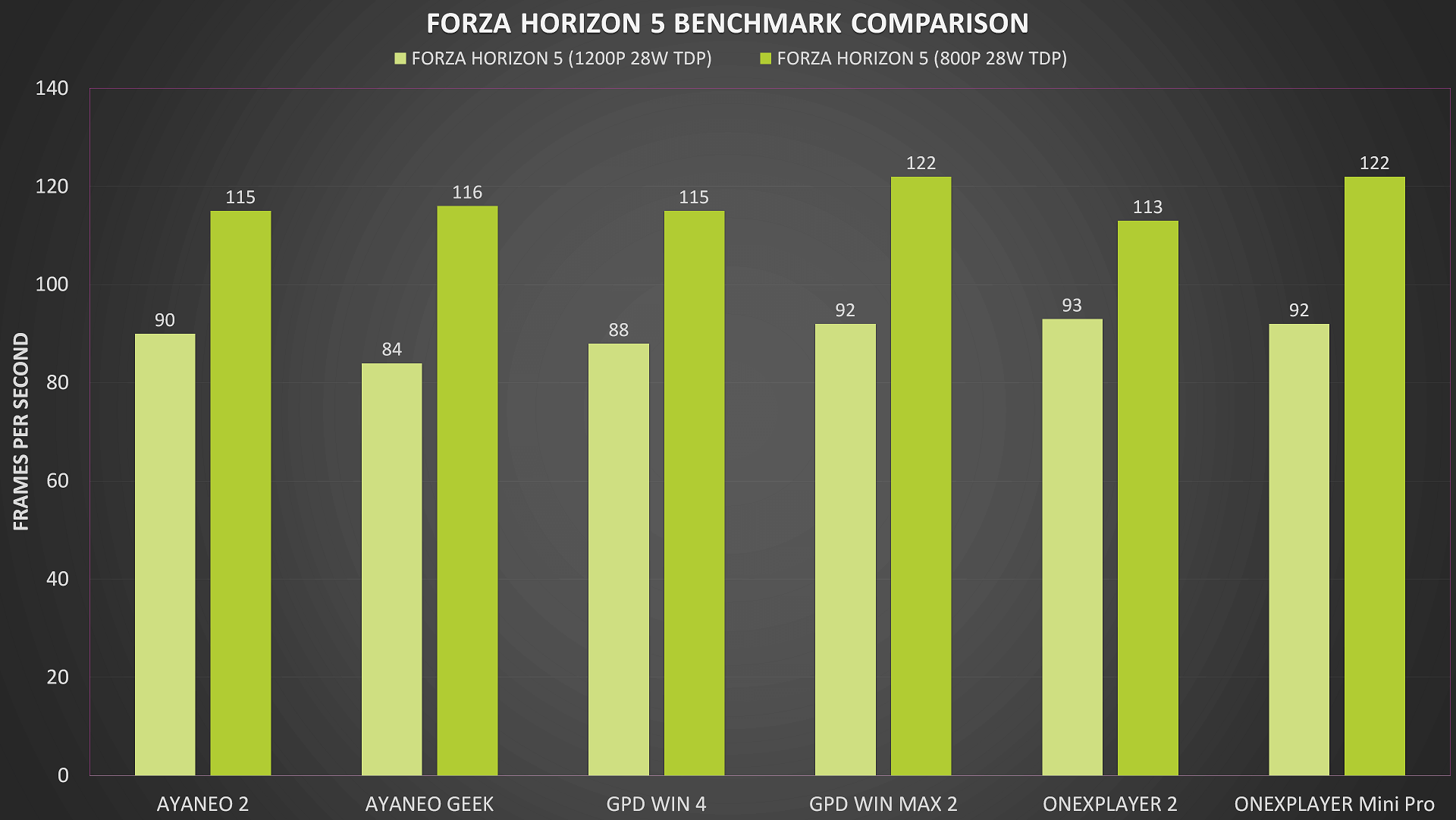 Shadow of the Tomb Raider
We are running Shadow of the Tomb Raider on the Lowest graphics settings. And compared to the other 6800U based handhelds we again get very similar results. The ONEXPLAYER 2 is in the higher range of frames per second.
Again we have the 1600P, 1200P and 800P results across different TDP. Overall they are decent scores with 1200P and 800P at over 60 frames per second.
Cyberpunk 2077
For Cyberpunk 2077 we are running on the Low graphics settings, again with the same resolutions and TDP's. It is quite a demanding game and we can see above 60 frames per second performance at 800P.
And compared to the other models we see roughly the same performance on average as the other handheld gaming PC's.
Call of Duty Modern Warfare II
And last but not least we are testing Call of Duty Modern Warfare 2 on the Minimal graphics settings. On the same resolution and TDP settings, we can see good performance at 1200P and 800P, above 60 FPS.
And compared to the other handhelds we again get around average performance. We will check out the best settings for the game shortly.
Gaming Benchmarks Summary
Overall the ONEXPLAYER 2 handheld gaming PC does very well in the benchmarks. It generally appears in the highest or average results. Do remember that some handhelds were benchmarked some months ago, so software and driver updates can increase or decrease the performance. But again, overall we are impressed by the performance.
Game Performance
We are now playing some games at playable graphics settings as part of our ONEXPLAYER 2 review. One for the best quality and the other for best battery life when possible. Some of these games and emulated games were suggested by our viewers on social media, so thanks to Danny Dillon, Frost Not Found, Herbert Hawes, Power Slaty, tattoodrdoke, julesuk2009, mangekoo, Der Krazy Kraut, Onkel Bong & Cozy Gameplayz.
FIFA 23
We had a few requests for FIFA 23. You do need to enable Secure Boot in the BIOS which takes like 2 minutes to do, and you will need to close the OXP software due to the EA Anti-Cheat software preventing it from running. But other than that the game runs at 1600P locked to 60 FPS with no issues at all.
To save battery, you can go down to 800P and lower the TDP. We couldn't get exact frame rates to check due to anti-cheat software but it was still running fine at 15W TDP.
Wanted Dead
Hot off the press is Wanted Dead. You can go for 28W 800P Low quality at 60FPS for mostly stable frame rates. If you limit the frame rate to 30 you can go up to High quality which visually looks far nicer on the ONEXPLAYER 2 handheld gaming PC.
To save battery you can run it 15W at 30 FPS on Low quality graphics settings.
Call of Duty Modern Warfare II
As with all the 6800U based handheld gaming PC's we are running at 28W 800P on the Minimal graphics settings with no upscaling for clearer visuals. You can use these settings on both the campaign and multiplayer modes.
To save battery you can limit the frames to 30 and lower the TDP a little.
Final Fantasy XV
For Final Fantasy XV we are running at 28W 800P on the Average graphics settings with 30 frames per second limit on. When running at 60 frames, it was dropping as low as 45 during busy scenes, so it was a bit jumpy. You could either lower the graphics quality or limit it to 30 frames and it runs solid.
To save some battery you can do both and drop the TDP a bit.
Emulator Performance
We continue our ONEXPLAYER 2 review with a look at the emulation performance. As with all the other 6800U handhelds you can run up to the Dolphin era with no issues whatsoever one the ONEXPLAYER 2. With many of the emulators you can upscale the visuals for improved quality or lower the TDP for more battery life. So we will take a brief look at the higher end emulators.
PlayStation 3 – RPCS3
A few people suggested some games to try but they are not fully playable on RPCS3 yet. Gran Turismo 6 and Uncharted were two of the games that are not compatible just yet but hopefully are in the future.
So we checked with our tried and tested Wipeout HD and got mostly full 60 FPS on it. Other games will not be as fast and may have shader caching lags.
Ryujinx
For Ryujin and Yuzu emulators we see good performance on compatible games. With older and less demanding games you can usually get full speed from them. And for newer or more demanding games you will probably experience some slowdowns or running at like 50% speed.
Xbox 360
Xbox 360 support is something we take a look at in the reviews to show what can be possible in the future on these handheld gaming PC's as this is a work in progress emulator. For compatible games such as Sonic Racing Transformed and Vanquish we get mostly solid 30 FPS frame rates but other games will have issues.
Final Thoughts
We finish our ONEXPLAYER 2 review with a round up of the pro's and con's for the handheld gaming PC.
Controllers
When I first saw the ONEXPLAYER 2's detachable controllers I thought back to their ONENETBOOK GX1, and was not convinced. But after spending a few days with the ONEXPLAYER 2, my concerns with the detachable controllers are now gone. There is a very minor movement if you apply some pressure to intentionally move them but nothing that is concerning or would cause an issue.
As to how the detachable controllers feel with the hand grip, we will try them in a separate review once they are available.
Feel and useability
The overall feel and useability of the ONEXPLAYER 2 gaming handheld PC is OK. Along with the AOKZOE A1, they are the largest devices in this generation and do have a fair bit of weight to them. You would not be able to play for long periods of time without resting your hands on your lap or desktop for example.
The analogue joysticks are OK to play on and I had no issues reaching any gaming buttons. Although I would not have minded slightly larger joystick caps to match the size of the handheld. To put it in comparison, they are exactly the same size as the ones used on the GPD Win 4. You could put some thumb caps on them to increase the size.
Screen size
You do have the benefit of the larger display size and up to 1600P resolution. Depending on the game it is possible to run them at 1600P at good graphics levels. But in most cases you will likely be running at 800P or 1200P for some games. The 1600P resolution would be great for say watching videos, especially on the larger screen.
Performance
The ONEXPLAYER 2 handheld gaming PC is great for performance. We saw that it got at least above average scores in the benchmarks. However, in most cases you will not see a massive difference in performance compared to other handhelds while playing a game. They do all essentially perform much the same at 1200P and 800P resolutions.
Should you buy the ONEXPLAYER 2?
So once again we do come down to deciding on which handheld to buy based on its size, features etc. The ONEXPLAYER 2 with detachable controls makes this an interesting feature. You can put the main unit on your desk or table and sit back on the sofa with the controllers for example. With the others you would need to use a separate controller.
The larger screen and higher resolution is also something you could consider. But the physical size also should be taken into consideration, it definitely requires a bag to carry around and wouldn't fit in a jacket pocket for example. With the larger size comes a larger battery and with this we do get around 20% more life than the others when under full load.
Where to buy the ONEXPLAYER 2?
You can learn more and buy the ONEXPLAYER 2 here. Use the discount OXP25OFF on the checkout for a 5% discount. Note, that discount codes are disabled during store sales or promotions. You can find our range of handheld gaming PC's here.
That wraps up our ONEXPLAYER 2 review, we hope you have found it useful! Let us know in the comments what you think about the ONEXPLAYER 2, would you buy this model or go for the smaller ONEXPLAYER Mini Pro, or maybe something else? We are always interested to read your comments so let us know!