🌟🎉Hold onto your keyboards, folks! You're about to dive into the magical world of Mini PCs with DroiX, the Mini PC wizards! 🧙‍♂️
🤔What's a Mini PC? Think of your bulky old computer, but shrink it to the size of your lunchbox – or even as tiny as a Rubik's Cube! 🎲 Poof Magic! These little wonders are perfect for movies, games, or boring office stuff if you're into that. 🎬🎮
🔥DroiX has got your back with Mini PCs for every need. And guess what? They're super energy efficient, so you can save some bucks on your electricity bill! 🌱💰
✨To pick your magic wand (aka Mini PC), consider:
Size Matters! 📏 Want a teeny-tiny PC that's barely visible? Go for the ones like Intel's NUC. If you're a gaming or video editing wizard, a bit bigger might be better.
Power Consumption! ⚡ More compact = less electricity. These lil' beasts are gentle on your wallet and the environment. 🌳
Your Wizardly Needs! 🧙 What's your quest? Streaming movies, dominating games, browsing the depths of the internet? Your choice depends on your adventure!
Shape and Size! 🌈 From pocket-sized wonders to compact towers, there's a shape for every space.
Configuration and Upgrades! 🛠 Choose the right mix of storage, processing power, and graphics. Some Mini PCs let you upgrade in the future; others are a sealed deal.
⚠️ Remember, Mini PCs can be a bit pricier and harder to upgrade than their big siblings. If you're not tight on space or planning to carry it around, a regular PC could be your trusty steed. 🐴
🌍 Most Mini PCs run on Windows or Linux, but hey, Apple lovers, the Mac Mini is also in the league!
💡So, wizard, before you conjure your Mini PC, think about your epic quest! 💥 Happy adventuring with your mighty Mini PC! 🚀
Best Mini PCs in 2023
We're going to be taking a look at the best Mini PCs money can buy. Naturally, one size does not fit all that's why we're going to be looking at a couple different categories of PC. Firstly, comparing apples to apples, red to blue, we'll be looking at the best Ryzen Mini PC and the best Intel Mini PC. After that we'll be going into different categories, best for Gaming, Budget-conscious buyers, Entertainment, Workstation and Size. No matter what there's an option for you.
Best Ryzen Mini PC 2023 – MinisForum EliteMini HX90
When it comes to finding the best middle ground between performance and price in the Ryzen mini PC arena, the MinisForum HX90 takes the crown. Armed with a cutting-edge AMD Ryzen 9 5900HX processor, this compact powerhouse is well equipped to handle demanding tasks and gaming with ease. Additionally, its integrated AMD Radeon Graphics ensures breathtaking visuals. The HX90's compact size is deceiving, as it packs enough punch to rival larger systems without breaking the bank.
Storage and connectivity are the cornerstones of an efficient system, and the HX90 excels in both. With dual-channel DDR4 RAM and a speedy M.2 NVMe PCIe 3.0 SSD, your apps and games are up and running in a snap. Moreover, the HX90 offers ample room for expansion, supporting two 2.5 inch HDDs/SSDs. It doesn't end there; this mini PC supports up to four 4K monitors, offers five USB 3.0 ports, a USB Type-C port, and a 2.5 Gigabit ethernet port, ensuring you're connected and productive at all times.
What's more, the HX90 puts the cherry on top with its built-in Wi-Fi 6 and Bluetooth 5.1, making wireless connections a breeze. Additionally, the device utilizes carbon fiber composite material for its side panel, boosting strength and thermal conductivity while flaunting a high-tech appearance. For those searching for a perfect balance between performance and cost, the MinisForum HX90 proves to be an impeccable choice.
Pros:
High-performance AMD Ryzen 9 processor.
Integrated AMD Radeon Graphics, ideal for gaming.
Ample and fast storage options with expansion capabilities.
Supports up to four 4K monitors.
Multiple USB and ethernet ports for varied connectivity.
Built-in Wi-Fi 6 and Bluetooth 5.1.
Durable and efficient carbon fiber composite material on the side panel.
Cons:
Not as upgradable as a full-sized PC.
Might be slightly louder under heavy load due to compact size cooling solutions.
Initial cost may be higher for those used to budget mini PCs.
Best Intel Mini PC 2023 – MinisForum EliteMini TH50
In the bustling market of mini PCs, the MinisForum EliteMini TH50 stands out as the optimal choice for those seeking a perfect balance between specifications and price. Powered by an 11th generation Intel Core i5 processor and coupled with Intel Iris Xe Graphics, the TH50 caters to a wide range of applications, from office productivity to entertainment. The Thunderbolt 4 capabilities take it a step further, enabling professionals to output 8K images to three individual monitors, while also expanding its I/O, storage, and security features effortlessly through plug and play.
Storage and connectivity are paramount, and the EliteMini TH50 leaves no stone unturned. With up to 2TB of NVMe SSD storage, it's ideal for storing files, media, and even serving as a server. Additionally, the inclusion of two 2.5" SATA slots offers the flexibility of adding further storage through hard drives or solid-state drives. Connectivity-wise, the TH50 is equipped with two 2.5Gbps Ethernet Ports for a stable wired internet connection and Wi-Fi 6 for high-speed wireless connectivity. Bluetooth 5.2 ensures seamless connection with various peripherals.
Pre-installed with Windows 10 Professional and upgradeable to Windows 11, the TH50 guarantees you're always equipped with the latest features and security. Moreover, the efficient heat dissipation technology ensures the mini PC stays cool and performs at its peak without generating excessive noise. With an easy-to-carry design and the option to secure it behind your monitor using the included VESA mount, the TH50 is not only powerful but also incredibly versatile and user-friendly.
Pros:
11th generation Intel Core i5 processor ideal for multitasking.
Thunderbolt 4 connectivity for high-resolution output and expansion.
Versatile storage options with NVMe SSD and additional SATA slots.
Strong connectivity features with 2.5Gbps Ethernet Ports and Wi-Fi 6.
Quiet and efficient cooling design.
Upgradeable to Windows 11.
Compact and easy to install with VESA mount.
Cons:
Memory is soldered on board, limiting upgrade possibilities.
Thunderbolt 4 port is close to the power supply port which might cause confusion.
Lack of dedicated graphics may limit performance in graphic-intensive tasks.
Best Gaming Mini PC 2023 – MINISFORUM NUCXi7
Offering high performance in a compact design, the NUCXi5 and NUCXi7 mini PCs stand as excellent options for those seeking the best middle ground between specs and price, particularly for systems running on the Ryzen architecture. The powerful blend of specs, encompassing the fast Intel 11th generation processors, and the Nvidia GeForce 3060 & 3070 GPUs respectively, make these devices capable of handling the latest AAA games. They offer a seamless gaming experience even at the highest graphic settings, setting the bar high for mini PCs in this price range.
What makes these devices even more appealing is their compact and space-saving design. Despite their small size, these PCs don't compromise on performance or heat management. The quiet fans and efficient heat dissipation systems ensure that the PCs remain cool even under heavy loads. Their designs further allow them to integrate seamlessly into any gaming or work setup, adding to the convenience factor.
From a performance perspective, the NUCXi5 and NUCXi7 demonstrate impressive benchmark results. The NUCXi5, equipped with an Intel i5-11400H processor and Nvidia GeForce 3060, provides a smooth and efficient gaming experience. The NUCXi7, on the other hand, boasts a slightly higher performance due to the inclusion of an Intel i7-11800H processor and Nvidia GeForce 3070. This makes it ideal for users seeking a bit more power and speed.
Pros:
Powerful Processors: Both models come equipped with fast Intel 11th generation processors, making them capable of running demanding applications and games.
High-performance Graphics: The Nvidia GeForce 3060 & 3070 GPUs provide excellent graphics performance, allowing for high-resolution gaming at high settings.
Compact and Space-saving: Their small size and efficient design make them an excellent choice for users with limited desk space.
Quiet and Cool: Despite their powerful internals, these PCs run quietly and stay cool under load thanks to their effective cooling systems.
Cost-effective: Considering their performance and features, both PCs offer excellent value for money, especially for users looking to run a Ryzen system.
Cons:
Limited USB Ports: With only three USB ports, users might find it difficult to connect multiple devices at once. Additional ports on the back would have been beneficial.
Best Budget Mini PC 2023 – Beelink GK35
The Beelink GK35 Mini PC is a versatile device tailored for individuals who seek simplicity in daily computing tasks. Its user-friendly interface makes it accessible to even the least tech-savvy users, making everyday activities a breeze. The Intel Celeron Processor J3455 and 8GB of DDR3 RAM provide a smooth experience for web browsing, video streaming, and document editing. Its pre-installed operating system is familiar and intuitive, which greatly contributes to the ease of setting up and using the Mini PC right out of the box.
The compact design of the Beelink GK35 is another feather in its cap. Its small footprint ensures it can fit snugly into any space, making it perfect for dorm rooms, home offices, or kitchens. Despite its size, it doesn't compromise on functionality. Dual HDMI ports allow for a dual-monitor setup, which can be a boon for multitasking. On top of that, the device's multiple USB ports and wireless connectivity options such as Wi-Fi and Bluetooth provide flexibility in connecting peripherals, allowing for a tailored setup depending on the user's needs.
The Beelink GK35 Mini PC is not just about the here and now; it's also built with an eye on the future. The storage is expandable, allowing users to add an SSD or HDD via the available space inside the device. This means that as your storage needs grow, the Beelink GK35 can grow with them, ensuring that it remains a practical option for the long term. The device's energy efficiency ensures that it's not just your space that's being saved, but also your electricity bills.
Pros:
User-friendly and accessible even for tech beginners.
Compact design that fits easily into small spaces.
Dual HDMI for multiple monitor setups.
Expandable storage for future-proofing.
Energy efficient, contributing to lower electricity bills.
Multiple connectivity options including USB 3.0, Wi-Fi, and Bluetooth.
Cons:
Not suitable for heavy gaming or resource-intensive tasks.
The processor is adequate but not high-end.
Limited internal storage out of the box may require early expansion for some users.
Best Media Centre Mini PC 2023 – Minisforum UM690
In the age where streaming services have become the main source of entertainment, having a dedicated media center in the living room is essential for a seamless and immersive viewing experience. The Minisforum UM690 effortlessly fulfills this role, standing out as an ideal option for a media center Mini PC. Its compact design, coupled with powerful specs such as the AMD Ryzen 9 6900HX processor and AMD Radeon 680M graphics, ensures that it can handle high-definition video playback without breaking a sweat. Moreover, with the support for up to three monitors and Thunderbolt 4, the UM690 enables users to create a cinematic atmosphere right in the comfort of their homes.
The Minisforum UM690 not only excels in performance but is also highly versatile. The dual HDMI ports, capable of 4K at 60Hz, can connect to your TV and sound system, ensuring crystal-clear images and high-quality audio. The USB 4 Type-C port is a game-changer, allowing for an astonishing 8K at 60Hz display. For those who like to keep a large library of movies and TV shows, storage won't be an issue; the UM690 supports up to 2TB PCIe 4 SSD and has space for an additional 2.5" HDD/SSD. Furthermore, its generous assortment of USB ports means that you can effortlessly connect all your peripherals including speakers, external hard drives, and more.
Another aspect where the Minisforum UM690 shines is its future-proofing. Its Thunderbolt 4 support allows users to connect an external GPU, thus ensuring that the Mini PC can keep up with the increasing demands of media consumption in the years to come. Additionally, the availability of 64GB DDR5 RAM ensures smooth multitasking, especially when running media servers or juggling between streaming services. Overall, for those seeking a media center Mini PC that offers high performance, flexibility, and future-proofing, the Minisforum UM690 is an unparalleled choice.
Pros:
Powerful AMD Ryzen 9 processor and Radeon graphics for smooth media playback.
Compact design perfect for a living room setup.
Support for up to three monitors, including 8K via USB Type-C.
Plenty of storage with support for additional HDD/SSD.
Thunderbolt 4 support for connectivity and future-proofing.
Variety of ports for peripheral devices.
Cons:
May be overkill for users who only need basic streaming capabilities.
Price might be on the higher side for budget-conscious buyers.
Not as simple to use as dedicated streaming devices for non-tech-savvy individuals.
Best Workstation Mini PC 2023 – Beelink SEi 12 Pro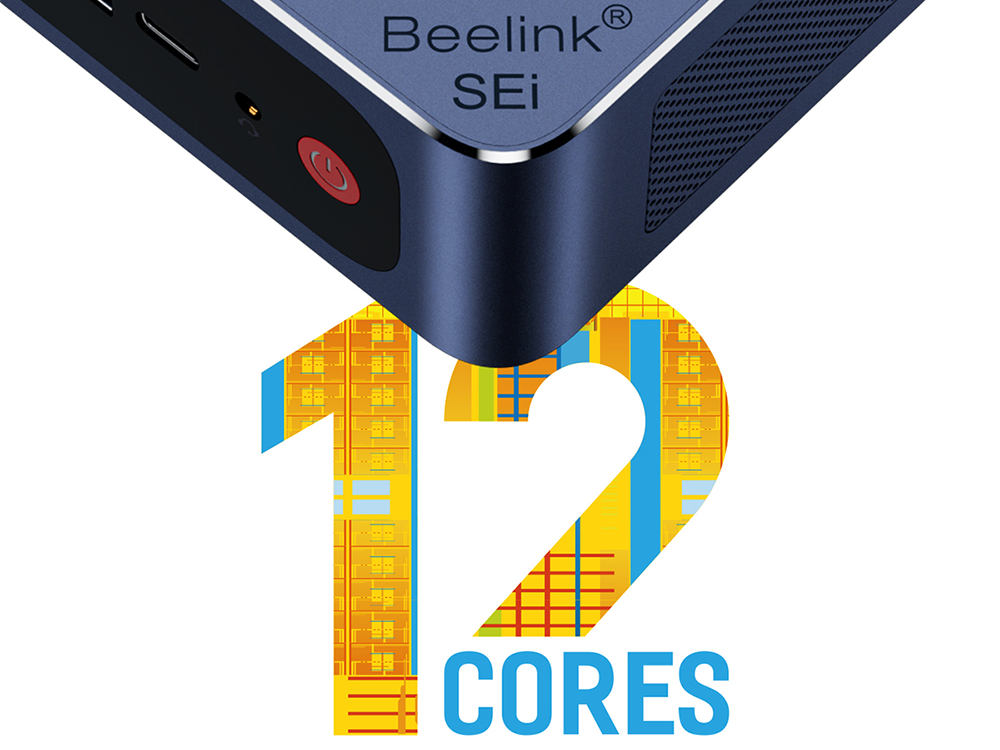 In the realm of productivity, having a powerful and reliable workstation is crucial. The Beelink SEi12 Pro Mini PC emerges as a top contender for those in search of a compact, yet potent workstation solution. Armed with the 12th Generation Intel Core i7-1260P processor and Intel Iris Xe Graphics, this mini PC is equipped to handle an array of tasks, from data processing to graphic designing. Additionally, the ample storage options – with 32GB DDR5 RAM and a 500GB PCIe 4.0 SSD – make it ideal for running multiple applications and storing large files. Its support for up to 64GB RAM and additional storage expansion via M.2 and SATA3 ensures that you can customize it according to your needs.
A standout feature of the Beelink SEi12 Pro is its triple screen display support. The dual HDMI ports coupled with Thunderbolt 4 facilitate seamless connectivity to three monitors. This is particularly beneficial for professionals who need to juggle between various applications or datasets. The ability to extend your workspace across multiple screens can substantially enhance productivity and reduce time spent navigating through windows. Additionally, the support for 4K high-definition output means that the quality of visuals will not be compromised, which is crucial for graphic designers and video editors.
Moreover, the Beelink SEi12 Pro's compact design is a boon for those who have space constraints or desire a minimalist workspace without compromising on performance. Its size is perfect for a clutter-free desk and even makes it portable for professionals on the go. When you combine the high-speed data communication features, including 2.5G Ethernet, WiFi 6, and Bluetooth 5.2, with the sheer power and triple monitor support, the Beelink SEi12 Pro emerges as an excellent choice for a productivity workstation in a Mini PC form factor.
Pros:
High-performance Intel Core i7-1260P processor suitable for intensive tasks.
Generous and expandable storage options to suit various needs.
Triple monitor support enhances productivity and workflow.
Compact design perfect for minimalist workspaces or professionals on the go.
Multiple connectivity options including 2.5G Ethernet, WiFi 6, and Bluetooth 5.2.
4K high-definition output for crisp visuals.
Cons:
Price might be on the higher side for those on a tight budget.
The compact size might limit the upgrade options compared to traditional workstations.
May require additional cooling solutions in case of extensive high-performance usage.
Best Small Mini PC 2023 – NucBox 5
In the world of mini PCs, size matters, and the NucBox5 from GMKTEC hits the sweet spot. The tiny form factor is one of the leading factors that makes it the best option for those who are looking for an ultra-compact machine. Imagine the convenience of having a fully functional PC that can effortlessly fit in the palm of your hand. Measuring a minuscule 72mm x 72mm x 44.5mm, the NucBox5 breaks barriers in the mini PC realm, ensuring that it can be unobtrusively placed in any setting, be it a crowded desk, a small apartment, or a digital kiosk.
The marvel of the NucBox5 doesn't end at its size; it's incredibly well-designed too. Its sleek and stylish casing is not just aesthetically pleasing, but also functional. The build ensures that the device is lightweight, which combined with its size, makes it highly portable. This portability is a boon for professionals who are constantly on the move or for those who wish to carry their digital world in their pocket. Moreover, despite its size, it manages to include essential ports and expansions that ensure connectivity isn't sacrificed.
Let's not forget the practicality of such a small device. The NucBox5 is ideal for environments where space is a premium. Whether you are setting up a home entertainment system without the clutter, creating a minimalist home office, or installing point-of-sale systems, the NucBox5's ultra-small footprint means that it can adapt to your space rather than you having to make space for it. The convenience and adaptability it offers are unmatched in the mini PC market.
Pros:
Extremely compact size (72mm x 72mm x 44.5mm)
Lightweight and highly portable
Aesthetically pleasing design
Adequate connectivity options for its size
Energy-efficient, leading to savings in electricity
Ideal for environments with limited space
Cons:
Not suited for heavy computing tasks
Limited upgradeability due to size
So you've seen the best of Mini PCs this year. Still not sure what to get? Take a look at last year's options below to help you decide!
Best Mini PC 2022
Are you looking for a mini PC that is the cream of the crop? A mini PC that's truly "top of the pops"? Look no further than this handy buying guide on the very best mini PC you can buy today! All of which are available from DroiX!
DroiX specialises in all types of mini-PCs including for the Office, Gaming or even for the TV. It is undoubtedly the category of computers that is the most recent in the history of data processing and it appeals to more and more people. Very small, not very energy-intensive, some of the best Mini PCs are excellent everyday companions, especially if you are a fan of films or series.
Indeed, opting for a Mini PC is often the best way to take advantage of a machine dedicated to playing video or audio files. This type of device is very easily hidden behind a screen or a TV and can even be taken very easily. The miniaturization of components has made enormous progress in recent years, so much so that it is possible to enjoy a complete computing environment in the palm of your hand.
Key points in determining the best Mini PC
Congestion
Who says a Mini PC necessarily means the smallest possible format? Today, NUC-type machines at Intel are barely bigger than a Rubik's Cube and benefit from enough power to play any movie and do some basic office automation. No need, therefore, to seek power at all costs to the detriment of size. On the other hand, if you absolutely want to play or edit video, you might as well opt for a small tower or a laptop PC.
The consumption
A Mini PC has the significant advantage of consuming little power, which can have a real impact on your electricity bill. Often based on laptop computer components, they benefit from advances in this sector to offer significantly lower consumption than a conventional desktop computer.
Our Testing Procedures
Like any PC, Mini PC has a processor and a graphics card, so we run the usual benchmarks to judge their power. We also check the consumption, on standby, on the desktop and in the context of advanced use, by means of a wattmeter and check the scalability of the whole. Often, you must be content with access to storage and RAM.
Shopping guide to choose the best Mini PC
The process of finding and buying the best Mini PC comes down to determining why you want a Mini PC instead of a traditional desktop or laptop, what you need it for, and where you plan to use it.
Mini PCs range from small project PCs under £100 to compact PCs that can cost £1,000 or more. Stick PCs are the most versatile and generally cost between £100 and £200 and will work with most televisions or monitors. Mini PC prices vary considerably depending on the hardware.
Finding the best Mini PC starts with knowing what you are looking for. Do you want something small enough to put behind a TV like a dedicated streaming box, or are you looking for something with gaming capabilities? Do you want a basic internet browsing machine or do you need a lot of graphics and processing power?
Find the correct size
Then there is the question of the shape and size factor. The best Mini PC to work with are all small, however, there are a variety of options, from Mini PCs small enough to slip into your pocket to desktop towers that are still compact enough to hide out of sight. You'll get a capable desktop computer that is small enough to carry in a backpack, even if you're looking for gaming or workstation performance.
Configuration and upgrade options
Several of the best Mini PC to work with have two or three configuration options, which can change everything from the amount of storage included to the presence of high-end processors and discrete graphics cards.
There is also the issue of updates. Many of the smaller Mini PCs leave no room for future hardware changes, but others are designed to allow you to add memory or storage or are even equipped with ports that allow an external GPU to expand capacity.
How is a Mini PC different?
Before continuing, it is important to understand that a Mini PC is simply a personal computer (PC) that is significantly smaller than the normal one. Beyond that basic qualifier, you can find Mini PCs that can act as complete desktop replacements and competent gaming rigs, entry-level systems that excel at streaming media, and low-power pocket computers that can't handle much more than basic tasks. productivity.
While there are many affordable Mini PCs on the market, you can typically expect to pay a little more for a Mini PC compared to a full-size computer with the same specs. Mini PCs are also more difficult to update, and some cannot be updated at all. So, if you have room for a full-size computer, you can generally save some money and leave the door open for an upgrade in the future.
If you really need the portability of a Mini PC, or your available space is really limited, then Mini PCs are available to fit almost any need. Most Mini PCs run Windows or Linux, and some run Chrome OS, but the venerable Apple Mac Mini, which runs macOS, also fits neatly into this category of the best Mini PCs to work with.
Usage Scenarios: Why a Mini PC?
Before you can choose the best Mini PC for you, it is important to think about why you really need a Mini PC. This is important because you can save money by simply buying a regular PC if space is not an issue, but it also comes into play due to the wide variety of sizes and configurations found in the Mini PC market.
---
Best Ryzen Mini PC 2022
AMD processors vs Intel processors are among the biggest comparisons today. Especially those who are looking for a processor for a computer know this comparison well. Today, 75% of computers use Intel processors. A large proportion of the remainder also benefits from the power of AMD processors. If you would like to have a look at an article, we published that list of all the best Ryzen Mini PCs available right now.
Compared to Intel, the biggest difference is in price. It is possible to reach AMD results in general in the search for the cheapest processor. The fact that it is both cheap and not popular enough normally gives rise to urban legends about it. It is among the situations transmitted from ear to ear that causes overheating and contraction problems.
When we look at the situation in numbers, the following result emerges. AMD processors are sold at much more affordable prices in 4-core options. At the same time, integrated graphics cards perform faster on AMD processors. However, it is a well-known fact that they are not able to upgrade their technology as fast as Intel. One advantage is that the bus speed and RAM support are better than equivalent Intel processors. If you would like to find out more please visit our Best Ryzen Mini PC's article.
MinisForum EliteMini X500 – AMD Ryzen 7 Office Mini PC
The Power of Zen 3 – The X500 features a cutting-edge AMD Ryzen 7 5700G APU, which grants it access to the efficiency and performance of the Zen 3 architecture while also being supported by the Radeon graphics suite. The result is a mini desktop, perfect for gaming, streaming, office work, and more.
What We like!
Desktop-tier Performance
Large number of audio interfaces
What We Don't Like
Power-hungry
On the larger side
[Video] X500 Review
---
Best Intel Mini PC 2022
While Intel Mini PC draws attention to the compact solution they bring to desktop computers, they also consider the freedom to take it with them in a pocket/bag if desired. These devices, which are extremely compact with their construction from a portable hard disk, also allow you to shape the technical staff.
There are different models of Intel Mini PCs available. The code and configuration of each differ from the other. As a result, the Intel Mini PC is an extremely compact and useful device. The device, which is suitable for daily use and simple office software, also provides a flexible use by optionally shaping its technical staff. In this sense, if you are looking for a more compact solution compared to a desktop computer, you can take a closer look at our list of the Best Intel Mini PCs.
DroiX PROTEUS 11S i7 NUC Mini PC with Windows 11
The DroiX Proteus 11S is a higher-spec variant of the DroiX Proteus 11 with i5 processor. The 11S has an Intel i7-1165G7 processor and is a great solution for those looking for a steadfast home office PC, enterprise PC solution, digital kiosk, and more.
What We like!
Wireless Antennae
Good number of USB ports
What We Don't Like
Profile is larger with antennae
USB ports are somewhat close together
[Video] Proteus 11S Review
---
Best NUC Mini PC 2022
NUC Mini PCs can be defined as a very compact version of computers. These small but highly effective devices stand out especially with their computing power. NUC Mini PC models usually come in two different concepts. The first of these is the basic system. Products with the base system mostly include the processor, case, and motherboard. Hard disk and RAM other than the essentials can be purchased extra. In addition, parts of old computers such as hard disk and RAM can be used in space-saving products. In addition, another concept in the devices is the ready-to-use system.
NUC Mini PCs price is more affordable compared to products with basic systems. This is because the RAM and hard disk are included in the ready-to-use system kit. Ready-to-use system products, It is often among the ideal models for people who have just discovered mini products. Earlier we published an article called the Best NUC Mini PCs that has a complete list of the very best NUCs out right now. These useful products, which are not much different from desktop computers, significantly meet the expectations of many users. NUC Mini PC prices are on the DroiX platform with the most advantageous options.
GMKTEC NucBox5 NUC Mini PC
The GMKTEC NucBox5 NUC Mini PC is designed for use both in the home and work office. Measuring 72mm72mm44.5mm, it fits in the palm of your hand, taking up very little desk space compared to a traditional desktop PC. This office mini desktop is also small enough to fit in a bag, luggage and even a coat pocket for easy portability!
What We like!
The smallest mini PC we have seen so far!

High performance for such as small device
What We Don't Like
Not as upgradeable as other models

Only 3 USB ports
[Video] GMKTEC NucBox5 NUC Mini PC Review
---
Best Gaming Mini PC 2022
Here we will talk about the options you can have when buying. The best Gaming Mini PC. This is handy for someone looking to buy a Gaming Mini PC because you need to know that the Mini PC you buy can play the games that you like.
Gaming Mini PC are very easy to use, and you can easily install games on them, but on the other hand, PCs are a bit difficult to set up as you will have to configure each part yourself.
The game created excitement for everyone and attracted interest from almost all ages, so people are discovering new features every day. Many people are now connecting with the gaming community and taking the gaming community to the next level. Innovations attract more customers, so they offer the technology of the market, the price of which is relative to the quality of the product.
The price range of Gaming Mini PC is quite reasonable because they don't cost you much and several different companies offer you great prices so you can easily buy any of them. And yes we have published an article on the very best Gaming Mini PCs. It will show you our list of the best Gaming Mini PCs to buy right now.
DroiX Stheno F5 Gaming Mini PC with GTX1650
The Stheno DroiX Stheno F5 Gaming Mini PC is not the first Mini PC from this brand since we have already seen the Nvisen Y-MU-01 which is also a rather original solution on the market. An important detail to note about this previous model, its price has largely deviated between its announcement and the weeks that followed. This is not a requirement or a rule, but it could be a nice surprise for this newcomer.
What We like!
Dedicated GPU
High-tech design
What We Don't Like
CPU is slightly on the weak side
No front-facing ports
[Video] DroiX Stheno F5 Review
---
Best Fanless Mini PC 2022
If you don't have or don't want to free up space to put down a desktop cabinet, a Fanless Mini PC is an excellent solution. The best Fanless Mini PCs are fast enough to perform all digital tasks and often have enough necessary inputs to connect monitors and other peripherals. The range of these devices is so large that it is difficult to determine which is the Best Fanless Mini PC's of the year. In our Fanless Mini PC buying guide, we provide the answer to this question. We focus on the performance, possibilities, and costs of these small computers so that you can easily determine what is the most suitable option for you.
Beelink T34 Mini PC with Windows 10
The Beelink Gemini T34 is the newest entry in the lineup of Intel NUC PC's by Beelink. The emphasis here is on versatility and stable, long-lasting performance in a slim, small-footprint package.
What We like!
Low-profile
Low-power consumption
What We Don't Like
Slower than models with fans
Few ports
[Video] Beelink T34 Mini PC Presentation
Best Budget Mini PC 2022
Many companies produce a budget Mini PC as well as computer production. Today, frequently preferred products provide comfort and ease of transportation. Mini PC brands mostly produce laptop or desktop, computer models. There are quite a several brands on the market that produce mini devices. Brands such as Dell, Macintosh, MSI, Asus, HP, Intel strive to develop models with necessary R&D studies.
Details such as internal memory, processor and video card model come to the fore in the products of various brands. Budget Mini PCs companies take care that their products are of high quality and hassle-free. Our list of the Best Budget Mini PC's will give you a better understanding of the prices and features of budget tv boxes.
Beelink GK Mini Intel NUC Mini PC
Tired of how much space your old tower PC is taking up? Want something more energy-efficient in order to save on your electricity bill? In this case, look no further than the Beelink GK Mini, the newest mini-PC from Beelink, creators of popular models like the GT-R, SEi 10, and the GT King.
What We like!
Cheap
Essential ports all present
What We Don't Like
Not the most powerful
No USB-C, which is rare.
[Video] Beelink GK Mini Presentation
---
Best Mini PC for TV 2022
Mini PC for TV, which looks good from a media player, can do the job of the average user. In this form factor, where Intel processors are overwhelmingly superior, the processor you will choose should be at least dual-core, 8th generation Intel Core i5 and equivalent, for those looking for high performance. For example, a mini-box computer with a quad-core Core i7 8650U processor has an embedded graphics chip, allowing you to play modern games without exaggeration, as well as processing power-hungry applications such as Photoshop and Premiere. If you lower the settings and lower the resolution, games like Overwatch, League of Legends, even Rainbow Six Siege and GTA 5 can be run. Having USB-C or USB 3.1 ports also allows you to connect a keyboard, mouse and game controller and turn the device into a full-fledged computer on your TV. If you want to know more about the very best Mini PC's for TV, we have created a post that will explain the prices and more useful information.
Beelink GK35 Mini PC
The GK35 is a budget mini PC with number of remote-friendly features that make it an attractive option for lazily sticking behind your TV, or using as a digital signpost.
What We like!
Number of remote-operation-friendly options.
Essential ports present
What We Don't Like
Raw power leaves a bit to be desired.
No USB-C present
---
Best mid-range Mini PC 2022
Due to the recent increase in its use, many consumers ask "What is the best mid-range Mini PC? And what can they do?" As we seek to answer the questions. The best mid-range Mini PC are useful are basically the much more minimal variants of desktop and laptop computers. Operations performed on other types of computers can be easily performed on these products as well. There is no need to re-purchase additional tools such as mouse and keyboard in the use of mini devices.
Some games can be played, and meeting presentations can be made with products that are generally compatible with the additional tools of old computers. In addition, activities such as preparing presentations on other computers, researching on the Internet, storing photos and files can be carried out without any problems. In addition, e-book reading applications can also be used on the Best Mid-Range Mini PCs. Our complete list of the best mid-range Mini PCs will help you decide what is the best Mini PC for you.
DroiX Proteus 11
The DroiX Proteus 11 is a versatile light-weight NUC mini PC from DroiX. The Proteus 11 makes the perfect solution for a home office, media centre, or even as an enterprise IT device.
What We like!
Plenty of USB ports

Good price/power ratio

External antennas for reliable WiFi
What We Don't Like
External antennas make it a bit larger than other models.
[Video] DroiX Proteus 11 Presentation
---
Best high-end Mini PC 2022
When you want to buy a high-end Mini PC, you know that you need to allocate a higher budget than the average PC. The hardware that will provide high performance and enable you to play games fluently ensures that the prices are high. However, not every high-end Mini PC may offer a good experience in terms of gaming performance. No matter how high your budget is, if you don't choose the right configuration, it is very difficult to get the game performance you want. For this reason, we have brought together the most important criteria when selecting a high-end Mini PC. It's a complete list of only the Best High-End Mini PC's available right now!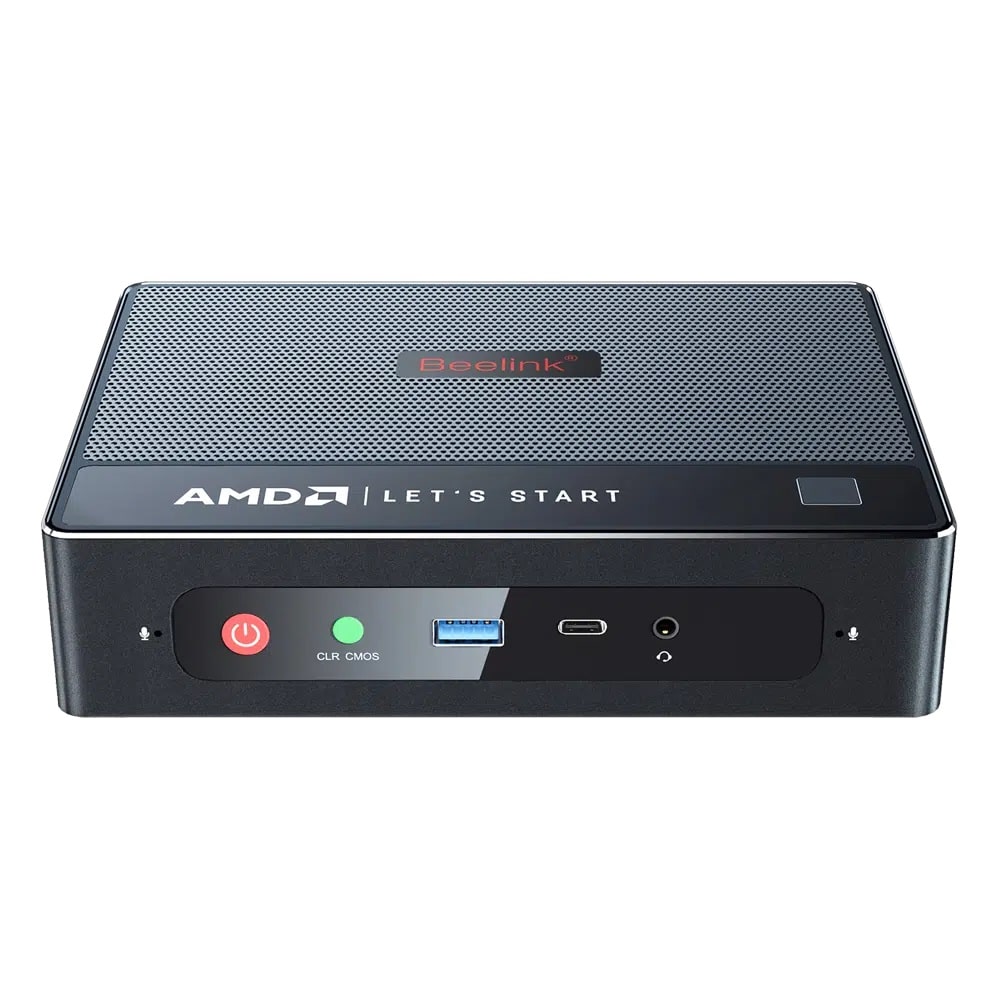 Beelink GTR5 – AMD Ryzen 9 Mini PC
The Beelink GTR5 is a high-performance AMD Ryzen 9 mini PC that combines a practical design and high performance into a sleek, miniature form factor.
What We like!
Cutting-edge performance
Fingerprint scanner for added security
What We Don't Like
The glossy finish area can be a bit of a dust magnet
[Video] Beelink GTR5 Review & Benchmarks
---
Best Mini PC For the Office 2022
Although less popular than laptops and traditional desktops, Office Mini PC's are an alternative when we need a computer with compact dimensions. But that it is small does not imply that it will be a little powerful. In the market, we find the most diverse proposals that adjust to different needs. In our Best Office Mini PC's buying guide, you will find the keys to choosing one and some of the most interesting models on the market.
Beelink GTR4 Mini PC with Win 11
The Beelink GTR 5 is ideal for office work. It features the AMD Ryzen 9 4900H processor with up to 64Gb RAM and 2TB SSD storage which is perfect for those working with large office documents or multitasking.
What We like!
Reliable performance
Contains all essential interfaces
What We Don't Like
Glossy finish area

can attract some dust
[Video] Beelink GTR 4 Review
---
Best Mini PCs for Entertainment
Why look for one of the best mini-PCs to work with if I have a laptop? Are you in the trade? How about connecting a Mini PC to your 4K TV? Well, you will have a machine with great graphics and size, or of course a machine for design or simply fulfil the functions of a normal PC.
ASUS PN50 AMD Ryzen Mini PC
With the PN50, ASUS offers a stylish AMD Ryzen Mini PC, which is currently one of the most interesting models on the market, especially due to its price and performance.
What We like!
Premium build quality
Highly compact
What We Don't Like
Compact design = Heat
Isn't the best choice for gaming
[Video] ASUS PN50
---
Best Mini PC with Windows 11
Windows 11 became available to the general public in October 2021. But due to the restrictions in place preventing people from installing it, many people need a new PC for Windows 11. Here at DroiX we have the best selection of Windows 11 compatible mini PCs. These PCs can upgrade to Windows 11 with minimal difficulty.
Beelink SER4
The Beelink SER4 is a high-performance mini PC, with an AMD Ryzen 7 4800U processor that runs Windows 11. Perfect for future-proofing your setup.
What We like!
High performance
Windows 11 compatible
What We Don't Like
No latch-top like similarly designed models