The GPD WIN 4 has a new revised model with Ryzen 7 and 5 7000 series processors as well as an Oculink port. In our GPD WIN 4 2023 review we will unbox them, have an overview of the features and compare some system and gaming benchmarks.
GPD WIN 4 2023 Review Video
Unboxing the GPD WIN 4 2023
As always we start off our GPD WIN 4 2023 review with the unboxing. Inside we have the GPD WIN 4 2023 itself which we will take a closer look at shortly. Underneath is a screen protector which you can apply if you wish to. 
Inside the envelope is a getting started guide which is in English and Chinese. Inside the cardboard box is a power charger, we will include the correct adapter for your country.
On the other end is a USB Type-C cable for charging. There is a USB Type-C to Type-A adapter and last but not least there is a hand strap which you can attach to the GPD WIN 4.
Overview of the GPD WIN 4 2023
The GPD WIN 4 2023 is essentially the same visual design as the original model. It measures around 8.6 x 3.6 x 1.1 inches (20 x 9.2 x 2.8 cm) and weighs around 598g.
On the front you have a 6 inch H-IPS touchscreen display supporting up to 1920×1080 at 40 and 60 Hz. The screen quality is overall very good, with decent brightness and colours.
The display slides up to reveal the backlit keyboard. The keys are very responsive and comfortable to thumb-type with. It's great for logging into games or quick chat messages for example. You would not want to write long documents with it though.
On either side are the analogue sticks, D-Pad and gaming buttons. And at the bottom you have Select and Start buttons and a thumb sized sensor for mouse control.
Along the top we have the shoulder and trigger buttons, power button and volume buttons. There Is a USB 4 port and new to this model the Oculink port for connecting to the GPD G1 eGPU docking station. 
On the left side is a slider to toggle between mouse and joystick control mode. And there is also a micro SD card reader to expand the storage.
And on the bottom there is a second USB 4 port, useful if you want to use it with the standard GPD WIN 4 docking station.
GPD WIN 4 2023 Technical Specifications
There are two models of GPD WIN 4 2023. First we have the Ryzen 7 7840U with 780M graphics, and a choice of 32 or 64GB LPDDR5x RAM at 6400 MT/s. There is also the Ryzen 5 7640U with 760M and just the 16GB of LPDDR5x RAM also at 6400MT/s. 
For storage, the Ryzen 7 comes with a choice of 512GB up to 4TB of NVMe SSD, and the Ryzen 5 comes with 512GB only, but it can of course be upgraded yourself.
The Ryzen 5 model is the lower performing model with a price to reflect that, and we will see later how much of a performance difference there is.
Both models have WiFi 6 and Bluetooth 5.2, and also support the 4G LTE module which is available to buy separately.
They both have a 45.62 Wh rechargeable battery. In our tests running Street Fighter 6 at the highest graphics settings at 28W TDP on a loop, we got 1 hour 5 minutes on the 7840U and slightly less with 1 hour 2 minutes on the 7640U. So roughly the same overall.
While running the Street Fighter 6 benchmarks we also tested the fan noise and temperatures. We got a highest fan noise of 59dB, and highest temperature of 55°C.
System & Game Benchmarks
As part of our GPD WIN 4 2023 review we are running some system and gaming benchmarks. For both models we are using the GPD supplied graphics drivers due to AMD still not releasing properly working drivers. As a result we will not be comparing with other devices until official drivers are released and we can benchmark them all equally.
3DMark
We start the benchmarks with 3DMark and the Fire Strike, Night Raid and Time Spy tests.
Naturally the 7840U model takes the lead in all three tests. There is on average a 14.5% difference in performance compared to the 7640U.
Cinebench
Next is the Cinebench single and multi-core tests.
In the single-core test we get just a 5% difference which is not too bad. However in the multi-core test we get a difference of 20%. Not so surprising as the 7840U has 2 cores and 4 threads more than the 7640U model.
Forza Horizon 5
For our gaming benchmarks we start with Forza Horizon 5 running on the Very Low graphics settings.
For the 1080P tests at 28, 20 and 11W TDP's we see a 16% average difference in performance. And at 720P 28W TDP we get a 9.7% difference in performance.
Shadow of the Tomb Raider
On our Shadow of the Tomb Raider benchmarks we are running on the Very Lowest graphics settings.
At 1080P we get around a 15% difference in performance on average across the different TDP levels. At 720P 28W TDP we get a 5% difference in performance.
Cyberpunk 2077
We are running Cyberpunk 2077 on the Low graphics settings with no FSR enabled.
For the 1080P TDP's we get on average a 26% difference in performance, the largest so far. At 720P we get a little lower at 21% difference.
Call of Duty: Modern Warfare 2
Our penultimate benchmark is Call of Duty: Modern Warfare 2 running on the Minimum graphics settings.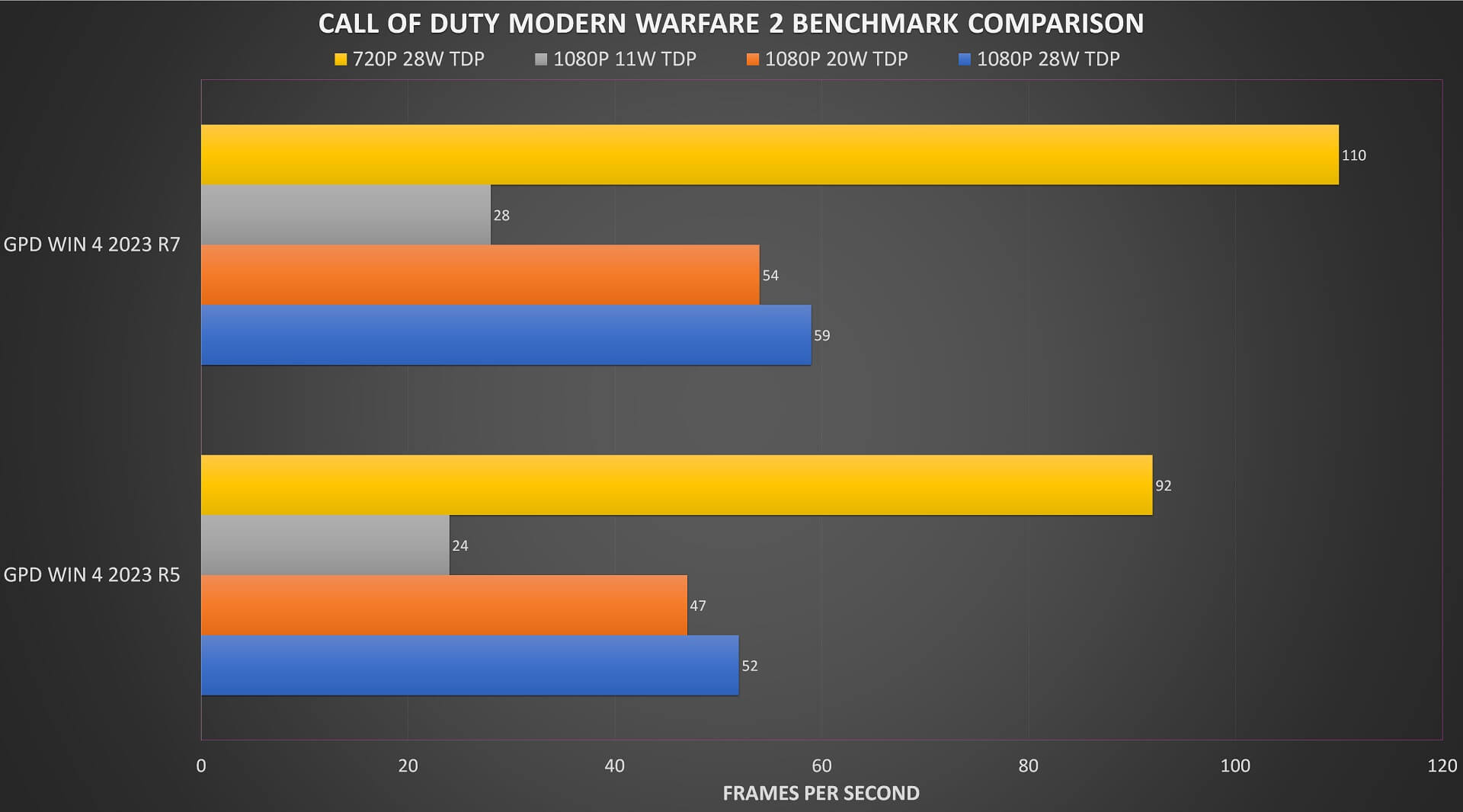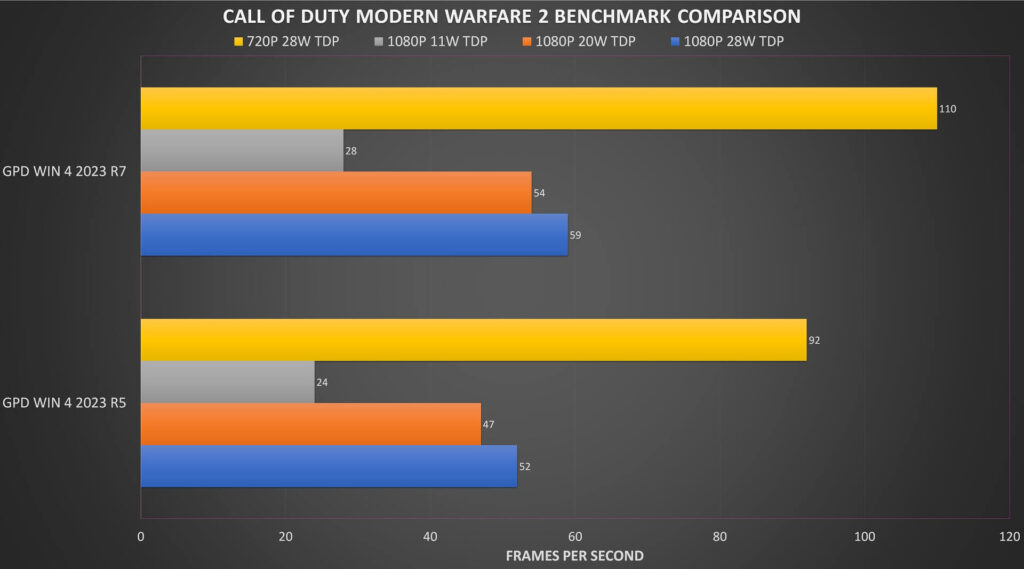 At 1080P we get around a 13.5% difference in performance between the two models. And at 720P we saw a 17% difference.
Street Fighter 6
For our final benchmark we are running Street Fighter 6 at 1080P on the highest graphics settings to really stress the Win 4's out.
Across the three tests we get around a 10% difference in performance. None reach 60 FPS but you can lower the quality to reach this level.
Benchmark Summary
We conclude our GPD WIN 4 2023 review benchmarks with a summary. At 1080P across the benchmarks, we see around an average of 16% difference between the 7840U and 7640U performance. At 720P we see around an average of 13% difference. Comparing the price difference between the 16GB 7640U and 32GB RAM 7840U we see around 20% difference, but don't forget that is with an extra 16GB of RAM. 
The price versus performance is fair if you are on a budget and want a gaming handheld. We do see as high as 26% performance difference depending on the game, it's large in terms of additional frames per second. So keep that in mind when deciding whether or not to pay a bit more for the extra performance.
Final Thoughts
We round up our GPD WIN 4 2023 review with our final thoughts. The original GPD 4 with 6800U was perhaps one of my favourite handhelds so far. The portability for me was amazing, fitting inside my bag and even jacket pocket. It had all the power of its GPD, AYA NEO, ONEXPLAYER and AOKZOE counterparts. But the screen size, in my opinion, was a little too small for some games text and I had some trouble reading it occasionally.
With the revised 2023 model we also see the same pros and cons. As mentioned, we won't be directly comparing benchmark scores with other devices as there's no official drivers released. But in our initial tests we did see very comparable results with the GPD WIN MAX 2 2023, AOKZOE A1 Pro and AYA NEO 2S. Some scores were higher, some lower and some in between. Overall the GPD WIN 4 2023 is up there in terms of performance.
We will be covering Oculink and the GPD G1 eGPU docking station performance in a separate video. We wanted to benchmark with the GPD supplied drivers before updating graphics drivers to support the GPD G1. Keep an eye out for that video as we will be able to compare performance with the GPD WIN MAX 2 2023 to see how they perform. The GPD G1 is a game changer, the massive jump in performance it provides is well worth considering if you buy a device with Oculink port.
So is it worth buying the GPD WIN 4 2023. It will be available to buy a little sooner than the eagerly expected GPD WIN MINI (subscribe so you don't miss our review coming soon). The GPD WIN series still remains one of our favourites as being the only truly pocketable handheld with all the power of its larger rivals.
If you are upgrading from any 6800U model then go for the Ryzen 7 for a noticeable performance increase. The Ryzen 5 is not worth it unless you plan to use it with the G1, see our GPD G1 eGPU docking station review here. If you are new to handhelds then either model is worth considering depending on your budget. You have the Oculink port waiting if you do want to increase performance later.
You can learn more and order your GPD WIN 4 2023 here. Use the discount code WIN45OFF for a 5% discount. The code will be valid for one month and can not be used during store sales or promotions.
That wraps up our GPD WIN 4 2023 review, we hope you have found it useful. What do you think of the GPD WIN 4 2023 revision, do you plan to buy one? Let us know in the comments.