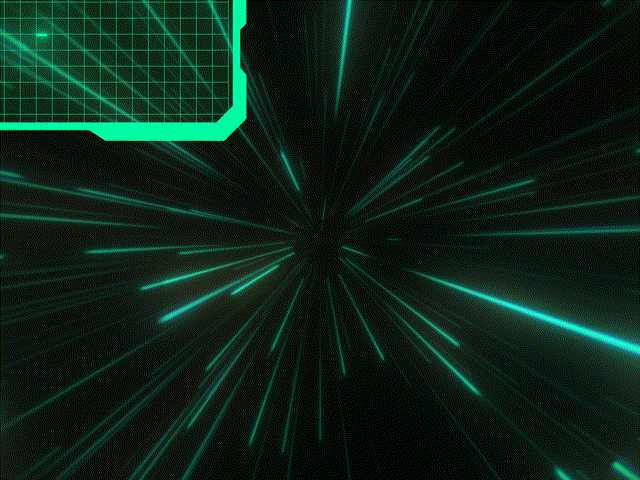 Bringing the 7nm AMD Ryzen APU to a Ryzen handheld gaming pc which is unprecedented for the world, AYA NEO gives executes gaming never seen in such a form factor. With its bewildering features recorded underneath, it isn't simply a AAA fit gaming device at this point but also an adaptable very flexible Windows PC.

With the Cutting Edge Ryzen 5 4500U processor, a six-core processor with 4.0Ghz max turbo frequency, AYA NEO is a powerhouse. It handles demanding games with ease.
With 50% more cores than the previous generation and competition, the hexa-core design also ensures great multi-tasking performance.
Equipped with powerful AMD Radeon Graphics, you can play AAA titles much more easily on this Ryzen Laptop. The greater image details and smoother gameplay provides a much better gaming experience.
Drivers for Radeon Graphics have great compatibility for the latest games. Games like Cyberpunk 2077 could run at 30+FPS with lower settings.
Radeon Graphics drivers also come with great features like Radeon Boost, Radeon Image Sharpening and Radeon Anti-Lag. Radeon Image Sharpening alone provides 5-10 FPS more in AAA titles with little sacrifice in image quality.


Equipped with 16 GB of LPDDR4x 4266 ram, and up to 1TB NVME SSD, AYA NEO provides you not only with a smooth gaming experience but also fast loading time. While others are waiting for the game to load, yours is already done.
The Game controller portion of AYA NEO comes with multiple ergonomic features:
Clickable joysticks have optimized dead zone for smoother operation.
The positioning of joysticks and D-Pad are optimized, ensuring a minimal learning curve.
The device chassis is shaped with wider sides, ensuring a firmer grip and better gaming performance.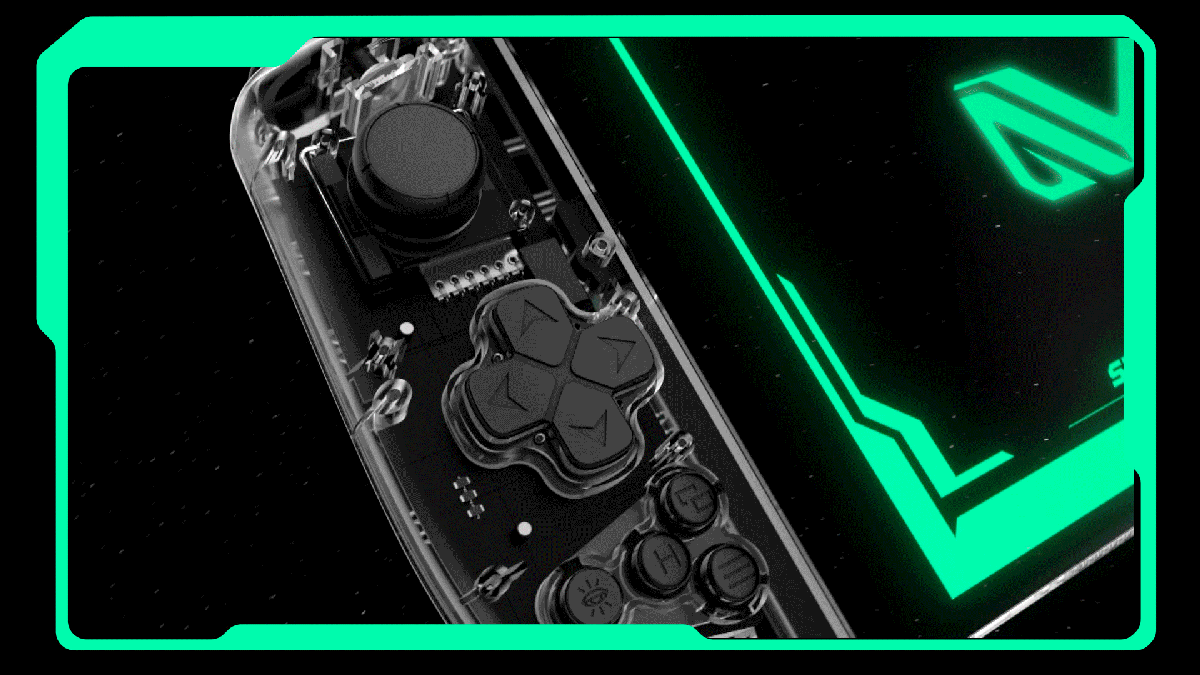 Shoulder buttons come with APLPS micro switches with shorter travel and clearer feedback.
AYA NEO joysticks are also equipped with Windows task manager and on-screen keyboard buttons for a better Windows experience. These buttons are flush with the joystick surface to reduce unintended activations.
The built-in lithium battery has 3 cells of 4100mah each. It is supplied by BYD auto and is up to all international industry standards.
Because of its 47 Watt-hour battery capacity and its low power consumption, AYA NEO has great battery life: up to 5-6 hours at lower TDP settings. Up to 140 minutes for demanding AAA gaming. AYA NEO is also equipped with fast charging, a full charge takes as little as 90 minutes.

The 7-inch multitouch screen has an 800p 215 PPI H-IPS panel. It covers 76% NTSC color space, has 500 nit peak brightness, and is flicker-free. You will be provided with great game images every single frame.
AYA NEO has 6-axis gyroscope/accelerometer built-in, providing great features like high-precision aiming assistance.
Rumble motors are also built-in, providing feedback for collision, vibration, combat, and other scenes.
The combination of sensors and rumble motors provides a more immersive gaming experience.
Thanks to its raw power, AYA NEO runs AAA titles like Cyberpunk 2077, Watch Dogs: Legion, Death Stranding, Assassin's Creed Valhalla, Destiny 2, Horizon Zero Dawn, etc. with good frame rates.
Besides in AYA NEO you get to run the PC version of games, which can be much lower priced than the console version.
With its raw power and great connectivity, AYA NEO not only handles single player AAA titles, it also runs online multiplayer games well.

AYA NEO comes with intel AX200 wireless module with Wi-Fi 6 and Bluetooth 5.0 support.
Wi-Fi 6 provides up to 2.7 times the speed and 25% of latency of the previous generation.
Whether it's gaming, watching online videos, live streaming, or remote access, AYA NEO handles it perfectly with its Wi-Fi 6.

AYA NEO comes with 3 USB 3.2 Gen 2 Type-C 10Gbps (2 with video output & charging), and a 3.5mm Headphone Jack.
Portable docking station will provide additional ports: 2 USB 3.2 Gen 1 type-A, 1 HDMI, 1 SD card slot, 1 TF card slot, 1 RJ45. The docking station is ultra-portable and it fits inside the carrying case with the device. And of course, it also charges the device.
Connect to up to 2 external monitors and an external keyboard/mouse, AYA NEO can provide a desktop-like experience for entertainment and productivity.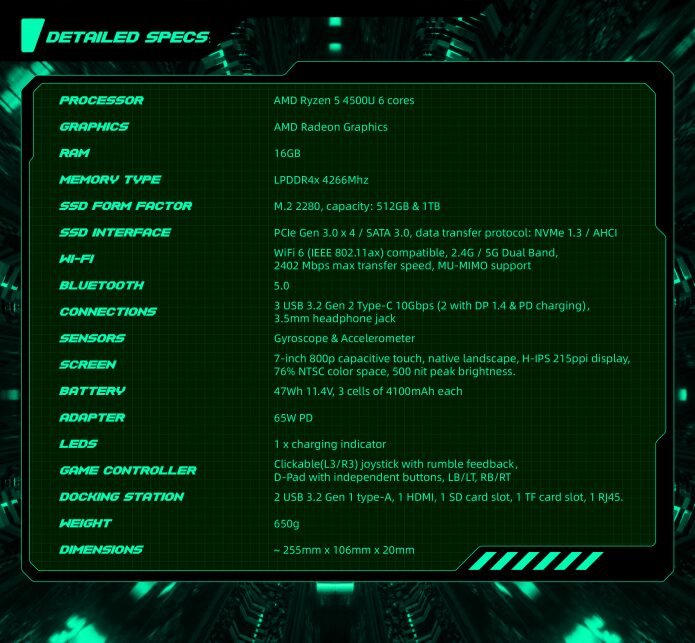 New to the scene comes AYA and their namesake windows handheld: the AYA NEO – a handheld PC that is fully capable of playing AAA games on-the-go.
The AYA NEO is powered by a six-core AMD Ryzen 5 4500U processor. Coupled with the integrated AMD Radeon graphics suite, the AYA NEO can provide strikingly smooth performance in numerous games and emulators and is truly considerable as a handheld gaming PC.
The high-powered processor is also backed up by 16GB of LPDDR4x RAM, clocking in at an blazing-fast frequency of 4266Mhz. There is also a speedy NVMe SSD already installed, allowing for quick loading for all your software, and providing a seamless handheld gaming experience.
This Ryzen handheld is able to provide high-quality, crisp gaming visuals as well with its sizable 7-inch 1280x800p IPS touch display, while still remaining at a manageable size, with a thickness of 20mm, a width of 255mm, and a length of 106mm.
Being a gaming handheld, the AYA NEO also boasts an ergonomic, professionally tuned design. With high-quality ALPS joysticks, perfectly spaced buttons for maximum comfort, and built-in rumble alongside a 6-axis gyroscope/accelerometer.
The AYA NEO's also features built-in Wi-Fi 6 functionality for stable online play. Additionally, Bluetooth 5.0 provides smooth connection to a variety of wireless peripherals, and for those who prefer wired connections, three USB Type-C Gen 3.2 ports and a 3.5mm headphone jack facilitate this with ease.