Introducing the GPD Win 4
Experience unparalleled gaming on the go with the GPD Win 4 RDNA 2 handheld PC, the world's smallest AMD Ryzen 7 6800U gaming device. As the successor to the popular and successful GPD Win 3 released in April 2021, the Win 4 boasts true portability without compromising on power. Play the latest AAA Windows games and enjoy high-end emulation in the palm of your hand.
Unmatched Performance and Specifications
Measuring a mere 8.6 x 3.6 x 1.10 inches (22.0 × 9.2 × 2.8 cm) and weighing around 570g, the GPD Win 4 is the perfect travel companion for gamers. Powered by an AMD Ryzen 7 6800U processor with eight cores and sixteen threads running at up to 4.7GHz, the Win 4 provides exceptional performance. The Radeon 680M GPU, clocked at up to 2.2Ghz, ensures that you can play the latest AAA Windows games at playable settings on this handheld gaming PC.
Advanced Features and Connectivity
The GPD Win 4 comes with up to 32GB LPDDR5 RAM and 2TB M.2 PCIe 4.0 NVMe 2280 SSD for lightning-fast performance and storage. It also features cutting-edge WiFi 6 and Bluetooth 5.2 for seamless wireless connectivity. Additionally, an attachable module (sold separately) allows for 4G LTE nano-SIM card support, providing mobile data access for gamers on the go.
Expand Your Gaming Experience
For gamers seeking even more performance, buy GPD Win 4, and it will offer a high-speed USB 4 port with support for up to 40Gbps, allowing you to connect an external graphics card (eGPU) to the handheld gaming PC. This means you can enjoy faster, higher-resolution gaming performance when you're at home. Additionally, the USB 3.2 Gen 2 port provides data transfer and charging capabilities, while the USB Type-A port enables connection to various peripherals.
Stunning Display and Controls
The 6-inch H-IPS touchscreen offers a 1920×1080 default resolution (with max Resolution 2560x1440p) and supports both 40Hz and 60Hz refresh rates, catering to a variety of gaming preferences. The GPD Win 4 control and design are reminiscent of the Sony PSP, featuring dual hall sensor joysticks, a classic-style D-pad, and linear analog trigger buttons with LED lighting. Customizable buttons on the back of the device further enhance the gaming experience.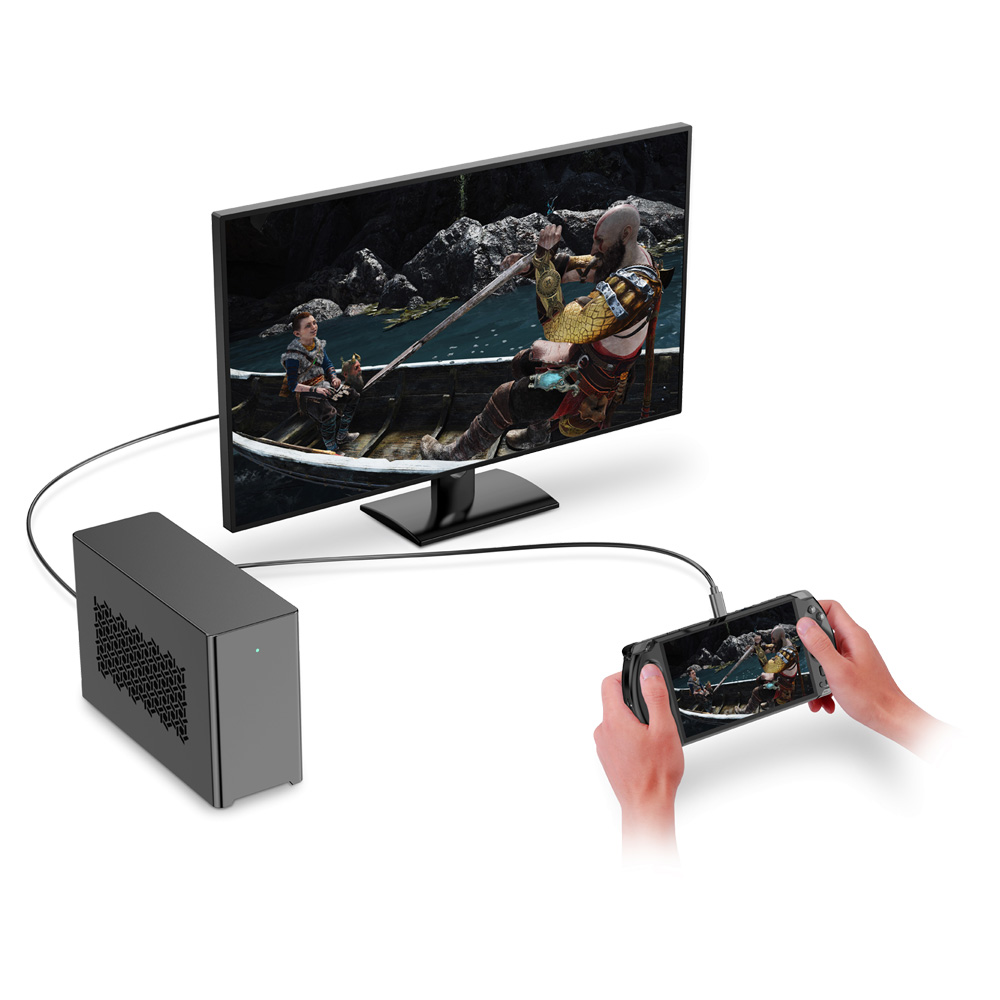 Unrivaled Portability and Battery Life
With its 45.62Wh Li-polymer battery, the GPD Win 4 can last up to 10 hours of light usage, 3-6 hours with moderate use, and around 2 hours of heavy gaming. This makes it the perfect companion for daily commutes or extended travel.
Accessories and Add-ons
To enhance your GPD Win 4 experience, consider purchasing these essential accessories:
GPD Win 4 Case – Protect your device with this sturdy mesh hardshell case, designed specifically for the GPD Win 4.
GPD Win 4 Dock – Expand the capabilities of your Win 4 with this convenient dock, allowing for easy connections to external displays and peripherals.
GPD Win 4 vs. Steam Deck
When comparing the GPD Win 4 to the Steam Deck, it's clear that the Win 4 emerges as the winner. While the Steam Deck offers a powerful AMD APU with 16GB LPDDR5 RAM, its bulkier design and limited compatibility with Windows games give the GPD Win 4 a clear advantage. The Win 4's superior portability, Windows compatibility, and versatile control options make it the top choice for handheld gaming enthusiasts.
In conclusion, the GPD Win 4 is a portable gaming powerhouse that delivers an unmatched gaming experience for those on the go. Its impressive performance, sleek design, and array of accessories make it the ultimate choice for playing the latest AAA Windows games and high-end emulators. Whether you're on your daily commute or traveling long distances, the GPD Win 4 ensures you can enjoy your favorite games anytime, anywhere. Don't miss out on the opportunity to pre-order and buy the GPD Win 4 – the future of handheld gaming.
Discover More About it – GPD Win 4 Review
For a comprehensive look at everything the GPD Win 4 has to offer, we highly recommend checking out the full GPD WIN 4 review at DroiX blog. This in-depth review provides detailed insights into the device's performance, features, and accessories, ensuring that you have all the information you need to make an informed decision. Dive deep into the world of the GPD Win 4 and see for yourself why this handheld gaming PC is the ultimate choice for gamers on the go.
GPD Win 4 Release Date and Pre-order
The GPD Win 4 has been officially released and available for order.