AAA Handheld Game Console
The ONEXPLAYER AMD Handheld Console is a great AAA Gaming Console for gaming on-the-go.
Playing the latest games, the ONEXPLAYER AMD is the perfect choice for a gaming handheld.
Choose between the 4800U, 5700U or 5800U AMD Ryzen 7 APUs
You have the option to choose between the AMD Ryzen 7 4800U, AMD Ryzen 7 5700U or the AMD Ryzen 7 5800U. Both Processors are capable pieces of silicon and come with 8 Cores and 16 Threads. The 4800U can boost up to 4.20Ghz, the 5700U can boost up to 4.30Ghz, while the 5800U can boost up to 4.40Ghz
The ONEXPLAYER AMD comes with 16GB of Dual-Channel LPDDR4X High-Speed RAM.
And for storing your game library, the ONEXPLAYER AMD handheld comes with 1TB of PCIe 3.0×4 NVMe. Experience speeds up to 2400MB/s
In terms of power, you won't be disappointed – The ONEXPLAYER AMD packs a massive 15,300 mAh Battery rated at 3.85V.
And to keep it topped up, in the box you'll find a 65W PD-Compatible Charger.
Upgrade to the Latest Windows
Comes with Windows 10 Home licensed
Coming with Windows 10 Home, the ONEXPLAYER AMD handheld game console  will be updated to Windows 11  for free
Stunning Graphics, in your hands
The ONEXPLAYER AMD Gaming Handheld comes with the powerful Radeon Graphics built-in
Not only do you get a powerful processor, the ONEXPLAYER AMD Gaming Handheld comes with the AMD Radeon Graphics chip built-in. This means you can play many Titles at native 2.5K Resolution with High Settings.
AMD has done a lot in terms of Gaming, and it shows on the ONEXPLAYER. More titles are available and games released in the recent years can play at respectable FPS.
This portable gaming handheld can also emulate Retro Gaming Titles with ease, allowing you to even emulate PlayStation 3 titles. This is a breakthrough in computing, especially in this form-factor.
You're getting an 8.4″ – 2.5K IPS Display

Now would you look at that? The ONEXPLAYER AMD screen is a stunning 8.4″ IPS Display. This covers 100% of the sRGB Color Gamut and it has a 178 degrees viewing angle. The sharp contrast and popping colours is something One Netbook are known for and the ONEXPLAYER AMD Handheld delivers!
With a 2.5K Resolution of 2560×1600 and 358PPI (Pixels-per-inch), the ONEXPLAYER game console can render games sharply.
The 8.4″ Display is also a touch-screen with 10 points of recognition and is compatible with the One Netbook Stylus.
Original Japanese ALPS, ABXY Buttons and Analogue Triggers
The ONEXPLAYER AMD Handheld is a fully thought-out game console and the Gaming Experience is top-notch. Apart from the beautiful display, you have all the tools you need to get your game on!
ABYX Buttons, Bumpers, Analogue Triggers and a great D-PAD.
Also present is a button to invoke the software keyboard for quick in-game chat.
How do you start? With the start button (yes, we thought about that joke), and you're also getting a back button.
The ONEXPLAYER AMD handheld console also comes with a Turbo button – Press it!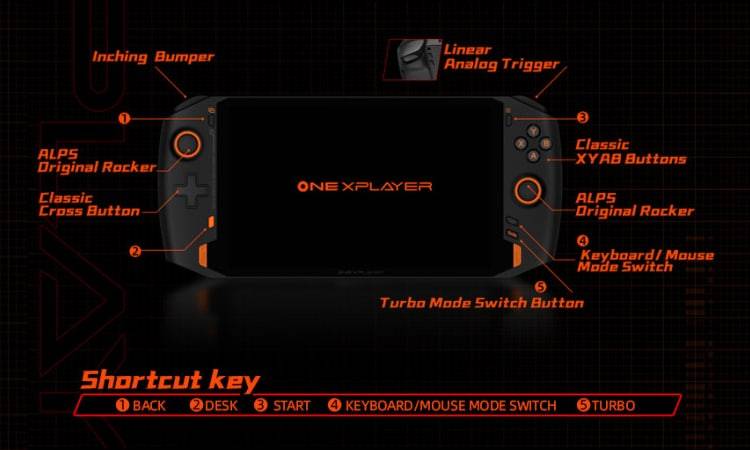 Original Japanese 3D ALPS Joysticks with L3/R3 Buttons
Bumper buttons and analogue Shoulder Buttons, perfect for FPS and Driving Games
Dual-Rumble Motorrs for a more immersive experience
Dual front-facing Stereo Speakers